I guess once in a while everybody goes through some days or weeks where things are just messed up and one is pretty much pissed off with everything, work sucks, it is cloudy and rains each time I wanna go out, Internet connection is lousy that adult-movies don't run proper, and and and, it usually comes together…I seem to be in the middle of one. However,  I just decided to go for a beauty-nap, I checked my mails before laying down and found one which was not spam or complaint.
Maybe some of my valued visitors read "Raising the dead ", a dramatic real story about extreme cave diver Dave Shaw who promised the parents of Deon Dryer to find and get their son, who died on the bottom of the third deepest known freshwater cave of the world, back to the surface. I started posting the very emotional story about 2.5 years ago in eight parts. The story was original published on Outsideonline but I was totally thrilled of it that I just wanted to repost it to all who never heard of it. http://dive-monster.com/bushmans-hole-raising-the-dead-part-1/. Most people who react first with saying " those guys  are crazy idiots, why are people doing that", will change their mind when reading "raising the dead" and get sucked with Dave Shaw and  Don Shirley into the depth of Bushman's Hole.
Anyway, this afternoon I got this mail where I just wanna quote:
Hi Rudy.
For the past few days I've been reading the forums on dumagueteinfo.com and enjoying your Dive-Monster blog. Thought that I would say hello. I see that you reprinted the excellent Outside article on Dave Shaw, Don Shirley, and Bushman's; I wrote a book about the same incident that was published in 2008. I lived with Don Shirley and his wife for a month at Komati Springs, and visited Bushman's with him. Very cool.
I hope to come to Dumaguete area for an extended visit soon, and if so I hope we can meet. You write well, and you obviously enjoy life.
BTW I noticed that you mentioned Dave Ross in PG. He was my OW instructor a LOT of years ago.
Cheers,
Phil Finch
Well, I usually get mails what an arrogant asshole I am (not that I deny that…), so this mail was a very cool and pleasant surprise and I must admit it turned my bad mood totally around. Of course I replied, thanked and asked if I can help anything. However, we figured out that we either bumped already into each other while I was working there with Asia Divers or just missed by weeks. Nevertheless seems we have some friends in PG in common.
More about Phil, his book about bushman's hole and his future plans in the next article. My 3 monsters came home and there is no way focusing on writing…
cheers
Rhoody
… well, there Rudi (at that time I was far away from being Rhoody, but that story later) and Lissy walked on a sunny morning in Senggigi/ Lombok – Indonesia along the mainstreet to Astrid and Gerd's Dream Divers at god-forbidden 7:30 am to start their first theory and pool lessons on their way to become certified Open Water Diver.
Of course we did not finish our assignment completely but went a good way through it. At the dive-shop we met our instructor and another couple who were (like we) quite nervous waiting for the things to come.
We went through the knowledge-reviews and first three quizzes… Fu@% me, I must have missed the quiz part during the introduction the evening before, but with 3 other students sitting next to me and 2 open rotating eyes, no problem, I passed all 3 quizzes with "honest" 90 %. At the end, PADI is teaching the buddy-system, so my buddies did one chapter each and I was following along … hehe
Honestly, I totally understand my students nowadays who wanna push through the course in three days, that they might have some problems in understanding how the course and the system in general works when they got explained everything, but I always try to remember my problems at the beginning.  PADI changed quite a bit during the last years and things are just easier now with plenty of options how to go through the Open Water course.
Having that mastered it was time to get some equipment. Well, while Lissy looked super hot in a 3 mm Neoprene wetsuit, my living 100 German Kilograms squeezed into that tight fitting thingy let the Michelin-Man appear like a sex-symbol.
The dive-shop is actually located in a 5-Star Resort and I really apologize for that view to all regular guests there, who needed to experience and see that sweaty, red-head German Sausage running around the pool for some hours…
Finally it was time to assemble the equipment and get into the water. Standing in waist-deep water fully geared up like a scuba diver, breathing from a regulator, bending forward and making the first breath under water from the "high-tech" equipment …
… didn't really impress me at all. I know that this is for many the most rememberable moment, but I was just happy to get into the water that I stop sweating in the hot sun above the surface.
We were (at least what I felt) a pretty cool group and nobody had any major problems with all the skills, or panicked with some water around the nose. The start of each Open Water course is basically breathing under Water, clearing mask, practicing the use of a alternate air source and swimming around. Well, having no clue about buoyancy it is more or less hopping along on the bottom of the pool or popping up to the surface. Buoyancy skills are scheduled for the afternoon.
Even without any buoyancy, I liked the bubble-blowing and playing around with all that stuff under water, and most important I did not sweat at all. The time flew by and after my Instructor checked my tank it was time for me to end the first session as it was pretty empty and just a few breaths short of getting the shape of a coke-bottle.
Our lunch "break" was mainly watching video part 4 and 5, having a quick bite to eat, and for (Lissy and me more important) sneaking out of the dive-shop, smocking some cigarettes to get our lungs back into normal surface-conditions.
To be continued…
cheers
Rhoody
PS: I will speed up and not write an article about each breath, it just happened while writing that all that stuff, feelings and memories came back as it was just a few weeks ago… anyway, I don't force anybody to read my brain-rubbish anyway…
I get asked many times by people what brought me here to the Philippines, when I started scuba diving, why Dumaguete and many more questions. So I thought, why not write some stuff down that I only need to forward the links and don't need to tell the same story many times.
My whole dive story started in Lombok, a small neighbor island of Bali. I was working in the music business as sound-tech and each time I had a few weeks off I was on the way to south-east asia with Lissy, my long time girlfriend. Together we explored several countries in Asia. We usually went for 3 weeks and covered at least 2 regions of a country with a stopover in a South Asian big City like Bangkok, Singapore, Hong Kong and other interesting places.
On a 3-week  trip which basically was the beginning of changing my life, we were 2 weeks all over Bali with the last week a lazy week in Senggigi on Lombok. Just after checking into our hotel we walked along the main street to an overview about restaurants and clubs and any kind of night hang-outs for the last week.
I have no idea what had obsessed me, but when we passed a office of Astrid and Gerd's Dream Divers office situated at that time along the Senggigi main street I just told Lissy that I wanna go and try diving, so we stepped into the office without any clue it will change my life forever.
We were explained that scuba diving is a bit more than just jumping in the water and breath oxygen. Actually this was the first time that I heard that it is not Oxygen but just simple air in this bottles … ok 2nd lesson … of course scuba tank…. Oh my god those diver are really picky…
Well , ok then … can I have a TANK with some AIR and go diving tomorrow with you guys… After some more explanation Lissy and I found our self sitting there signing up for a dive-course and were watching the first 2 hours of a crappy video tape to start the course right away.
We left the Dream Divers office in Senggigi on Lombok with an PADI Open Water Manual which probably went through 1000 student hands before so the manual was more or less 250 loose paper we need to sort first and with the task to study chapter one two and three over night and be back at the office at 8:00 am.
Great holiday, instead of sitting at the beach or a smoky club and getting drunk with cold beer and colorful cocktails, we were on our veranda with our worn-out manual and studied pages about snorkels, fins and of course AIR pressure in SCUBA TANKS.
tbc
cheers
Rhoody
DON SHIRLEY SURVIVED that day, but he didn't walk away unscathed. He emerged from the recompression chamber at Bushman's, which was pressurized to a depth of 98 feet to shrink the helium bubble in his head, after seven hours, disoriented and barely able to stand. He was so weak that Herbst dragged a mattress over from the police camp so Shirley could sleep right there. Over the next two weeks, he endured ten more chamber sessions, for a total of 27 hours of treatment. It was more than a month before he could think clearly or walk down a crowded street without his perception and balance running haywire. "When I first saw him, I got a hell of a shock," Andre Shirley says. "He could not walk without support, and his thinking patterns had been affected. He would sound sane, but two minutes later he would forget what he'd said."
Shirley has improved with time, but the helium bend left him with permanent damage that has impaired his balance. In May he went diving again for the first time, with Peter Herbst hovering protectively alongside. He closed his eyes, turned somersaults, and with relief discovered that the Big Dive had not taken one of the things he loves most. "A cave is a place where I live," Shirley says.
A week after Shaw died, Gordon Hiles brought the video to a guest house in Pretoria, where Shirley was staying while undergoing recompression treatment at the Eugene Marais Hospital, and Shirley finally watched it. "It was difficult to see, but I really wanted to know firsthand what went on," he says. Later that day, Shirley took the video to the hospital, where he met with Herbst and Dr. Frans Cronje, medical director of Divers Alert Network Southern Africa, who was overseeing Shirley's treatment and assisting with the official accident investigation. They watched the video on a large screen and spent hours poring over every detail.
Shirley was so focused on what he was watching that he started mimicking Shaw's breathing. Then, determined to "see for myself what happened," Shirley volunteered for an unusual experiment. As Cronje carefully observed, Shirley sat with a CO2 monitor in his mouth and headphones on his ears, watching the video one more time. Every time Shaw breathed, Shirley breathed. Eventually Shirley was huffing through 36 shallow, extremely rapid breaths a minute.
"There was extreme hyperventilation," Cronje says. "On a rebreather at that depth, it would have been very ineffective." Shirley's breathing became so distorted that by the time Shaw faded to just six breaths per minute and then lost consciousness, Shirley was also on the verge of blacking out. His hands were weak and he could barely move. Cronje concluded that Shaw had passed out from carbon dioxide buildup and eventually drowned.
It took Shirley a full half-hour to bring his breathing back under control.
"I actually died with Dave," he says.
NUNO GOMES is the last person alive today who knows what it's like to dive to the bottom of Bushman's Hole, and he understands why Shaw had trouble reacting to a body that was suddenly floating instead of anchored. "You don't think of a new plan while you are down there. It doesn't work. Your mind is clouded. You cannot do it," Gomes says. But he also wonders whether Shaw should have done more buildup dives to increase his tolerance for narcosis—much the way a climber will try to acclimatize to altitude—and his ability to recognize when it reaches dangerous levels. "When he started putting the body in the bag and it didn't work, he should have immediately turned around and left," Gomes says.
Gomes is an open-circuit diver, and his priority is setting records. (In June, he reclaimed the world depth record, reaching 1,044 feet in the Red Sea.) "I didn't think it was worth the risk of a diver losing his life to recover the remains of Deon Dreyer," he says flatly. Even so, Gomes honors Shaw as a fallen comrade. "It was a noble dive, a heroic dive. He did what he believed in, and I've got to say he had a lot of courage," Gomes says. "At the end of the day, he achieved what he wanted to achieve, even though he paid for it with his life."
None of the divers who were with Shaw in Bushman's Hole think the dive was reckless. As support diver Mark Andrews puts it, "If you asked me about the chances before the dive, I'd have said there is a 99 percent chance of success, and a 1 percent chance he'll have to leave the body. And zero percent that Dave wasn't coming back."
Verna van Schaik, who is used to people telling her she is pushing too deep, is sorry Shaw died but not sorry for him. "Dave was going to go back," she says. "The fact that Deon was there just made it more interesting and more exciting. Dave knew the risks. They were his risks, and he took them."
Every diver there that day will keep diving, and instead of second-guessing Shaw, they say they are proud of him. "Dave took rebreather diving where it has never been before. People never knew about [rebreathers] until he died showing what can be done," Peter Herbst says. "Two hundred meters [656 feet] was a damned deep dive on a rebreather. This guy went half as deep again. He made the envelope bigger."
Ten days after Bushman's Hole gave the bodies back, Theo and Marie Dreyer went to see their son. When the morgue attendant asked them to step in, Marie wasn't sure what to expect. When she saw a fully fleshed-out body, her tears stopped, and she felt happy. There was no head, but lying in front of her was her boy. Theo marveled that Deon's legs still held their athletic shape. Marie couldn't believe he was still in his Jockey underwear. "We saw him," she explains, her eyes shining. Overwhelmed, she stepped forward and took her dead son in her arms.
Ann Shaw had hoped her husband would rest forever in Bushman's Hole. When Herbst called to tell her that his body had been recovered, she was completely unnerved. After some anguish, she decided Shaw's ashes should be scattered in South Africa, the place he had come to love so much. Ann continues to live and work in Hong Kong. Every once in a while, when she has a problem with the computer, or needs help in the kitchen, she finds herself thinking, Why did you do this to me? Because now I have to do everything. But it's not anger she feels, just loss. "He needed to dive, and I accepted that," she says. "I wasn't about to change him or to tie him down."
Lisa Shaw, in a eulogy for her father, wrote, "I know having faced death before that my father was unafraid and was completely at peace with the prospect. I know and he knew that the Lord would be right there ready to take him on to new adventures. I am also at peace because he died doing something he loved; very few of us will ever get that privilege." Steven Shaw, who is 23 and is studying for a master's degree at the Melbourne College of Divinity, finds some solace that his father died helping others. "But now I'm feeling more just sad that Dad's gone," he says.
Shirley misses Shaw, too, and has a picture of himself with Shaw, peering out of a recompression chamber, on his computer's screen saver. "Dave died exploring and trying to achieve something he wanted to do," Shirley says. "That to me is better than dying in a car crash." Still, every day Shirley thinks, Ah, I've got to tell Dave that—only to remember that he can't.
Shaw is not far, though. On a beautiful evening in May, Don and Andre Shirley took a bottle of wine and a small wooden box to the summit of a mountain a short drive from their home. Below them, the rich, pungent grasslands of Mpumalanga swept all the way to the distant horizon, and the Komati River glinted in the golden light. Next to a wild fig tree, the couple raised their glasses in a quiet toast. As the sun dipped low, they opened the box and threw Shaw's ashes into the air. The ashes hung for an instant, a cloud of a man. Then the African earth took them, and Dave Shaw was gone.
This part goes mainly about the terrible experience of Don Shirley, who got in deep trouble on his long way up after his malfunctioning apparatus.
IT WAS 7 P.M. SATURDAY EVENING in Hong Kong, and Ann Shaw was in her living room. Her 21-year-old daughter, Lisa, was with her, on break from the Royal Melbourne Institute of Technology. The doorbell rang, and Ann opened the door to see Vickers, accompanied by two friends from church. Ann thought the dive wasn't taking place until the next day, but as soon as she saw the somber group, she knew. Vickers explained that Dave was five hours late. He suggested there was still a chance he could reappear. "Oh, no, he won't," Ann replied. "Not if he's been down there so long."
Ann, who has a deep faith in God, tried to believe that there was some higher purpose in what was happening. More than anything, though, she was struck by how completely her life had changed in the brief time it took Vickers to relay the news. The last time she'd had that feeling was 30 years earlier, at 19, as she walked down the aisle to be married, with Dave Shaw, himself just 20, waiting for her at the altar.
Back at the hole, van Schaik didn't have time to think much about Shaw. With five other divers in the water and only two reserve divers on the surface, she had to focus on Don Shirley. She sent Gerhard Du Preez, 31, into the hole to find him, with instructions to check everyone on his way down. Du Preez found Shirley just below the ceiling of the main chamber, checked that he was OK, then turned immediately for the surface to report back.
Alone again, Shirley continued his retreat. As he approached the chamber ceiling at about 164 feet, he started feeling faint. Instinct told him to get off his rebreather and onto his open-circuit bailout before he lost consciousness. He stuffed the regulator into his mouth, and as soon as he did, the cave started to spin around him. Shirley didn't know it yet, but a small bubble of helium had formed in his left inner ear, causing extreme vertigo. He was in a washing machine, and off the shot line. In the dark, all he could see with his light as he spun was black, followed by the flash of the cave roof, then black. He saw a flash of white go by, and then again. It was the shot line, and without thinking he thrust out his hand to grab it. That grab kept him alive. If he had missed, he would have drifted off, lost in the blackness. Up or down, it wouldn't really have mattered. Depth or the bends would have finished him, and van Schaik and her divers would have returned to an empty line.
The washing machine finally slowed just long enough for Shirley to read the backlit screen of his primary VR3. It showed he had come up to 114 feet. It also warned him that he needed to be down at 151 feet. Hand over hand, Shirley descended. As he reached his new depth, nausea hit him and he started to vomit. Shirley would feel the heave coming, pull the regulator from his mouth, throw up, and then replace the regulator. Fighting the vertigo and nausea, he managed to grab some spare gas cylinders from the cluster clipped onto the shot line nearby. The thought that he might die never occurred to him. I will survive, I will survive, he kept telling himself.
After about 20 minutes, Truwin Laas, 31, van Schaik's second reserve diver, appeared. Shirley scratched on his slate, I'M HAVING A BAD TIME. I'VE GOT VERTIGO AND I'M VOMITING. Laas made sure Shirley was breathing the right gas mix for the depth, decided he was stable, and left quickly to update van Schaik. Shirley, alone again, started cycling repeatedly through a subroutine of survival, asking himself, Where should I be now? How long should I be here? And where do I have to go? Each breath was a conscious act that got harder as he tired. Suck, hold, exhale. Suck, hold, exhale. I will survive. I will survive.
Now the marathon began. Van Schaik started cycling divers down to stay with Shirley. Du Preez, Laas, Sander, and Vingerling dived repeatedly that day, racking up three or four dives apiece despite the risk of getting the bends themselves. (Herbst, who was out of action for hours with a suspected minor bend, went down once more; Andrews and Stojakovic had been too deep to dive again.) The divers clipped Shirley to the shot line in case he convulsed or passed out, unclipping him only to move him from one decompression stop to another. Every movement brought a new round of vomiting. "It was heartbreaking to hear," Vingerling says, mimicking the spastic violence of Shirley's dry heaves.
Before the dive, Shirley had told the team that if anything went wrong, his wife, Andre, was to be given the bad news straight and fast. Andre, who had stayed behind at Komati Springs to run the dive center, had been getting regular updates. After one call, a slate was taken to Shirley. MESSAGE FROM ANDRE, I LOVE YOU, it read, and then, YOU'D BETTER HANG IN THERE OR ELSE.

After more than ten hours in the water, Shirley finally reached a depth of 20 feet. He was exhausted and approaching hypothermia, but he stayed there decompressing for almost two hours. The next circle of hell was at just ten feet and had to be endured, according to the tables, for a full two hours and 20 minutes. As soon as Shirley settled in, a sharp pain flared in his left leg, a sign that more bends could be on the way. It was time to take his chances on the surface. LOWER LEFT LEG HURT. COULD BE LACK OF USE? he wrote on a slate. Soon after, Sander appeared. I'M HERE TO TAKE YOU HOME, he wrote.
Shirley was carried out. He had been in Bushman's Hole almost 12 and a half hours. "Don't cut the drysuit," he managed to growl when he saw Du Preez coming at him with a pair of shears. Shirley was winched up the cliff face, and within 22 minutes he was in the recompression chamber.
Shaw is dead and Shirley in big trouble. A extreme Situation for all involved. Read here in Par 6 of Raising the Death  what was going on in Bushmans Hole and on the surface.
Raising the Death – Part 6
BACK ON THE SURFACE, van Schaik and the crowd around the hole had no idea what was going on far beneath them. Twenty-nine minutes after Shaw had gone under (and about six minutes after Shirley had seen that his light was not moving), support divers Dusan Stojakovic, 48, and Mark Andrews, 39, started their dive to rendezvous with Shaw at 492 feet. As they closed on their target depth, they realized there were no lights coming up, and no sign of Shirley or Shaw. Their plan called for them to wait two to four minutes. They stayed for six. Then it was time to go. "There's no heroics in this diving," Stojakovic says bluntly. "You dive your plan."
Before Andrews and Stojakovic started up, they peered once more into the void. This time they could see a light, but they couldn't tell who it was. Andrews took out an underwater slate and wrote,
DID NOT MEET D + D, @ 150 [METERS] FOR 6 MIN. 1 LIGHT BELOW? NOT SURE D'S LIGHT OFF. On the way up, they passed Peter Herbst, and then Lo Vingerling, 60, another support diver, who were on their way down. They showed each the slate and continued ascending. They needed to get the slate to the surface.
Herbst is a bearish Afrikaner with unruly graying hair and a love of a good joke. He's also a first-rate diver who never shies from a tough job. The single light meant there was trouble, and without hesitation Herbst descended past his target of 275 feet. Whoever was underneath him might need help, and Shirley was one of his best friends. Just a little deeper, just a little deeper, he kept telling himself. As the diver got closer he found himself praying, Please, please, God, let it be Don.
Just past 400 feet, Herbst pulled even. It was Shirley. Sorry, Dave, Herbst silently apologized. He flashed Shirley the OK sign and got one back. Then Shirley asked Herbst for a slate. He scribbled on it for a second and returned it. It read, DAVE NOT COMING BACK. Now it really hit Herbst. No Deon. No Dave. Reflexively, he peered deep into the hole. He saw nothing, just blackness. He checked Shirley again, and Shirley indicated that he should head up. Lo Vingerling was the next diver to reach Shirley. He signaled that he would drop down to do a last sweep for Shaw. Shirley stopped him, then drew his hand across his throat.
On the surface, the Dreyers waited nervously. It had been more than an hour since Shaw submerged, and the police divers were due to return with their son's body any minute. Theo wrapped his arms around Marie, and they peered into the dark pool. A nervous hush settled over the group. It was broken by the rattling of stones inside a plastic Energade bottle. The bottle was attached to a line dropping 20 feet into the hole, so that the divers could send slates up as they sat decompressing.
It was the slate from Andrews and Stojakovic, and was passed to van Schaik. Somehow, instead of "1 light below," van Schaik understood the slate to read "no lights below." She assumed it was saying that both Shaw and Shirley were gone. Within minutes, the police divers surfaced, empty-handed. In an instant, the entire, noble enterprise fell apart. Divers were dying. There was 30 seconds of stunned silence around the hole, then van Schaik calmly announced, "OK, we are on our emergency plan."
Within 20 minutes another slate arrived. It was from Shirley, and it had been raced to the surface by the next diver to reach him, Stephen Sander, 39, a former police-special-forces diver. DAVE NOT COMING BACK, it stated bluntly, repeating the slate Shirley had given to Herbst. On the flip side it detailed Shirley's new decompression profile. Van Schaik felt some relief—one of her two dead divers was alive—but glancing at the figures on the slate, she could see that Shirley had gone very deep and would run the risk of getting bent as he came up.
For the Dreyers it had been a tragic half-hour. A day that had started out promising the recovery of their son's body was now going to end with Shaw and Deon both at the bottom of Bushman's Hole. The Dreyers backed away from the water, helpless to do anything, and made their way to the farmhouse. Marie was in agony, crying and thinking about Shaw's wife and family. She wandered into Shaw's room and saw his shoes, wallet, cell phone, and clothes, all neatly laid out. It's like he's coming back soon to use it all again, Marie thought. But she knew he wasn't.

Derek Hughes, an underwater cameraman who was working with Gordon Hiles, also left. Before the dive, Shaw had asked him to call Michael Vickers, the Shaws' minister, if there was trouble. Hughes climbed to the top of the crater to get cell-phone reception and placed the call. Vickers asked him if he was sure Shaw wasn't coming back. Hughes waited another two hours before making the trip up the crater to call Vickers again. He was sure.
_______________________________________________________
Think about his wife sitting in Hong Kong getting more and more nervous.She is in the believe that her husband gets in the water the next day as he told her a wrong date… all that in the next part
Rhoody
This part of the story is about the BIG DIVE, how Dave Shaw and Don Shirley called the try to recover the dead body of the young Deon Dryer. All preparation is done and it was the day to do something no human being did before. What happens down the bottom in Bushmans Hole is documented in a dramatic way… with the Helmet camera of Dave Shaw…
Raising the Dead – Part 5
At 4 A.M. ON SATURDAY, January 8, Shaw and Shirley rose in the dark to prepare for the dive. It had been a rough night for Shirley. The previous evening, as he was changing the battery on his new Hammerhead controller, a wire snapped. Without the unit, he wouldn't be able to make the dive. Shirley was devastated. Shaw felt deeply for his friend but was prepared to proceed without him. He put Shirley and Peter Herbst in touch with Juergensen Marine, the Hammerhead manufacturer. At 9 p.m.—the cutoff time he had set for himself—Shaw went to bed. With the help of Juergensen, a soldering iron, and some tinfoil, Herbst managed to jury-rig a fix. The Hammerhead powered up, and Shirley was a go again.
In the gray predawn light, Shaw and Shirley began the ten-minute drive to the hole, listening to iPods to relax. Shaw had bought two in Hong Kong, loaded them with mixes he called Deep Cave 1 and Deep Cave 2, and given one to Shirley as a gift. (Shirley's favorite tune for the ride to the crater was Led Zeppelin's "Whole Lotta Love.") At the water, they started squeezing into their drysuits. Knowing how long he might be underwater, Shirley added an adult diaper to his ensemble. The rest of the team—the support divers, the police divers, the paramedics—assembled as well, and the rocky, uneven ground around the surface pool became crowded, dive equipment spilling over every flat surface. Verna van Schaik, 35, a South African who had set the outright women's depth record of 725 feet at Bushman's in October, settled in with a large sheaf of dive tables. Shirley had asked her to run the dive as surface marshal, and van Schaik, who has magenta hair and a dolphin tattoo on her right ankle, was hoping she was going to have an easy day.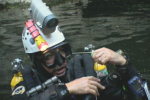 At 6:13 a.m., video camera whirring quietly on his head, Shaw shook Shirley's hand, said, "I'll see you in 20 minutes," and ducked into the dark waters of Bushman's Hole. A few minutes later, Theo and Marie Dreyer made their way to the water's edge. They had come late so that Shaw wouldn't feel any additional pressure to bring Deon back.
Shaw dropped quickly, letting the shot line squeak through his fingers. He hit the bottom in just over 11 minutes, more than a minute and a half faster than he had planned, and immediately started swimming along the cave line. As soon as the corpse loomed ahead, he pulled out the body bag. Then he knelt alongside Deon and went to work. He almost certainly could feel the narcosis kicking in. The helium and reduced nitrogen of his trimix would have limited the effect, but it was probably still as if he had downed four or five martinis. He had been on the bottom of Bushman's Hole, at 886 feet, for just over a minute.
Thirteen minutes after Shaw submerged, Shirley got the go signal from van Schaik and dropped toward his rendezvous point with Shaw, at 725 feet. Approaching 500 feet, he looked down. The water was so clear he could see Shaw's light almost 400 feet below him. It was about where he expected it would be, in the region of the shot line. There was only one problem: The light wasn't moving. Shirley knew instantly that something had gone very wrong. By this time, more than 20 minutes into his dive, Shaw should have been ascending. Shirley should have seen bubbles burbling up as Shaw vented the expanding gases in his rebreather and drysuit. But there was no movement. No bubbles. Nothing but a lonely, still light.
Dave Shaw's last Dive
There is no room for emotion or panic in the bowels of a dark hole. Shirley stayed calm, his actions becoming almost automatic. Shaw hadn't signaled for help, but Shirley would be going to the bottom. A motionless diver at 886 feet is almost certainly a dead diver, but it was Dave Shaw down there. Shirley had to see if there was anything he could do, or at least clip Shaw to the shot line so his body could be recovered. OK, here we go, then, he said to himself.
At about 800 feet, deeper than he had ever been, Shirley heard the slight, sharp crack of enormous pressure crushing something, and then there was a thud. He looked down: The Hammerhead controller on his left forearm was a wreck. Without it, Shirley would have to constantly monitor the oxygen levels in his rebreather and inject oxygen into his breathing loop manually. It was a full-time occupation, an emergency routine at a life-threatening depth. Shirley was certain that if he went down to Shaw he would join him for eternity. He got his rebreather back under control and started back up the shot line, flipping through the alternate decompression profiles he was carrying with him on slates. He was facing at least another ten hours in the water. After a few minutes, Shaw's light was swallowed by the darkness below him…
The next 10 hours became a nightmare to Don Shirley and at that depth is no one who can help him
… the drama at Bushmans Hole continues...
Rhoody