Mikes Beach Resort in Dumaguete or better in Dauin is soon to open its gates. The Beach and Dive Resort had a tough head to head fight with Robinsons Dumaguete but finally made it and opens earlier.
Everybody who knows Mike from the Adventure Dive Shop in Dumaguete knows that his Beach and Dive Resort in Dauin was a big dream which finally comes true. As I am working as a freelancing dive instructor for the Adventure Dive Shop, I saw the growth and progress of the Dive Resort construction site in Dauin and know some of the troubles Mike went through.
Sometimes I still wonder how he can keep his great attitude with all that crap. Well I guess seeing the dream grow helps a lot.
Mikes Dauin Beach Resort will be a great place for guys who want to relax and having a great  time in a family atmosphere. With only 8 rooms and the huge pool it is designed very spacious and won't get crowded.
The rooms of Mikes Beach and Dive Resort in Dauin have 2 categories and are priced with 2000 and 2500 peso. With that prices he will cover a market for guests and travelers which don't or can't stay in other Beach and Dive resorts in Dauin which charge over 100$ and more than 100 peso for a local beer.
But relaxing and Diving is not all Mike offers in his new Beach Resort 15 kilometer south of Dumaguete. He will tailor you a customized program for your non diving days whether you want some adventures or just a city trip to buy some souvenirs.
The kitchen of Mikes Beach Resort will have extended menu of his Waterfront Café in Dumaguete which is well known for its Mexican delights and burger. Well my favorite is still the breakfast until closing time.
So from my side all the best to Mike, Joan and his team of the Dumaguete Beach Resort in Dauin.
Cheers
Rhoody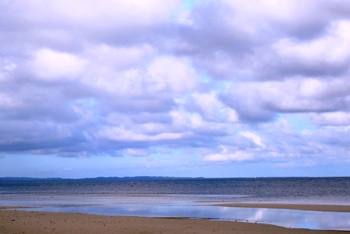 I am usually not going to bed that early, so it was not really a surprise to wake up with the sun around 5:00 pm. In Dumaguete I would boil water for my coffee and start the computer to go through my daily routine. Here in Siquijor I went for a walk and enjoyed the fresh breeze from the sea. I heard birds singing I have never heard before and I spend an hour or so just sucking in the energy of the young day…
At 7:00am Kiwi Dive Resort slowly woke up, and I ordered my first cup of coffee and a ham cheese onion omelet. I started the computer and prepared for Jean, my French Rescue-Diver-Student. The knowledge reviews were done fast. That guy did not only copy the book, he brought in other ideas from his experience Tracking through Nepal and other remote places of the world. At 10:00 am we finished the first three chapters and were ready to set up our gear for the first confined water sessions.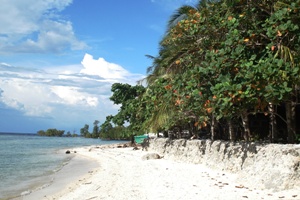 The first exercises are a review of skills each diver should have anyway, including cramp removal, alternate air-source use and tired diver tow. I had Dive-Master-Candidates who were worse. The next skills are about assessment, evaluating the situation and approaching diver on the surface. The Victim could be tired or even panicking. Being the panic diver is one of my favorite role in a rescue course. I love the face –expression of my students when 100 KG plus Equipment grasping them holding them and climbing on top of them. Followed by some underwater practice we had enough time to practice already how to surface an unresponsive diver from the bottom and had a small excursion before we returned to the resort for a lunch.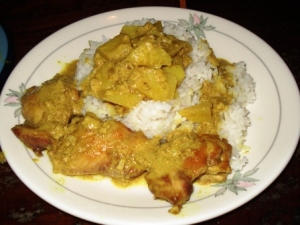 After lunch the sky became cloudy and the waves higher, so we spend the afternoon in the open air classroom and finished all Knowledge Reviews. Jean decided to go through his Final exam, and he passed it with flying colors. He was actually my first Rescue student who had 100% in the final exam. By 5:00 pm we finished the working part of the day and Jean went for another 15 km run. I was lazy like always and checked my mails ordered my dinner and went for a shower.
When I came back from the room to the restaurant I have been told that there is a strike going on at the Dumaguete Pier and many tourists are stucked on Siquijor. I did not really mind and my Chicken Curry was yummy. Two SMB and back to my room. I forgot to mention that my room is on the top and you need to climb up 56 "steps of  death" … No wonder that there is not so much drinking going on at KIWI dive resort. These steps are sober a nightmare… (to be continued)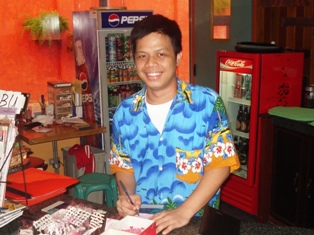 As most here know, I am part of the www.dumagueteinfo.com – Team. Next to hanging on the forum of DI to keep it free from spammers who wanna sell NOKIA and PLAYSTATION or deleting any kind of political religious or racial crap, I am in charge of our relationship with our local advertisers. Irwin Ramas-Uypitching called me some weeks ago to meet him at his family-owned Hotel Palwa. They want to be part of Dumagueteinfo.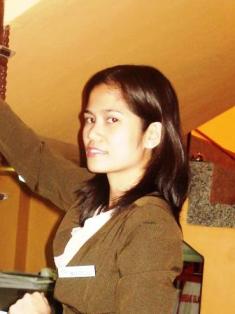 While we met at the Hotel's restaurant  we agreed on a hosted advertisement page. As no pictures were available I asked to come again to take some shots for the page. Adam, his brother welcomed me a few days later and kindly let me take pictures from each and everything I wanted to. The friendliness of the staff at Hotel Palwa is just overwhelming. The rooms were  spacious, clean and I felt a very warm enjoyable atmosphere.
After finishing the picture-taking, I could not help myself and hang around there at the frontdesk with the lovely ladies for another hour or so just chatting and laughing. Sad enough for me, that they are all married or engaged so I have to behave, that I don't get in trouble with jealous husbands and boyfriends.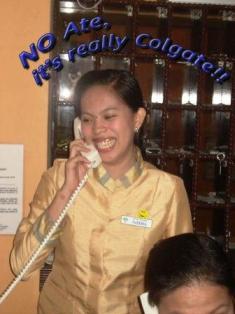 As the pictures on a DI page are limited, those here are some which did not make it to the advertising page but it shows the attitude of the staff there. ALL employees I met were a lot of fun.
As I was working the last five years in a dive-resort in the Philippines, I think I know the difference between artificial smile at work and when staff enjoys their working place.
So if you visit Dumaguete and need to stay in the city, have a look at Hotel Palwa.
The Hotel is in a central location and only minutes by foot away from shopping-centers, offices, hospitals, restaurants and the famous Boulevard with the mainpart of the Dumaguete nightlife.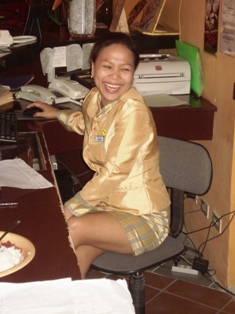 Enough promotion, I just wanted to share my expierience on a routine working day as a part of the Dumagueteinfo.com team. I mean I also could have a job in a german factory and press the same button 8 hours a day and 6 days a week.
I will not get rich here, but nothing can take all the expierience I made here away from me.  
Moving to the Philippines was definitely one of the best decisions I ever made in my life.
For me it's always enjoyable to make this part of the job after the daily online-routine to go out to meet great people and personalities in Dumaguete.
 All this pictures here are "stolen shots". The smile and laughing everywhere in the Philippines is something what makes life here so enjoyable, as is is not posing, it is just part of everydays life here. I wish we "Long-noses" could adobt it only partially
Cheers
Rhoody