Every day is all about creating memories. But for someone like me who is turning 18 years old, every second of the day is about creating precious memories. For the first time in my life, I had the privilege to dive with the Dive Monster Senior aka my Papa. With both of us having a busy schedule ahead, Dive Monster Senior and Dive Monster Jr. only had one dive. One dive that motivated us to dive more!
Dive Monster Senior Back Underwater
The Dive Monster is back! It has been about three or four years since Dive Monster Senior was underwater exploring and scuba diving. As an 18th birthday wish, I motivated and encouraged him to stay fit and prepare his equipment. One can only imagine the dead roaches in his boots and the layers of dust around his BCD. It was not perfectly in great condition, but after servicing from Asia Divers, he was set to go!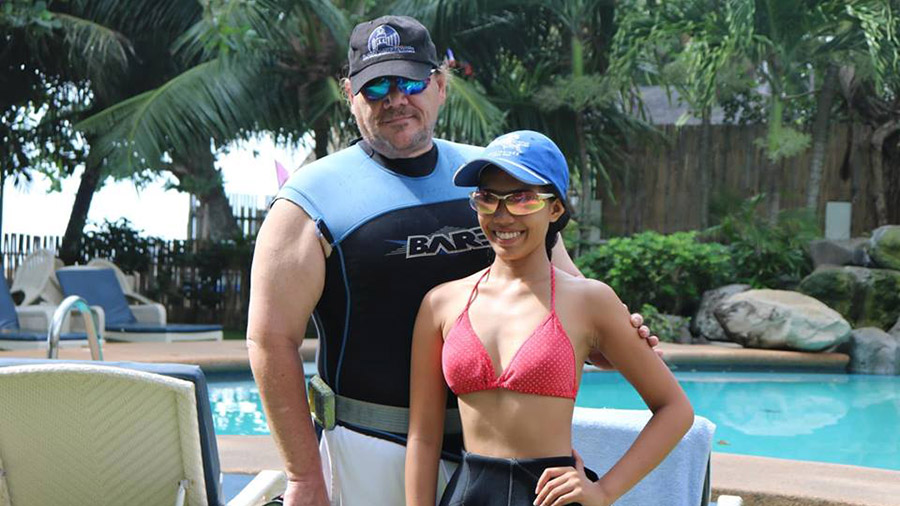 A Morning Dive to Remember
We hit the road from Dumaguete City to Mike's Beach and Dive Resort in Dauin with our gears on the motorcycle. And of course, we wore a helmet! Upon arriving, we took a few minutes rest and prepared our tanks and equipment. We hydrated by drinking water just before we rode the truck going to the dive site. Our Dive Guide, Jonathan Anderson, was just great! He brought us to the car wrecks near the Dauin Poblacion Sanctuary. Luckily, we were there early enough to stay away from the crowded shores along the beach. The very first thing we, the Dive Monsters, saw together was a sea moth or commonly known as little dragonfish. The dive site we dove was quite empty, however, it was peaceful. Only the steady sounds of bubbles and grunting of amazement could be heard. The "car wrecks" did not look like cars at all. But good thing our Dive Guide Jonathan warned us about them before our briefing. This was a great dive for me because FINALLY, I saw a seahorse. It was a brown 'common' seahorse but nevertheless a seahorse.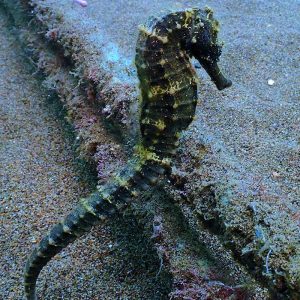 What else did we see?
We saw so many fishes that I could not name them all. However, here are some of the noteworthy: juvenile emperor angelfish, bannerfish, scorpionfish, striped eel catfish, sea turtle, frogfish, banded pipefish, bluelines grouper, red grouper, anemonefish, parrot fish, Narrow-lined puffer, tosa coral shrimp, Sea cucumber and more!
Happy Beer-day Surprise!!!
The great surprise during the dive was my instructor Daddy Lolo Chris and his friend Rolf followed us and greeted me. They gave me a bottle of beer and sang underwater. Sure, they were not mermaids or mermen but they did try their best hehe. We had to slowly turn the dive back. While making our three minutes safety stop (staying at about 5 meters for about three minutes before surfacing), the last thing we saw was a juvenile rock mover wrasse.
2nd Dive for the Bday Girl
As I mentioned earlier, the Dive Monster Senior had a busy schedule ahead of him in the afternoon. We separated ways with me doing a second dive and the Dive Monster Sr. heading back to Dumaguete City. I did my second dive just past one o'clock with my guide Jonathan in front of Mike's Beach and Dive Resort. We went to as deep as 30 meters where we saw another car wreck…a mustang to be exact. This time it was still looking like a car. It was a fun dive for me, although Jonathan was a little bit too fast (must be his strong legs or good fins).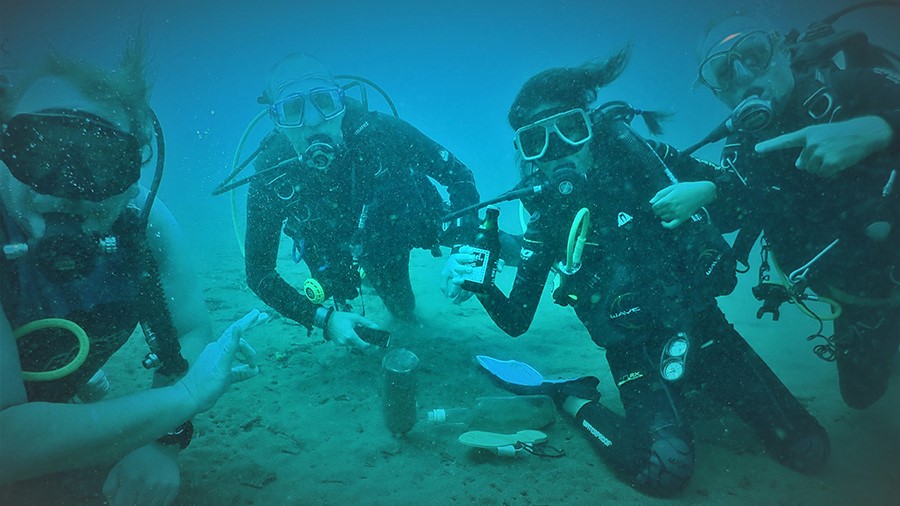 Birthday Ain't Over!!!
The birthday dive with the Dive Monster Senior was not the only thing I had planned for that day. Of course, I spent more time with my family over cake and flowers, but I also spent time with a few people over drinks. We drank the night away with some more cake and laughs. By the end of the day, I was "birthdayed-out". Goodbye to being a minor. Hello to being 18 and legal!
I still feel a few of the birthday-sickness, but sooner or later I will have to face the fact that I am already 18. Cheers to being legal and cheers for the first dive the Dive Monster ever did in history! Love, Daisy