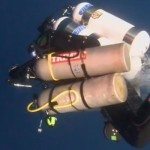 Dr. Guy Garman – also known as "Doc Deep" did not return from his world record attempt to dive to a depth of 1,200 feet (365 meters) in the waters of St. Croix, US Virgin Islands. 38 minutes after he descended he was supposed to be on his way back and meet his deep support divers in about 360 feet (110 meters) where he should have made his first stop. He never made it there. read more
A Fluoro Dive is the latest and probably fanciest addition in Scuba Diving. A Fluorescence Night Dive is like being live in Avatar. Maybe it is a fancy thing which goes away as quickly as it came, nevertheless for those who have the options, they should give it a try, it is pretty cool. read more
Just had a call the other day from Mike of the Adventure Diveshop if I can help out to teach some PADI Scuba Diver Course or Open Water Course at his Resort, Mikes Dauin Beach Resort. He had a group from China and some enrolled into the Advanced Course, while others did a discover Scuba Diving Experience. One of then, Shiu, decided to go on with the Open Water Course and became my "victim". read more
I am not allowed to post any fractions of the PADI EFR instruction video here, but I found a great short CPR Instruction Video I would like to share with you
there Rudi (at that time I was far away from being Rhoody, but that story later) and Lissy walked on a sunny morning in Senggigi/ Lombok – Indonesia along the mainstreet
The slaughtered Whale Shark was caught and his fins cut off. That all is covered by the Bantay Dagat of this area who is actually in charge for the protection of this creatures.
Here you can see what was going on the next few days after this dramaitc accident at Bushmans Hole which took another divers life while trying to recover a dead body from the bottom of the cave.
OVER THE NEXT FEW DAYS, as word spread of Shaw's death, the Dreyers and most of the dive team went home. Andre Shirley arrived on Sunday, after driving all night from Badplaas, to take her husband for additional recompression treatments in Pretoria. But Herbst stayed at the hole, and he was in a grim mood. It had been left to him to retrieve all the lines and gas cylinders that still hung in Bushman's depths, work he had started on Monday. By Wednesday, he was ready to go after the deepest cylinders, and he had called in his Afrikaner diving buddy Petrus Roux to help, with the police assisting at shallower depths. Standing at the water's edge, the police team held an impromptu memorial service for Shaw. Police diving superintendent Ernst Strydom and Roux read from the Bible. Herbst hadn't planned to say anything, but emotion gripped him, and a few words came. read more
Mikes Beach Resort in Dumaguete or better in Dauin is soon to open its gates. The Beach and Dive Resort had a tough head to head fight with Robinsons Dumaguete but finally made it and opens earlier.
I am really not sure what made Linda and Nicky drawing that stuff in their Log-book, but I guess they will have to answer this question each time they enter a Diveshop...
As a Scuba Diving Instructor (or to be exact PADI-MSDT), I can teach up to Dive-Master or Master Scuba Diver at non professional Level.
I am just a little scared that my Dive – Association will include the trainings aid below as a requirement in the Rescue/EFR course. They are known to throw things on the market which are pretty useless, for me even sometimes too hard, to remember the Acronym of that thingies. Be honest, who in the wide wide world of Scuba Diving needs a eMLRDP. If you don't know what an eMLRDP is, just forget it right away and never ever think about it again, unless you want to become a Dive-Master, Scuba Diving instructor or higher. read more