Happy Halloween everyone. 🎃👻
To celebrate the festivity, the Dive Monsters went out on a little Pumpkin Carving Event…UNDERWATER! That's right. We brought three small pumpkins underwater and started carving around 4-5 meters in the sand. Well, we had to use squash, which is the local version of a pumpkin. But potato tomato…as long as we are able to cut it underwater and make designs. But for the sake of this article entry, we will continue to call it pumpkin. It was our first time carving a pumpkin and had great fun. We are planning to do it next year again.
Preparing our Pumpkins
The night before our dive, Mama Monster and I (Dive Monster Jr.) prepared the pumpkins. By preparing, I mean degutting and deseeding. We took all the pumpkin seeds and gut using a spoon. It was a bit tough at first, but we got the job done. We also washed the inside of the pumpkin before putting them back in the fridge.
Pumpkin Carving Crew
Aside from Dive Monster Senior and Junior, Mama Monster and Mini Dive Monster McMc joined the dive. Before we started, we of course had to make a short briefing regarding the dive's goal and safety procedures. We also discussed and plan our pumpkin design using Wellbeach Dive Resort's white board. After we got things in order, we took our sack bag and placed the pumpkins and knives inside.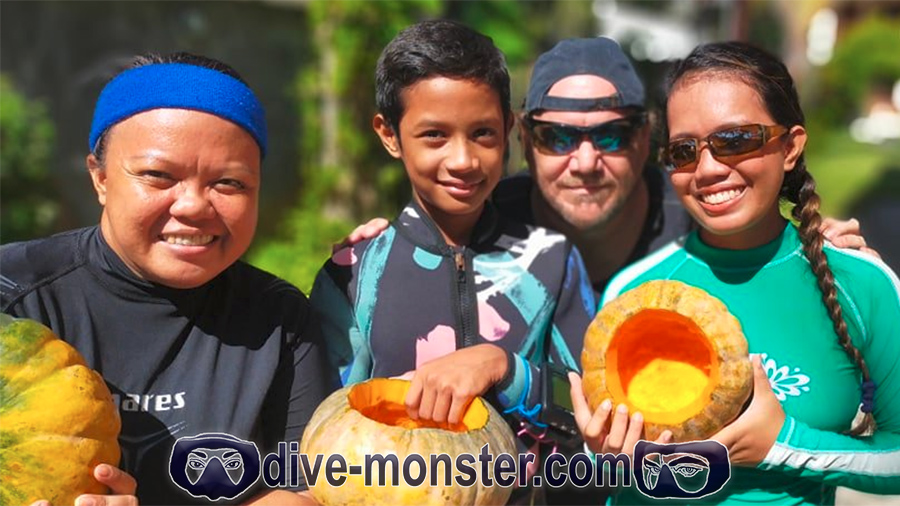 Four divers, three pumpkins, 1 camera set and a whole lot of sandstorms. It was expected that we would create a sandstorm underwater. With all concentration focused on not cutting yourself or loosing a finger, it was okay.
Watch the 

Underwater Pumpkin Carving
with the Dive Monsters Video here:
Our Halloween Pumpkin Designs 🎃
After our dive, we merged out of the water looking happy ad pleased with our designs. To be honest, out of our planned designed Mini Dive Monster McMc got his similar to his plan. Everyone else somehow just improvised hehehehe. We got some pretty cool pumpkin designs too. We gave them to the resort staff so they can display it for Halloween.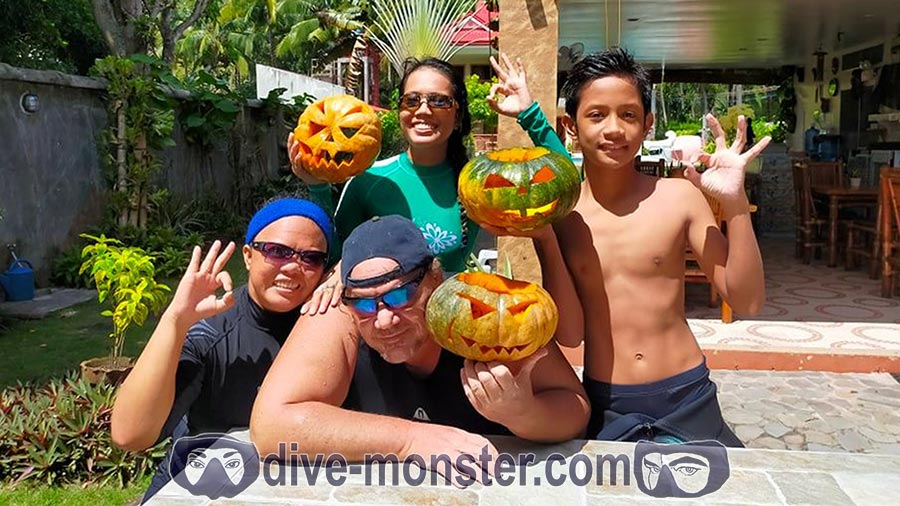 What do you guys think? Any suggestions for next year? Let us know I the comments below.
Love,
Daisy