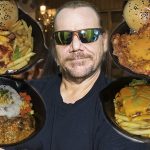 Don't misunderstand me, I don't have ulcer and need a kind of special diet or need to recover from food-poisoning due to some horrible stuff some people offer here in this City and call it food. Food Rehab is the rather clever name of a kind of Fast Food Outlet/Burger Joint. As I saw some pictures of their stuff a few weeks back -and it didn't look bad- I wanted to grace the place with my body odor to make a critical analysis which you are about to read. read more
I am not allowed to post any fractions of the PADI EFR instruction video here, but I found a great short CPR Instruction Video I would like to share with you
After quite some seven turbulent months and not much time in my hands, I wanna start the month of August with a cute Video I found on You Tube. So enjoy the two Minutes like I did…
cheers
Rhoody
Doesn't it always happen if you wanna explain something and get interrupted, you tell your wife to wait for a minute and not touch things until you return.
Maybe it is just me, but I can bet a case of San Miguel Pilsen that 3.28 seconds after I turned my back to my love, her hands are on the object I asked her NOT to touch.  Upon return I usually find the computer showing weird behavior, or something is broken on the ground, or my snapshot camera shows 29th of September 2039, or or or … And all happens just with the pure mental power of my sweetheart as (of course !!!) she never touched anything. read more
I found that video about diving in Apo Island on you tube and it is probably the best quality I have seen so far about diving Apo Island.
Mikes Beach Resort in Dumaguete or better in Dauin is soon to open its gates. The Beach and Dive Resort had a tough head to head fight with Robinsons Dumaguete but finally made it and opens earlier.
I was thinking about posting that Video of a cave dive, as it has nothing to do with the Philippines. Than I remembered my friend in Puerto Galera Dave Ross, who runs Tech Asia and the fire in his eyes when he spoke about that kind of stuff … in his case more wreck diving and the shiny eyes were not from the Beer in the Point bar… read more
A global study over a long term just proved that women have only 23 % of the accident-rate of men.
Pinoy Big Brother is in the Phillipines a big thing, maybe even bigger than in most parts of the world.Jason and Uma, the winner or finalists or whatever they are came with Noly de Castro, the daughter of the vice-president to Dumaguete to present our lovely town at Trip Na Trip, a travel-show on ABS-CBN, one of the biggest local TV-Stations.
The whole day is spent trying to avoid anything that might make you sick again, like moving. You vow never to touch a drop again - until next weekend.