It was mid-November, where one of that typical local Know-It-All (*KNIA) really got so on my nerves with her back-stabbing, lying, and generally talking bullshit, that I decided in a split second, that I needed a break from the IQ-monsters here, to get in contact with some humans which have a few brain cells more than the average outside temperature at the north pole. Where to go was answered in 5 seconds. Kuala Lumpur was the target. I just recently bought a new GoPro Hero7 Black and needed some more toys and accessories for it. As I am residing in the "Sorry Sir, Out of Stock"-Capital of the world and the "it costs 50% more than in any other place" center, the trip pays for itself. The amount of money I save with buying the stuff in Kuala Lumpur, pays for flights, hotels and some food. So all was clear, I am going to spend 4 days in Kuala Lumpur.
Booking my 4 Day KL trip
After I made the decision, it took another 15 minutes and all was booked. I decided to stay again at Hotel Ambassador. It is pretty cheap, but I was there a year ago and the location is simply perfect for what I was planning to do: Electronic-Shopping, Food, a bit of Food, some Food and a little bit more Shopping. If there was time left, I could squeeze in some sight-seeing. I booked a 6:15 flight with Shabu Pathetic from Dumaguete to Cebu, had a few hour there, before flying with Air Asia to KL. After arriving at Kuala Lumpur International Airport Terminal 2, I need to take the KLIA Ekspres to KL Sentral and from there a Monorail or MRT to Bukit Bintang. The Air Asia Bukit Bintang Station of the Monorail is 5 Minutes walking distance from the Hotel, if the traffic lights are red, 2 minutes if green.
One can't get more central than this… Malls, Food-Street Jalan Alor, Bars on Changkat Bukit Bintang, all in a few minutes walking distance. Walking to the Petronas Twin Towers and the KLCC Park takes about 15-20 minutes,
4 Days in Kuala Lumpur – The Planning done!
God bless PayPal. All 4 flights and the Hotel was booked, paid and printed in about 20 minutes, so I was good to go in the early morning hours on 1st of December, to return on the 5th. That should be enough time to do my shopping and get in touch with a few sane people with a lower KNIA-factor.
A few added information about my trip
The Hotel Ambassador, where I stay during my 4 days in Kuala Lumpur is about 1.100 PhP or 20 US$ a night. That is damned cheap for KL, and this location. The single rooms are newly renovated, with aircon, cable TV, WiFi and complimentary water, tea, and coffee. I booked the Hotel Ambassador via Agoda, where there is the option to pay at the hotel (a mistake, which I will find out later).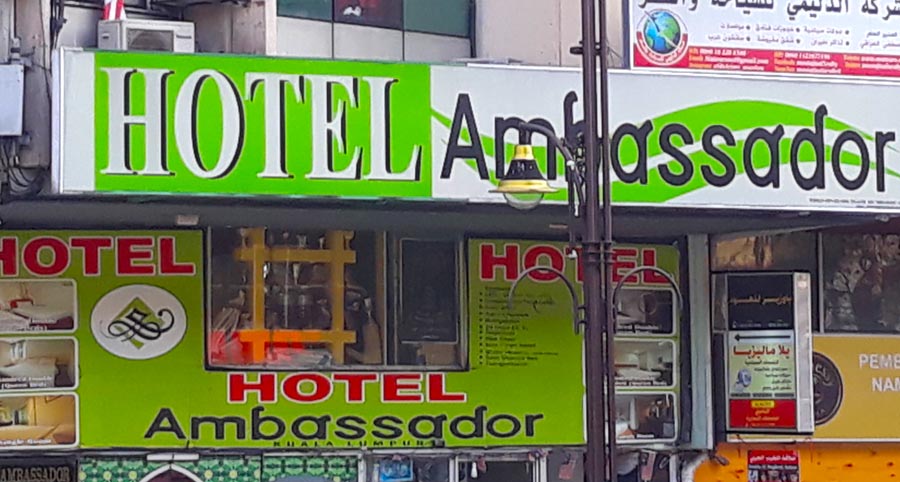 Why I use Air Asia
Air Asia is for trips to KL, KK or Singapore always my first choice. They fly from Cebu just after lunch. With the Shabu Pathetic flight from Dumaguete to Cebu at 6.15, I have splendid time to have some great breakfast at the Waterfront Hotel, which is directly across the Mactan Cebu domestic Airport. I love the buffet there. It is not cheap, but worth each Peso. If I remember correct, it costs about 888 Philippine Peso. After breakfast, I can walk to the new Terminal at the Mactan-Cebu international Airport, which opened only a few month ago and is actually pretty nice, well organized and very functional. To be honest, it almost seems to be in another country. Then again, it is brand new, let's wait a year. Most of us know that maintenance is not a signature/skill in the Philippines… sometimes it needs more than a hammer, duct-tape and WD-40.
GoPro Hero7 Black
With the new GoPro Hero7 Black (link for detailed specs) alone, one can't do much, or at least not what I want to do with it. As explained before, stuff is not available here, and if so to a ridiculous price. The Plaza Low Yat in KL is the place to go if you know what you want and the price it costs. For all that small stuff, the shops there, try to get the maximum profit. However, the whole mall is just Laptops, cameras, TV's, computers and electronics. Hundreds of shops on 6 floors, and if on does not give you the price you want, there is always another shop. Just important, that you know ahead of time what you want. When purchasing a camera lens, make sure you have your little note. They may not get down to the price you find on the internet, but keep in mind, that you can actually test it there in the shop… and they need to pay more rent there as a drop/shipping warehouse. As my GoPro Hero7 Black is brand-new, and I needed some more toys, the perfect timing for my 4 day trip to KL, and Christmas is just around the corner…
Anyway, 10 more days and I am 4 days in Kuala Lumpur for some great time, food, and money spending.