Siquijor is known as the Island of "Witches". The Island lays in the Bohol Sea in the Central Visayas. Siquijor can be reached either from Dumaguete (Negros Oriental) or Bohol (Tagbilaran) via Ferry. If you want to visit Siquijor from Cebu City, you can take a Ferry to Tagbilaran on Bohol and from there either to Larena or Siquijor proper. 
It is a very laid back Island and everything slows down a bit. The population of Siquijor is outstanding friendly. A walk at the beach even at night time is very safe.
The reason why I went to Siquijor was simply a call from Bruce, the Owner of Kiwi Dive Resort north of Larena. He had a guest who was interested in doing the PADI Rescue diver course. After agreeing to the conditions I packed my dive-gear, bought a ferry-ticket with Weesam Express (180 Peso) to Siquijor and left Dumaguete at 11:15 for a 45 minute trip to my destination. The water was flat like a mirror, so we arrived at the Pier in Larena in time at 12:00. It is my second stay at this resort, but the first time I work for Bruce.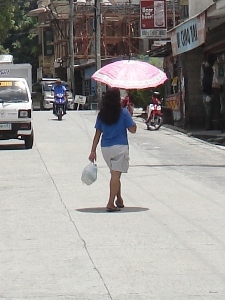 A driver from Kiwi Dive Resort was already waiting for me. One the way to the resort we stopped for some shopping in Larena and what can I say, it was HOT. Have a look at the picture and the shadow of the umbrella… I am sure you could boil an egg on the street. I was scared that my slippers are melting away and I will burn my over-sensitive sole of my feet.
Looking up the street I recognized a crowd of at least 40 people in front of a shop. Being here long enough, I know there can't be many reasons. There might have been somebody collapsed in the shop and everybody needs to see if the person will survive or the shop has a TV. In that case it was "only" a TV. The screen was smaller than the 17 inch monitor of my notebook and the first viewer on the street was in a distance of minimum 6 meters. The volume was off and the picture was black/white and blur. I guess they all standing there just to figure out why the TV is switched on at all???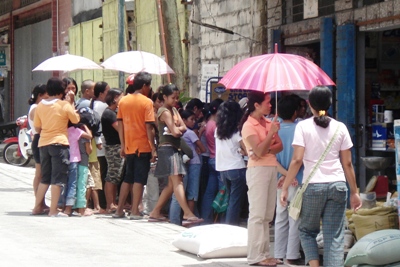 Another 10 minute drive and we reached the Kiwi-Dive Resort. Raul showed me my small cottage on the top of the cliff. I had a look at it and found everything I need. Two beds, two towels, an electric fan, a toilet and a shower. Time to refresh and meet the staff.
Eden manages the resort in a professional friendly way. Raul and Eden are the only staff left I remember from my visit last year. This time Bruce the owner was there also and we introduced our self. A few minutes later he introduced me to Jean, the rescue student. A 52 year old Frenchman who looks like 40 runs 15 km every other day and works as a diplomat in Bangladesh. His English is perfect and I definitely never met a French guy that world-open and friendly. To be quite honest, I also tried to avoid them in my life before. He read already the whole rescue-manual and filled in the three out of five knowledge reviews. So all looks really cool for an easy course.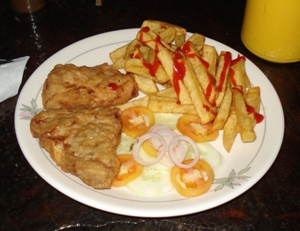 We spend the afternoon watching the PADI Rescue-Diver-Video and to know each other better. After Sunset it was time to order lunch. As mentioned before everything is slow in Siquijor. The staff of Kiwi asked me to order way ahead of time (minimum 1 hour) and tell them what time I wanna eat. So I ordered a Pumpkin Soup and Fish 'n chips. The meals on the menu are simple but very good. There are always pepper salt and chili-powder on the table to spice the things up a little bit.
Two SMB later we all went to bed around 9:00 pm. There is not much more to do. Time to sleep after another quick refreshing shower even the "Sexy Shower-Helper" I was asking for was not there… When I lay on my bed I found out that I basically sleep on the plywood. The 5 cm foam just gave up under my weight… But I was tired and it definitely was time to sleep. So no problem… (to be continued)
You find also more about Siquijor Island on my other Diving Page about the Philippines