Mike an UPS-pilot from the States gave me a short notice call and asked about diving. He is a friend of my partner on Dumagueteinfo and visited Dumaguete to get certified as an Open Water Diver. He explained me his phobia with a near-drowning experience and that he has a phobia. Each time he has water around his nose he freaks out and panics. Being warned I could prepare myself.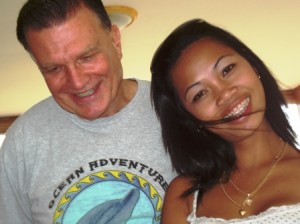 As a freelancing Scuba-diving Instructor I am in the lucky position to teach small dive-classes. In this case a one-by-one course. I like challenges and to make students overcome their problems.
Mike arrived on the Cebu-Pacific flight on Wednesday afternoon. After he checked in at Coco-Grande Hotel he gave me a call and we met at Mikes Diveshop, the facility I use when teaching classes. At 5 pm he came with Lyka, his lovely girlfriend. I tried to convince her to try a Discover Scuba Program, but she didn't wanna do it. He came with filled in knowledge-reviews and well prepared. I gave him the typical forms and paperwork and we made the schedule for the next 3 days.
Thursday morning I packed the gear and picked him and Lyka up at the Hotel.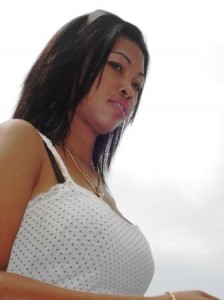 Knowing about his Problem I decided not to go to the ocean for his Open Water dives. Instead of that we went to WellBeach-Resort near to Malatapay where I wanted to finish all confined water dives in one go. After a cup of coffee we started to assemble our gear and I briefed Mike what we gonna do under water. All skills went completely fine and I saved the "partial flooded mask clearing" skill until the end of the confined water dive one. Mike did a great job on that and had no problem on the second try. While he was doing that I watched him very closely, being prepared to pull him to the surface (from 4 feet depth) if any problems occur. His self-discipline was amazing as I could see his eyes very focused and listen to his concentrated breathing. After clearing the mask a couple of times we finished some more skills and confined water dives 1, 2 and 3 were done. I was not less happy than him after surfacing and we both laughed and smiled in our lunch break.
After lunch we finished confined water dive 4 and 5 with some minor hick-ups. This dives included mask clearing and no mask swimming. At the end of the dives I took away his mask and let him swim alone in the pool without any physical control. I threw the mask in the pool and he searched for it at the deep end, replaced it and cleared it. That was the sign that he is ready for the "big pool" the next day where our plan was to have Open Water Dive 1 and 2.
The story continues tomorrow. Than you can read about "teaching Scuba diving in a Typhoon"
Thanks for now and cheers
Rhoody