At 12:45 we arrived at Tipolo Beach Resort in Moalboal and checked in. We got informed that the rooms are not ready, and it is brownout, which was no issue, the official check in time is 2:00pm and as it was not that hot and we were hungry anyway, we decided to have a bite to eat at the Last Filling Station, the Restaurant which belongs to the Tipolo Beach Resort.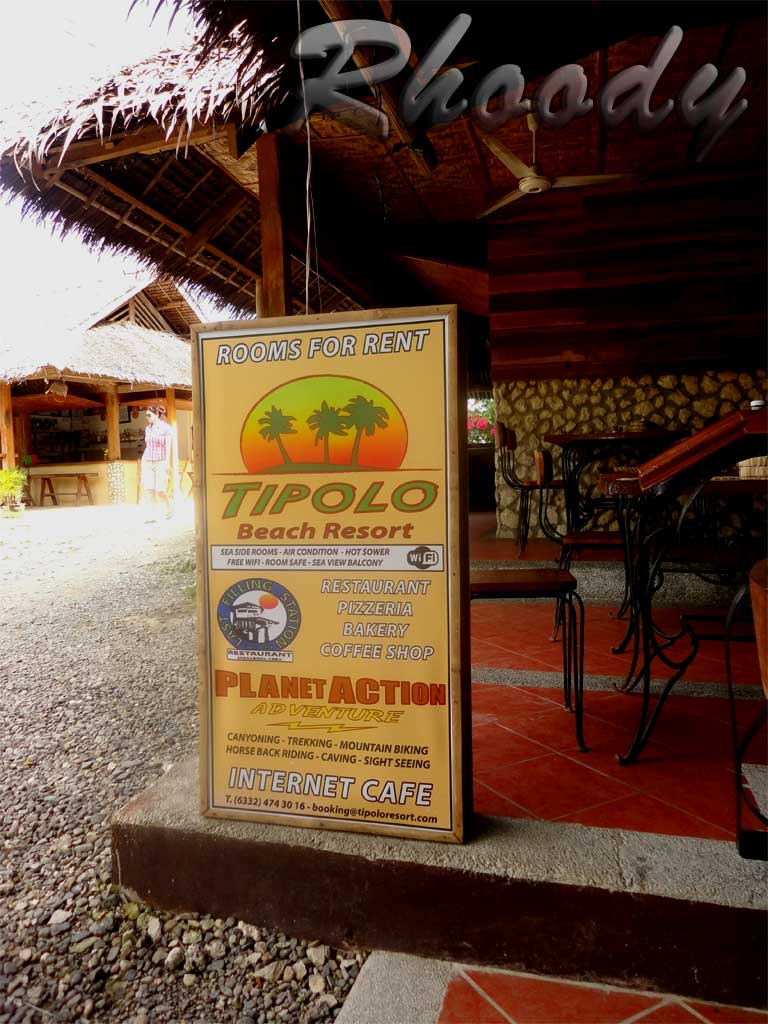 The menu is not that huge, but has a good variety of dishes, so everybody will be able to find something for his/her taste. We ordered a sandwich, a Tom Yum soup and a chicken Basil Curry, or something like that, with two garlic rice.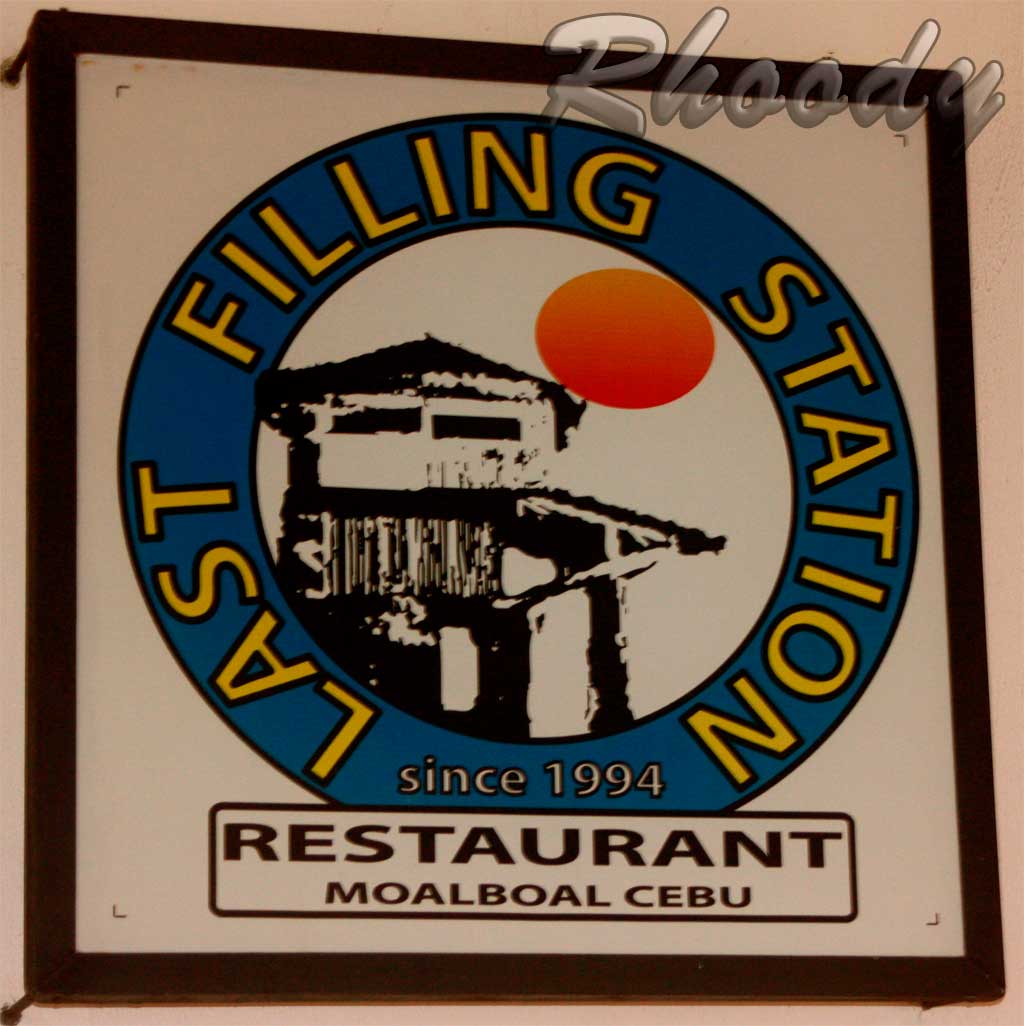 The kitchen took their time but after the dishes arrived we were pleasantly surprised, the sandwich was on a ciabatta bread and was really delicious. The Tom Yum soup had a good spice to it without being too fiery and the basil chicken was also very delicious. (more about the restaurant later) Due to the brownout we could not get a shake, so we settled for Coke Light, which turned out to be (like almost everywhere in the Philippines) Coke Zero.
I texted Kim that we arrived and there is no cold beer for him because of the brownout, and his reply was certainly no mirror image of high excitement.
Tipolo Beach Resort in Moalboal…
The Resort is actually pretty small with some 8 rooms in native style. The rooms are what one would call functional with bamboo bed (or two), bamboo cabinet, a ref and aircon. The bathrooms have hot water and there is a save for your valuables. Well, as long your valuables are not bigger than a wallet and some cash. My camera did not fit into it.  However, it is basically what one can expect for 1,600 peso.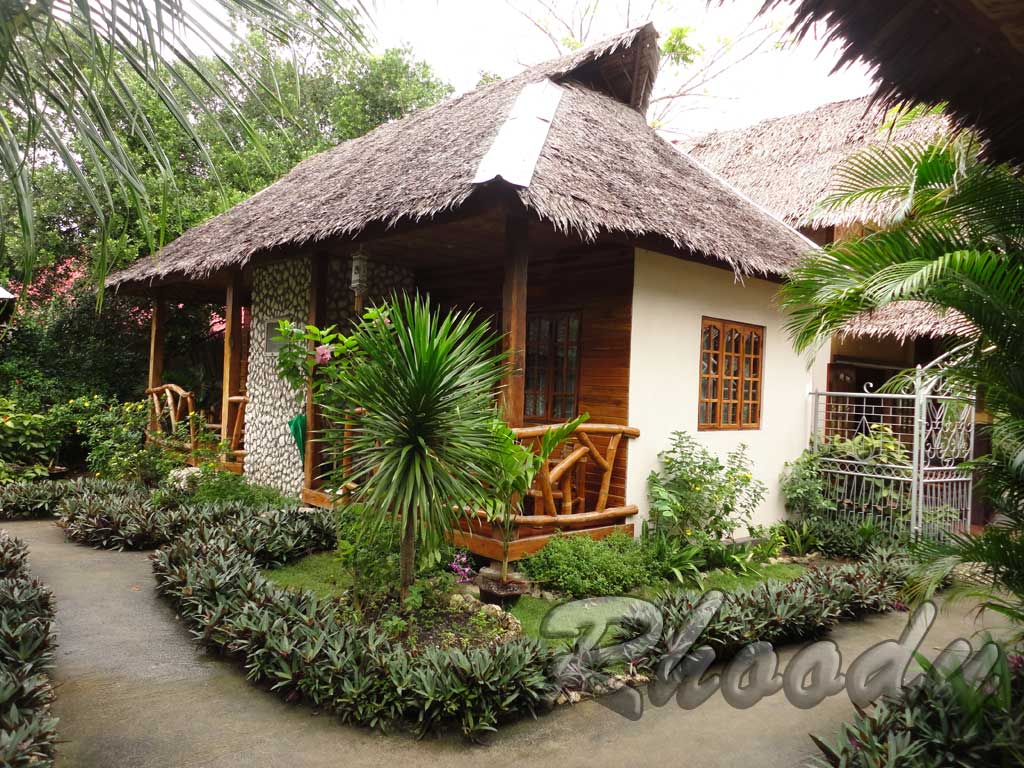 The rooms are in a small garden on a small cliff with a few steps to a tiny patch of beach with white sand on low tide. My room was described as ocean view, but honestly you need to be either cross-eyed or showing good will to view the ocean from my room at Tipolo Beach Resort. You get a glimpse of the ocean behind the green of the nice garden.
Our room had two single beds (there was no other room available upon booking) and the resort does not keep any extra double beds to be more flexible. Those bamboo beds are not heavy and cost around 800 peso, so having 4 sets of single or double bed as spare would not be that expensive and would make the place a bit more flexible, to adjust the rooms to guests demands.
Funny regulations of Tipolo Beach Resort
Without doing any research, I can tell that there is something German behind the scenes. The rules and regulations of Tipolo Beach Resort are pretty strict  and you cannot bring a new found friend over night if not registered during your check in and the way some of the rules being explained use examples which honestly sound rather stupid to me, … like using a glass of water for brushing your teeth to help saving our beautiful planet from global warming… or don't bring a new friend he/she might have AIDS.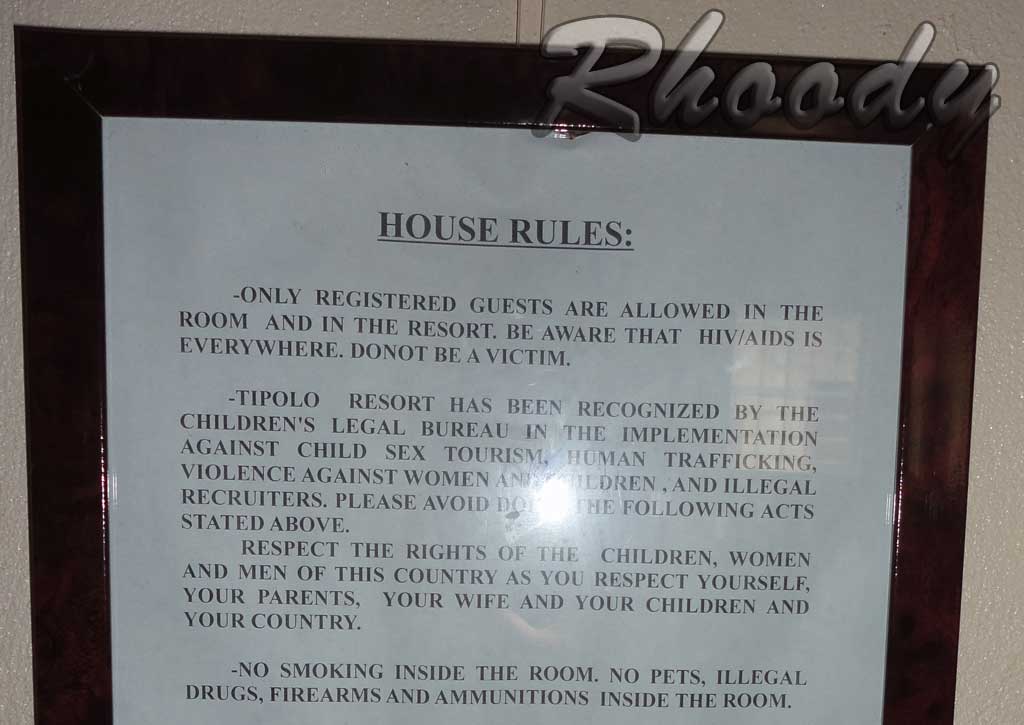 I would add: Don't take a shower while having mens, you might get a sick and don't go outside with wet hair when it is raining, you get a sick too (common advice from Pinoy Grandmas to their daughter). I also don't like that you need to book a massage via the front desk for totally overpriced 300 peso/ hour. First I want to know and see the person which is touching me, second, 300 peso per hour is simply a ridiculous joke… or it includes already a happy ending, well, I can't judge, I did not try …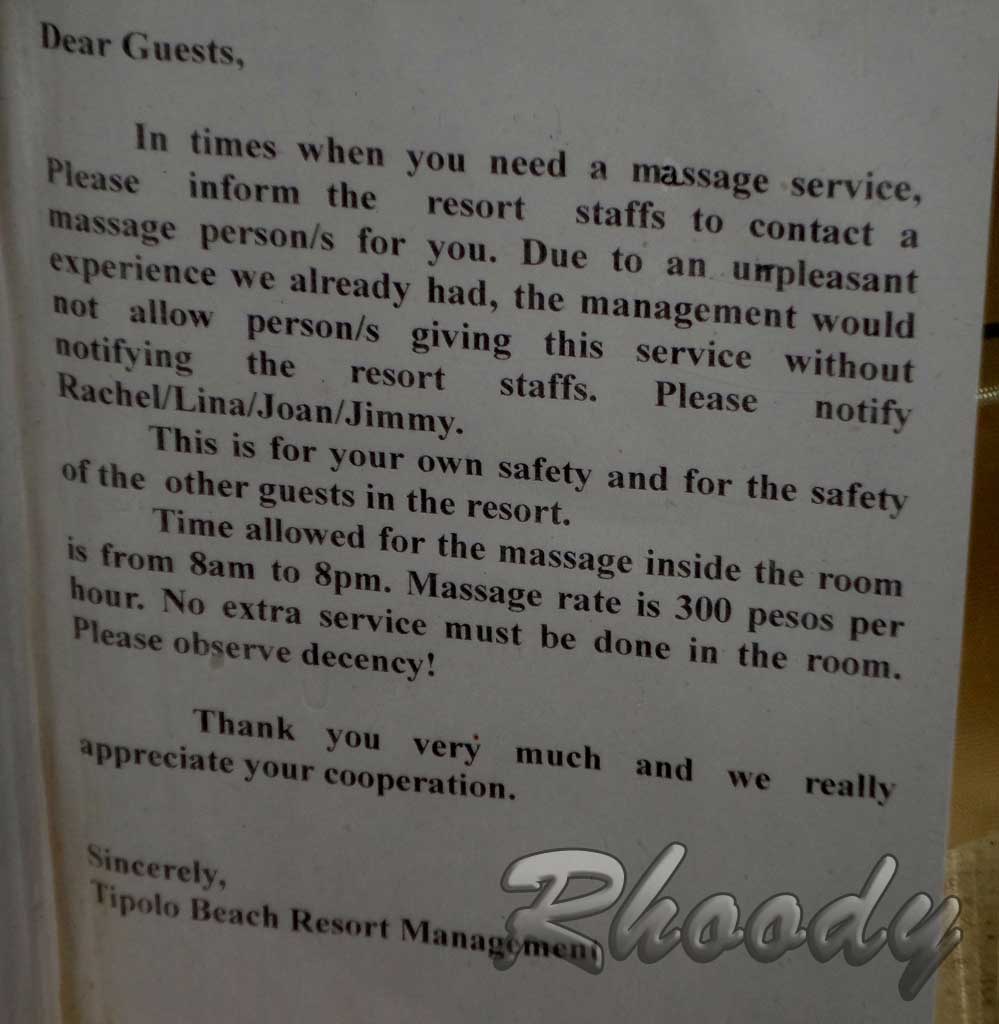 A word about the booking a room at Tipolo Resort in Moalboal.
I booked the rooms via their website, which uses professional booking software and you can pay via PayPal. To reserve a room a down payment of one night was needed, what is fair enough. I paid the remaining balance a day before we went there. That is advisable as it reduces the amount of cash you need to carry around. Moalboal has no ATM and you better plan your trip proper to bring enough money.
All together, it is a nice little place with friendly helpful staff and a great restaurant, perfect for a family vacation. When planning to have a bit of a party or finding a friend, you might consider staying somewhere else. So would I stay there again? I am not sure, it is a nice little place, great restaurant, nice staff, but maybe a it too "Germanized" when it comes to rules and regulations. I certainly look deeper  into alternatives to Tipolo Beach Resort in Moalboal.