So there has a new place opened at the boulevard in Dumaguete called Awesome Desserts. Like with each new place opening it appears that the friends of the house are asked, or volunteer to spam each related website and internet forum or facebook page to write down their one line "wow, best thing since sliced bread, you need to try their…".

Well, anyway, not knowing the owner or anybody involved I believe that he/she/they certainly didn't do any kind of market research to see if a place for coffee, cakes and snacks makes sense in this area. In a short stretch at the boulevard one has Bo's Café, Sans Rival, for that, furthermore Bethel (where many locals go for breakfast) and about 10 other places serving snacks, food and sweets.
My Missus and I decided to give it a try, as some of the online-"critics" praised their breakfast and the blueberry cheesecake. We went there early at 7:20 in the morning and it looked like the place was not really ready to serve customers, even they should be open since 30 minutes. However, the staff was super friendly.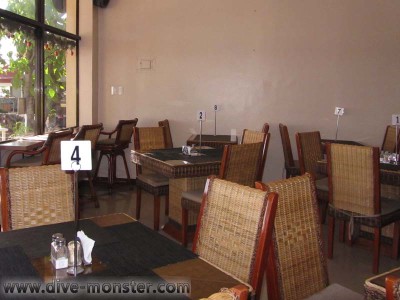 We were sitting inside and ordered Big Breakfast, Bacon & Egg, and of course the blueberry cheesecake. … and of course it was "Sorry Sir – out of stock". The other delights in their cooling display appeared also rather untouched since quite a while. Therefore we stepped back from ordering a "awesome dessert" or any slice of sweets.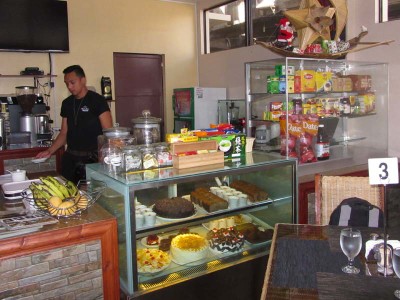 The breakfast arrived with the my ordered coffee. My "Big Breakfast" did not live up to my expectations. It was OK, but if serving this at the boulevard it needs to be compared with the competitors and it simply does not even come close to an American Breakfast at Why Not or at Casablanca. It comes at a price (with coffee) of about 200 Peso per person. I would say it is in line with Bo's. However, my coffee tasted horrible. I saw the fancy machine and was expecting a delicious brew. Not sure what went wrong, but it tasted like burned beans and very bitter. Of course I could have complained and certainly would have gotten another one, but considering the "out of stock" and the mediocre overall experience I decided against it.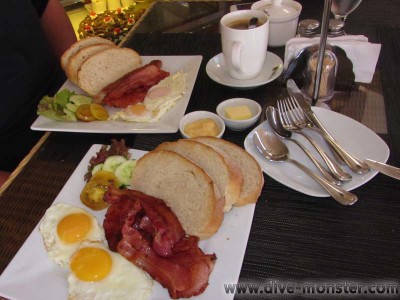 My missus had the Bacon and Egg and her verdict was also not overwhelming. (While looking at the pictures for this post I just saw in the menu that my breakfast should come with a hash brown, I guess out of stock too)
Anyway, we paid and left. Checking the other items at the menu, there is nothing on it I would come back for and based on my experience it might be "out of stock" anyway.

Will Awesome Desserts in Dumaguete make it?
Based on my experience in over 10 years in Dumaguete, I would say "Awesome Desserts" gets a top spot on the "lost opportunity"-list. If there is no massive improvement in quality it will not be around next year at the same time.
If the food quality would match the friendliness of the staff and the location the place would have a chance.
Once again, I wish I am wrong. I would love to have more options to go somewhere for a bite to eat, but I just don't see it in this case.
________________________________________
UPDATE 2016 – As predicted, the place is closed
________________________________________