One of the Temples MamaMonster and I visited on our Trip to Bali was the Batuan Temple, locally know as Pura Puseh. It is one of the more touristy ones and if you are not there early enough, you will be met by a huge crowd. The Temple is some 15 Kilometers outside northeast of Denpasar. It is more than 1.000 years old.

Make the Batuan Temple a part of a Day Trip
I would advise for a first timer in Bali to go on a day trip. They are pretty good organized and affordable. If you get a driver on the road, it is probably a bit cheaper than booking it at an agency or hotel. However, MamaMonster and I had a private van with aircon, started at 8.30 am at our Hotel, the Grand Inna Kuta and ended at 8pm at night. The booking of the tour actually said 8 hours, but we are old and needed a bit longer at each spot, even skipped a few, to stay longer at one place or another. We paid about 100US$ for the whole day. That included all entrance fees, but no food or drinks. The Batuan temple was the first stop after a traditional dance. (I hope I find a bit time to write a few lines about the Barong Dance later on).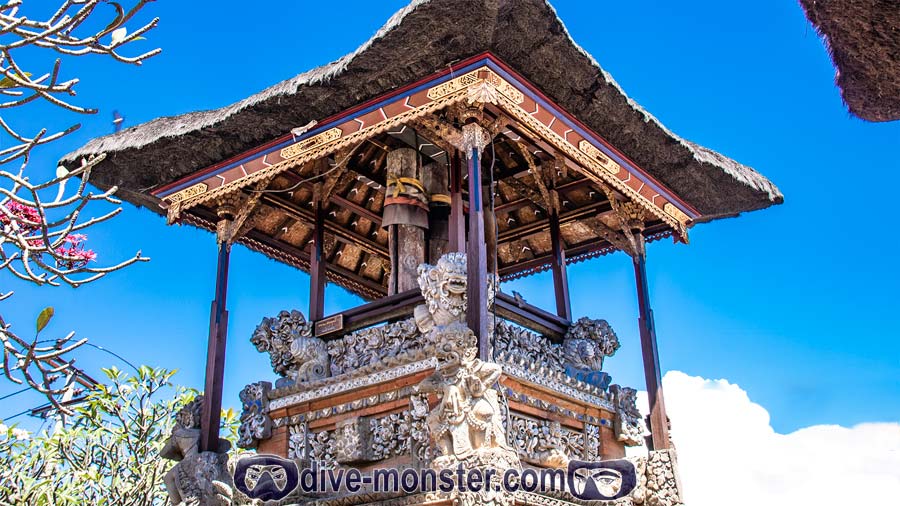 Second Stop of the Day: Batuan Temple
While I have seen nicer temples, the Batuan Temple is certainly worth a visit. For its location in a village, it has relatively large grounds. It is good for a stop-over for an hour or two, when going up to the north. The Pura Puseh is also close to Ubud. Anyway, as MamaMonster and I like that kind of places, we really enjoyed hanging out there for a while. Before entering, you need to put on a Sarong. Women with menstruation are not allowed in the temple. Anyway. Nobody seems to read the signs, and if they do, they don't seem to care.
We should have skipped the Barong dance and get to the temple right away. Upon our arrival were already quite a crowd there. That is one of the reasons we didn't take panorama pictures. Therefore, on the video are more close-ups. I simply prefer the temple over sunburned Australian Gingers or noisy Chinese and Koreans.
Anyway, we had a great time there and enjoyed looking at some stuff which is more than 1000 years old. When we left, the crowd was already getting crazy big, and trust me one can see that there are billions of Chinese fighting for a place at the counter in their home-country, and bring that shitty attitude abroad. Trust me, it is always funny to see, if they try to squeeze and push their way through, but simply bounce off a rather big, solid German guy against walls and gates. Anyway, back into the car and off to the rice-terraces we go…
Cheers
Rhoody