There is nobody really willing to work on Malapascua as it is the day of the local Fiesta. That might be also the reason why we had a tiny rental boat instead of one of the big boats from the Resort.
We met about 6pm in the Restaurant of Exotic Dive Resort and filled in the usual paperwork. Zoe the manager the dive-shop welcomed us and asked about our dive-plans. Of course we wanted to dive Monad Shoal for the Tresher Sharks and Mantas. Mike is an Open Water Diver and she explained us that the shop-policy does not allow OW divers there as it is a deep dive with 24 meters.
Being an SCUBA PADI Instructor and knowing the business I do agree to a certain point. I certainly would not take Open Water Divers to 24 meters on their first dive with me. And that is also the perfect Scenario to sell an Advanced Open Water course.
Even I wanted to be the Instructor for his AOW, I recommended to go for it with Exotic Dive Resort. Diving Monad Shoal to see Mantas and Thresher Sharks is the whole point of this trip. So Mike signed up for the Advanced Open Water course and got the manual to do his homework. As we can't go tomorrow to Monad Shoal we signed up for a daytrip with 2 dives at Gato Island where Mike can go for his fish ID and the navigation part of the course. The Trip leaves at 9 pm and we go for 2 dives.
After all is done we finally can start our family reunion and order some cold beverages. The Menu for our dinner included some curry, sweet sour chicken, Sinigang, no salad as they were out of stock and a lot of rice. About 9:30 pm we needed to sign our bill as the restaurant want to close… hmm ok, still strange to kick out 5 people willing to spend money but not allowed to.  At least when they claim themselves to have a high standard.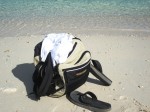 off for holiday… cheers
Rhoody