As an anniversary/short Christmas vacation/romantic getaway, Tim and I decided to go make a Dapitan Trip from December 17-19, 2019. In this article, you will find out how much we spent for late lunch at Kamayan ni Manay (local restaurant) and rides and fun at Gloria's de Dapitan and Gloria's Fantasyland. Before that here is a list of what we brought for our 3 days and two nights at Dapitan City. 
Packing for Dapitan City
First thing to consider when traveling is of course the weather and the time of year. We traveled in the mid-week of December (where it tends to be colder and rainy). Dapitan City is located in Zamboanga del Norte, Mindanao. Still in the tropical area, the best time to travel Dapitan is during the hottest months (March – October). Another thing to consider when traveling is your accommodation. If you are staying in a budget place such as a dormitory or backpacker's place, bring extra toiletries and hygiene stuff (trust me you will need them). If you want to bring less stuff, you can always buy at the nearest convenient store or small shops.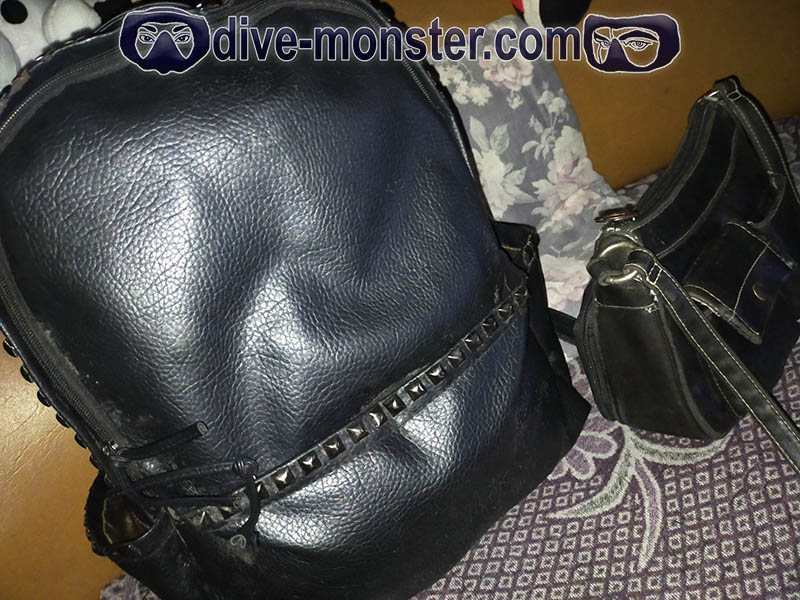 As a girl I tend to pack more that I really should. Surprisingly, I packed just enough for this trip. Here is what Tim and I brought for to our 3 Days and 2 Nights Dapitan Trip:
DAISY'S:
3 pairs of underwear
1 black jogging pants
1 couple shirt
panda cap
2 spaghetti tops
1 jacket
1 black dress
2 pairs of socks (black & white)
1 short heeled pump
white rubber shoes
blue sarong/scarf
black sling bag
black backpack
TIMOTHY'S
3 pairs of underwear
1 grey jogging pants
1 couple shirt
1 brown caps
1 black sleeveless
2 shirts – grey & white
1 red polo long sleeves
1 light beige pants
1 light brown short
rubber shoes
rubber slippers
brown casual shoes
drawstring bag
1 red/orange backpack
OTHERS:
2 cellphone chargers
1 GoPro charger
1 extension cord
1 toiletry bag
make-up kit
1 extra towel
1 GoPro HERO 7
1 selfie stick (a.k.a. crutch)
1 Lumix Camera
We stayed for two nights in a nice cozy pension house called Villa Pilar Pensione just walking distance to Gloria de Dapitan (220 meters) and to Kamayan ni Manay (270 meters). Their standard room is Php 500.00 (about $10). The room is good for two, with towels, shampoo, soap, air-conditioning, private bathroom, and shower, mirrors, closet, with a little veranda, outside table, and chairs. They also have other rooms with TV, hot and cold showers, bigger beds, twin beds and etc. Other nearby accommodations to stay in Dapitan are Travelbee Heritage Inn, Dapitan Beach Villa, Dakak Park and Beach Resort and Jacinth Beach Club Resort.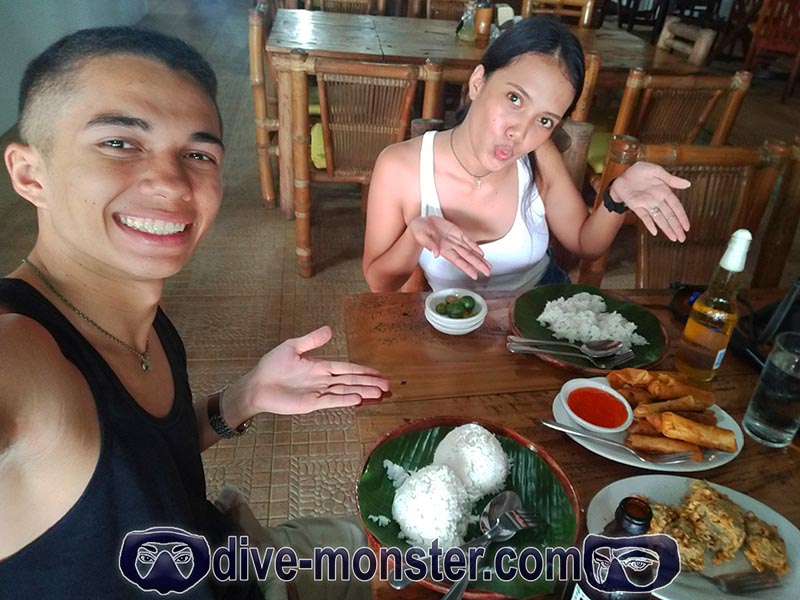 Late Lunch at Kamayan ni Manay
After arriving at the Dapitan Port by 2:00 pm and getting to our room and changing…we were a bit hungry. So, we decided to have a little bite to eat before going to the rides at Gloria's Fantasyland. When we got to the restaurant, we were a bit shocked that no one else was there. We had the whole local Filipino restaurant for ourselves. We ordered some beer, lumpia, fried chicken, fried pork, and of course rice. We ate and off to Gloria de Dapitan we went!
Gloria's Fantasyland – A trip to Memory Lane
Gloria de Dapitan is actually the name of the whole complex. There were several food & drink outlets, gaming areas, shopping center, movie house, badminton area and heck even a cockpit! But the main attraction for us was the Gloria's Fantasyland. It is a little amusement park with different cool rides. Ticket prices differ on the day and time. We paid a total of Php 600.00 only (about $12) for two tickets with ride all you can from 4:00 pm – 8:00 pm. (See picture below for price list).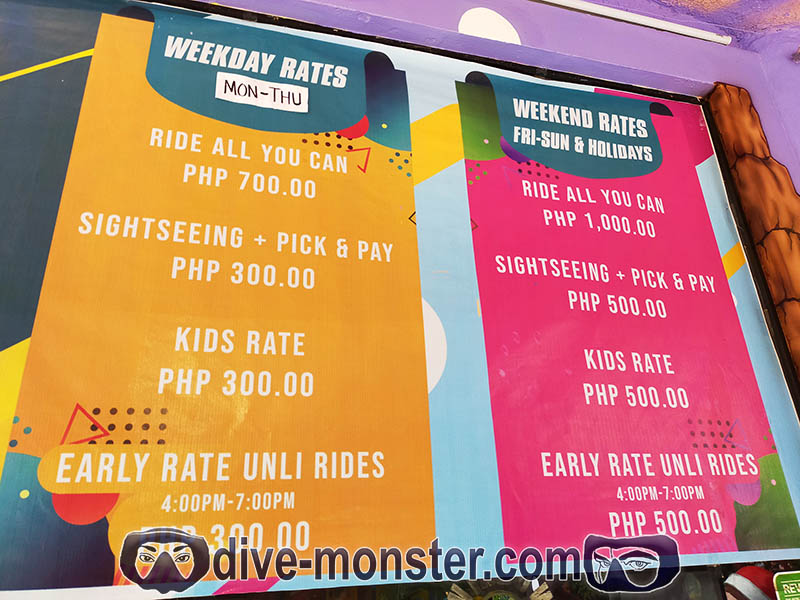 I have been inside back in 2013 and one of my favorite part was the Parade of Light show at 8:30 pm. We walked around as I took a trip down to memory lane. Everything was basically the same and all I could think of was I WANT TO RIDE THEM ALL!!! And ride them all…I did hehehhe. Well almost all of them. Turns out I am too "old" for the kiddie rides which I used to enjoy.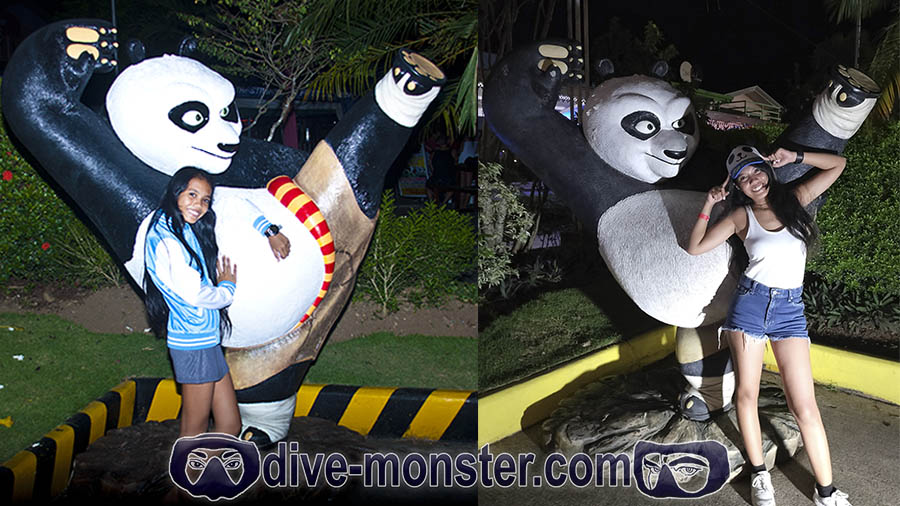 Can you spot the difference?
After riding almost all rides, we took a break and had some snacks. We went to Peaches & Cream and had some really good ice cream. We had the mango and peaches split and a blueberry fruit tea. We walked around Gloria de Dapitan and took some cute pictures while waiting for the Parade of Lights. The show actually started more or less on time. Of course, everything had to perfect because the lives of the performers and the audience were at risk hehehe. That night's show started with a little Christmas Dance where people were thrown in the air like angels. The Christmas show ended with a hot blazing fire dance! Tim and I were also in the front row so it was just awesome! After that, the Parade of Lights started. Different floats of different countries were presented with a little entourage dance. Overall a great way to end out night at Gloria's Fantasyland.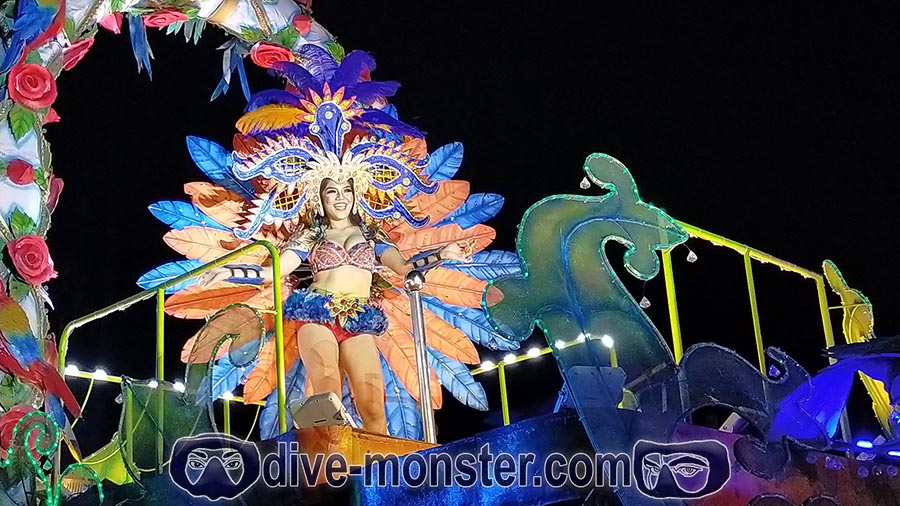 Bowling for the First Time!!!
Did I mention that the Gloria de Dapitan had a bowling center? That's right, just before we went back to our rooms, we had a bowling game. I literally had no idea what I was doing but it was fun. I even had a strike (which means I hit all the pins down yeeey!). We wore our special bowling shoes and I had my own bowling ball which was so pretty (and heavy). After bowling, we walked back to our rooms and off we went. We needed much rest because were going to have our Dapitan Trip – DAY 2: Rizal Shrine & Dipolog Sunset Boulevard ahead of us.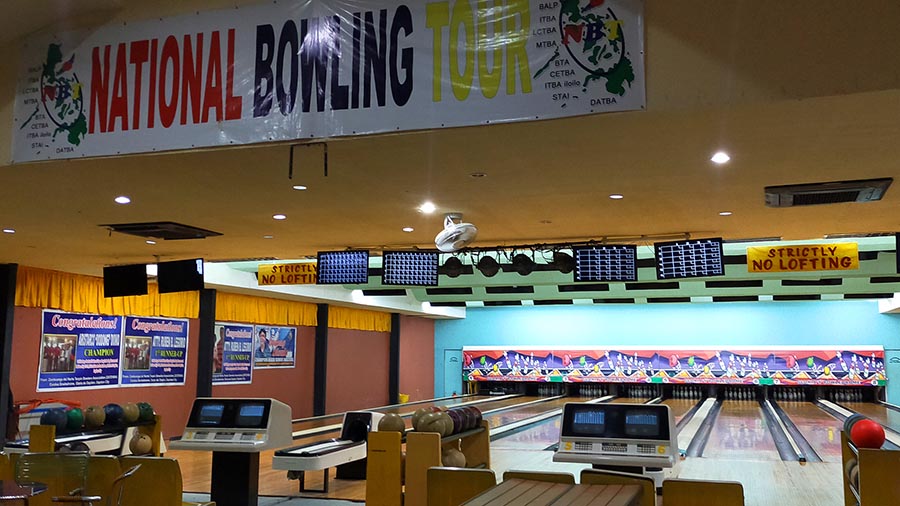 How much we SPENT for this day?
Here is an estimated calculation (we lost track of some receipts) of our DAY 1 of the Dapitan Trip. This calculation does not include the boat ride from Dumaguete City to Dapitan or the habal-habal we used to get to our hotel.
Php 500.00 – first night at the Villa Pilar Pensione
Php 580.00 – food & drinks at Kamayan ni Manay
Php 600.00 – tickets for Gloria's Fantasy Land
Php 245.00 – ice cream and fruit tea at Peaches & Cream
Php 210.00 – 1 bowling game & shoe rental
Php 245.00 – water & extra toiletries
Php 2,380.00 – TOTAL (2 persons having fun in Dapitan)
If you are traveling alone here is a small example of how much you can spend for one day in Dapitan:
Php 500.00 – first night at the Villa Pilar Pensione
Php 250.00 – food & drinks at Kamayan ni Manay
Php 300.00 – tickets for Gloria's Fantasy Land
Php 170.00 – ice cream and fruit tea at Peaches & Cream
Php 105.00 – 1 bowling game & shoe rental
Php 1,325– TOTAL (solo traveler)
Watch our Dapitan Trip – Day 1 Video here:
Over all, I think we made the right decision (so far) on having a Dapitan Trip. Eating out, going on fun rides with the person I love, at the place I have held close to my heart. The tame city of Dapitan has surely captured me once again. I can't wait to see what else it has to offer.
Love,
Daisy