Diving in Dumaguete is just awesome. There is so much to see, that one needs to go to each dive-site multiple times, that you even see remotely a little bit, what these wonderful dive-sites have to offer. This time we went to the Marine Sanctuary of Masaplod. 
As we recently just bought a new Nokia 3110, which is supposed to be waterproof and perfect for our undertaking, we were ready to go. As a safety back/up, we wrapped the Nokia in some cling-film and secured that with some duct tape. We also brought some WD40… everybody knows that nothing can go wrong if you have enough duct tape and WD40.We went once again diving with  Mike's Dauin Beach Resort in Dauin. The place is just perfect. Everybody there is member of the big family, and some of the best chicken burritos you can get on Negros are ready after you finish diving. But enough talking, just look for yourself and enjoy…
Diving at Masaplod Sanctuary
In this short clip are quite some creatures missing. During the 1 Hour dive we had some Frogfish, Scorpionfish, a few plastic-bag fish and even Chinese Sand-Hoppers. The later belong to the fastest and most dangerous underwater creatures one can encounter.
The Chinese Sand Hopper
They show up out of the middle of nowhere, and disappear in about the same speed, and leave a field of clouds with bad visibility behind. Usually they are equipped with 30cm long metal pokers. If you get caught in the middle of a Chinese Sand-Hopper huddle, protect yourself as good as you can. There is a related species, the Korean Sand-Hopper, which are as dangerous as their Chinese counterpart. The difference is, the Korean sand-hopper female have kitty-cats and stuff alike on their fins, the males have stupid bandanas…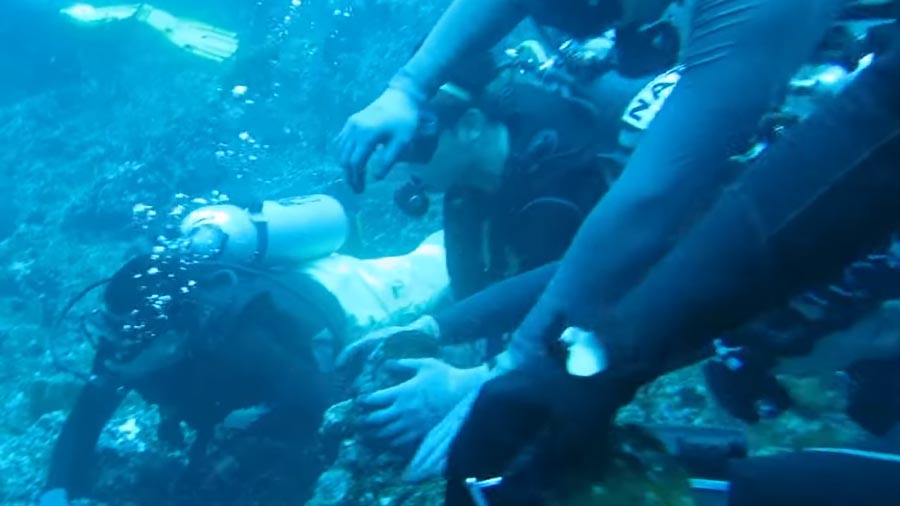 So, no matter if you are diving in Dumaguete or any other place, stay safe and protect yourself at all times!!!