On Sunday the 6th of January we scheduled a side-trip to Subic with some friends to have a great time and do some diving on the famous wrecks of the Subic Bay. I was there some 5 years ago and was pretty much exited about the trip. So at 7 in the morning there was a nice crowd of people standing around the van, wondering how everybody should fit into that. 5 guys, 6 girls, 4 sets of dive-gear, 2 driver, 11 back-bags, several notebook and camera-cases, 3 pillows and 2 monster stuff-toys squeezed somehow into the van and a rental car and headed towards Subic Bay.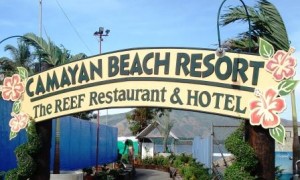 With the new highway open, it was just an hour drive to the diveshop of the Camayan Beach Resort. After the typical paperwork we set up the gear and got our briefing for the El Capitan. I had a look at the rental gear and it seemed to me in good and well maintained conditions. The tanks were full with 200+ bars and the Banka big and spacious.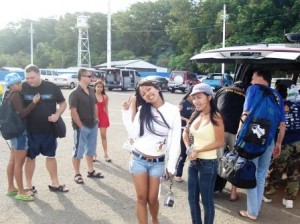 We had a five minute ride and tight the boat up on the mooring buoy of El Capitan. I could see from the boat that the visibility was not really good and after entering the water first I could barely see the end of my fins. I thought right away: That dive will be for some of our group a big challenge. Descending down the mooring line did not change anything in terms of visibility and my body and I were the first after the divemaster exploring the wreck.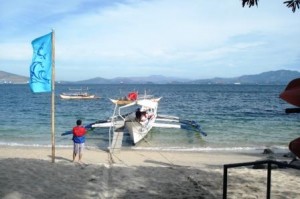 To be honest, it could have been anything down there as there was nothing to see other than light green, dark green and black after we penetrated the wreck through one of the cargo-holes. Occasionally I saw the shade of the Dive-master and felt the hands of my buddy. I was not sure if he wanted to grasp my big Lubud or just keep in contact with me.
Finally towards the end of the dive I saw shades of schooling Bat-fish in the green and I think there was a Ray sliding of the subject we were diving on. What I am 100% sure is that there were some clown-fish…
After surfacing everybody had really sore eyes, so we decided to skip the second dive. We still can go back to Subic another day and the Ocean Adventure-Park is in the neighborhood so we can watch some dolphin and sealion-shows.
Cheers
Rhoody