So I left Dumaguete to visit my parents in Germany. My daddy turns 70 and that is more than an appropriate reason to pay a visit. It's been a while since I was in Germany; around 7 years and 30 kilos. They probably don't even recognize me anymore… I found a good flight to Nuremberg, where my brother will pick me up. From there it is just a 30 minute drive or so, to his house. The whole trip still takes about 34 hours from leaving Dumaguete to arrive in Bamberg. I brought a real boring book, that should let me sleep most of the time.
The kids made some nice birthday presents and I have, well I have nothing, I guess I am enough… A bottle of Boracay Rum with Cappuccino Flavor for my brother, or I keep it … still undecided yet.
Just checked the weather in Germany… ooooh my freggin' god, I don't have any cloths left after this time to survive temperatures around the freezing point. A good reason to drink a lot to stay warm.
Rechel brought me like always to the airport after I hugged my 2 monsters at the house and R got a trike to the airport. We left around 6.30. I could have checked in online, but doing so does not allow me to get a fat-mans seat, they cost extra.
Dumaguete Airport – Business as usual
Of course I arrived right behind a group of 16 Swiss diver and as all scanner at the Dumaguete airport were broken, everybody needed to open the suitcase. When it was my turn, the guy asked me what is in the wrapped paper and I told him a birthday present for my daddy. He asked me to open it… I gave him a diplomatic FUUUU, mate !!! and somehow it remained wrapped.
I was surprised… of all 3 check-in counter of Shabu Pathetic, and 1, UNO, ONE was indeed open. OK, falling in line with the swiss diver, another 30 minutes passed…. Finally… My turn… and guess what, BROWNOUT, all systems down. It took another 10 minutes or so until the generator started. 10 minutes with 200 people in the small check-in without aircon…
Maybe a new way of falling in line should be invented at the Dumaguete Airport
I was soaked with sweat when the power came back. That does not mean that the procedure continued. The terminals had no power and the needed to find a power extension first. My Luggage had 14.7 Kilo, perfect. I believe my backpack has 25 Kilo. But being a big boy, I can carry it without any effort. Well, 33 hours to go and all effect of the shower 90 minutes earlier is gone. I should fly via India, at least they stink in general, so I would fit into the crowd.
However, I left the Dumaguete airport again to have a last coffee or two at the airport sari-sari shops and sit with Rechel. She actually handled my departure tearless. That never happened ever when I departed alone from Dumaguete. There were always tears… Now wait a moment,she didn't cry, maybe she is happy to be free… "Yes, he is gone, 2 weeks of party. I will also delete all his Porn Movies from his hard drives.. "
The Shabu Pathetic aircraft arrived at the Dumaguete Airport exactly at the actual departure time and we boarded 30 minutes delayed. While waiting, I could recognize again, why Dumaguete is the City of Gentle people. I counted 8 single locals, each of them occupying all 4 seats of a row. 3 they lay on, one for their luggage, while old fat man like me, had to stay and sweat. And just don't think they would move the ass, when asked, if they can move a bit. Well, I believe that is the reason of the blind-men-band playing mellow music, to calm annoyed people down.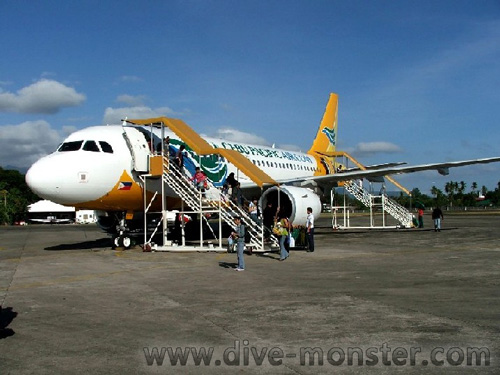 Anyway, I boarded and soon was on the way to Manila, where I arrive half an hour late at the domestic terminal, or whatever they call it. When standing at the luggage belt, another typical local action. First of all, one needs to get a cart. Park the cart at the belt, get your whole family standing next to you at the belt that they occupy about 5-8 meter, and shout through the heads of all other passengers to your kids who just running noisy around, bumping into other people and start crying.
Well, there was a section also under renovation at the belt and a kind of separated with pylons and tape. However, that does not count for a real Pinoy, just CUT the plastic tape, kick the pylons to the side and get into the construction area to get your suitcase about 5 seconds before it would have reached your position anyway.
I needed to transfer to the Terminal 1, the International Terminal for all airlines from abroad. This transfer is pretty painless; there is a shuttle bus outside which is 20 Peso. It is supposed to leave each 15 minutes, that is considered Pinoy time. I was sitting already 25 minutes in it before it moved. At 12 noon, I was finally at the international airport terminal 1 in Manila. A lot of things changed since I have been here last time. It is older, dirtier, slower, and actually nowhere to sit if one needs to wait for the check-in, but the will be the next chapter on my trip to good ol' Germany.