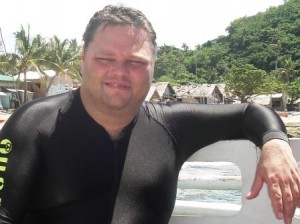 After 2 days of eating and drinking it was time to get also wet from the Outside. Tom was not in the water since a year and Mike did not see that much during his Open Water Course dives due to 1 meter visibility. We decided to meet at 1:00 pm at Mikes diveshop and drive to Dauin for a "refresher". It was also a great opportunity to conduct a Discover SCUBA program for BigC and Lyka who never tried that before. No need to say that Mike took care of they Boys while I had the hard job to explain the girls why a wet-suit is really not needed and they will look great just in a two-piece.
All my professional arguments did not convince them and after some general talk about what will happen we entered the water. I was surprised how easy it went and after 5 minutes with some easy skills we were diving into the Dauin Sanctuary and were looking for Nemos. After the dive we all decided to go together to Apo Island the next day and take it easy this evening.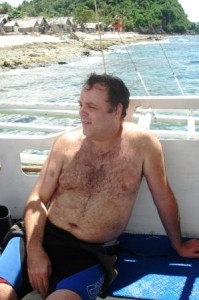 Easier said than done… after a nice dinner (again at Casablanca) Kim and Tom went back to the Hotel and I decided to have a quick look at Coyotes Bar where my favourite local band "Ground Zero" had a gig. I should have known in advanced that the "take it easy" plan would never work out. As soon as I paid my bill around 10:30pm "bearfoot-John" came in and we needed to discuss some "important" things, like beer-temperature, shoe-policy in why not and crappy Pizza at Mama Marias. I refused looking at my watch again, knowing anyway that it's too late when finally heading back home.
My alarm woke me up a few hours later on Sunday morning at 6:00 and I got ready to pack all our dive-gear. The water was a bit rough when we reached Mikes property in Dauin and the two girls decided to stay at home and go shopping. Our company was completed by Will and Maureen, Kevin a Korean DM-candidate, a japanese guy and July a girl from the US.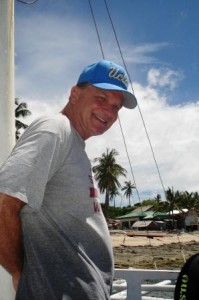 Apo Island was like always a great day-trip with clear water great corals and some turtles and sea-snakes. We split into 2 groups and did 2 wonderful dives at Chapel Point and Katipanan. Inbetween we headded to the Island and had a bite to eat on the boat. All in all a great day. The ride back was a bit rough and I think it's ok if they guys log the ride as another dive…
Sunday evening was the last dinner before the boys fly home to AC and guess where… correct at the "Fat Austrian" . The food there is just delicious, nevertheless I will not understand why Kuya Kim managed to have 4 times Cordon Bleu in 4 days and never tried anything else…
Mike and Joan joined us for dinner while the other Mike (my Typhoon diver) went with the girls to Hayahay as they couldn't find anything tasty on the Casablanca menu.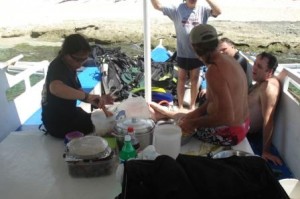 I was pretty much worn out and definitely needed some sleep. Kim adviced me that the first 17 beers might be a bit hard to go down but the next 10 will do it easy…  No not that night !!! I went home around 10:00 pm and was sleeping deep around 10:01 dreaming of turtles, snakes,SMB and mermaids.
Thanks guys for coming down to Dumaguete, I really appreciate the time and don't cry a tear about the lost braincells during our nights out.