Last Sunday I went with my Family to Mifune, a Japanese Restaurant in Dumaguete for a revisit. I have been there a couple of times, but I think this was the second time, or so, we went together. They adjusted the interior a little bit and it is more "Japanese", although the seats and benches are a kind of "cheap-ish" hammered together. Nevertheless a big improvement to our former visit…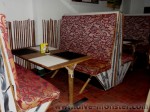 We arrived around 6pm and were the first guests. First positive note, the aircon is working !!! For a fat, always sweating German like me, it was a pleasant surprise. Many restaurants switch the AC on when the first guests arrive, Mifune was already cooled down. An advice for the ever-freezing local ladies, bring a jacket.
Our waitress was polite and actually pretty sweet. I assume one of the reason, why my little one didn't take pictures of her. (She always does that. As soon one might fit to "Papas" food-chain, she will be not occurring in a picture). Anyway, we got our drinks and checked the menu. I also ordered a Japanese Tea and was expecting a bit more than a tea-bag in a pot of hot water.
Like always, we order way too much but also enough to get a nice overview. So this time we had:
Spicy Tuna Salad
Ramen – noodle Soup (Tempura Soda)
Dragon Seafood Sushi Roll
Okonomiyaki – Nikutama Ikaten Soba (kind of Japanese Pizza)
Calamares
And something I don't remember the name, but was Fried Rice with some seafood in it, wrapped in an egg.
The meal started with a small complimentary salad for everybody.
The Spicy Tuna Salad arrived, and below is the picture my monster took from the menu, and what I was expecting.
… and here is what actually arrived:
Despite the fact, that it has absolutely nothing to do with the picture in the menu, it was really tasty. It was certainly no fresh tuna, but the "paste" on top of the salad was really good. I would take a gallon of that home as sandwich spread. The dressing for the salad was well balanced and not only soy sauce. One thing it definitely was not: spicy…
The dragon roll was also good and a recognized that the mayonnaise was not that sweet like on the last visits. Definitely a positive improvement. The presentation was nice, still lacking the finesse of a "real" Japanese restaurant.
Daisy ordered the Calamares, and they were decent with a good dip. Definitely fried in fresh (and not the very cheapest) oil. The dip was NOT sweet, which also is nice for a change in a Restaurant in Dumaguete.
Okonomiyaki – Nikutama Ikaten Soba
That dish is a kind of Japanese Pizza, I guess, and like the name already suggests..
..it looks YAKIE. I love it…
It is quite big and certainly could be good for 4 if one is not very hungry. According to the menu it is Squid, Pork, Cabbage, Noodles, Tauge (whatever that is), Egg and Spring Onions. Well I could not make out any distinguished ingredient in the taste, but it really didn't matter, the overall taste is really good.
As you can see it is prepared on the Teppanyaki hot plate, which is also a nice visual effect for guests and interesting to watch.
Rechel, the boss, had the Ramen soup and was rather disappointed about the taste. She liked the seafood in it, but the soup itself caused no reason for excitement.
The fried rice of my boy was actually good, it almost had a kind of risotto consistency. The tiny octopus tentacles were pretty chewy; however, they added a nice flavor to the dish and were actually that small that there was not much need to chew.
Not sure what else was in it, but again, a good dish.
We paid at Mifune for all that and some ice tea a bit more than 1,500 Peso and I think we got a good value for the price. There is certainly the finesse and a bit the original taste of a "real" Japanese Restaurant missing.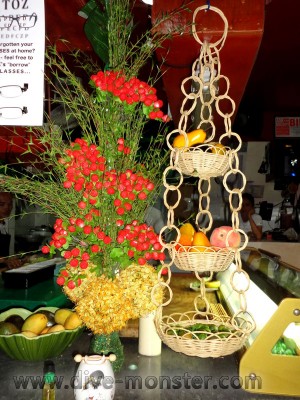 One thing which still jumps to my mind is the whole set-up. It still looks the "I found something in Uni-Tops"-way with "I have some plywood and foam left" homemade furniture, than a well thought concept, which could certainly be realized, even on a low budget.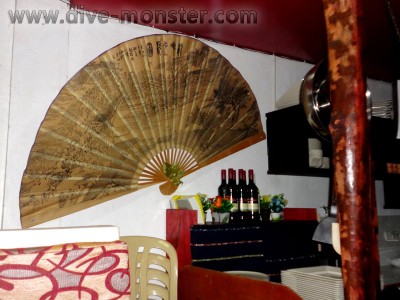 But at the end of the day we talk about Dumaguete and with prices adjusted to the local market. Authentic food can't be expected for that pricing.
Nevertheless, they improved a bit from our last visit and are a good option for Dumaguete City. Aircon works, staff friendly, food is good value for money and tasty. We had a good time at Mifune in Dumaguete !
Cheers
Rhoody