Finally!!! There is a food delivery service in Dumaguete City! Most fast food like Jollibee, McDonald's, Chowking and most pizzeria like Alberto's and Yellow Cab have their own delivery service. BUT, with the new Foodpanda in Dumaguete City, you can order your food and drinks from other local restaurants, cakes, and even bakeshops! All it takes are a few taps on your phone or computer. So, we decided to try it out.
Food delivery service in Dumaguete… before FOODPANDA
Now this is a funny coincidence. Just a week ago, Dive Monster Senior Aka Papa and I were talking about the different Restaurants in Dumaguete. There are some nice options out there, however, we are sometimes too lazy to even get out of the house. First you need to wait 10 mins to get a ride from our place, then pass the amazing bridge the mayor has not fixed yet. Upon arriving at the restaurant, we then try to get the attention of a waiter/waitress then order…then wait. Then eat then pay & go. But there are some days that we just want to order food. Now that Foodpanda is here in Dumaguete City, we can order from over 60 restaurants, cafes, milk tea shops, bakery, and bistros !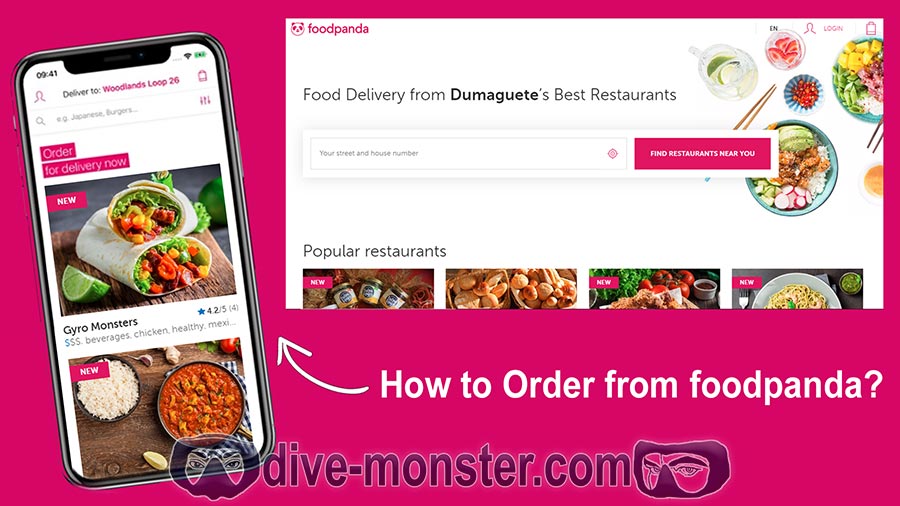 How to Order from Foodpanda?
After hearing about the new Foodpanda branch in Dumaguete City, we immediately went to the mobile app and searched for the options for Dumaguete. We were flabbergasted by the new set of choices. Then we finally picked a local shawarma place in downtown area called Gyro Monsters Shawarma. We ordered 4 pieces of their vegetable wrap (Php 25.00 each), 2 chicken shawarma (P35.00 each), 1 beef shawarma (Php 35.00) and 2 shawarma rice (Php 55.00 each). After choosing our food, we clicked the check out button and started customizing our order (extra hot sauce & etc.). as far as we know, there is no minimum order for foodpanda. If you are craving for 1 single vegetable wrap for Php 25.00 or a single pandesal for Php 6.00…go ahead order! hahaha
After completing the order, we started to wait. The initial time given for the order was 49 minutes. However, it took a little bit longer than that. Nevertheless, it arrived. With the app, you can track your pink and white panda icon moving on the map. One of the good things with Foodpanda is that you can write your address and pin your exact location on a map, so the driver knows exactly where to go. Foodpanda will also send a message that the delivery is on its way. Just amazing!
When the food finally arrived, we all took some pictures and paid. We got inside & started eating our hot shawarma wraps & rice. Over we paid Php 315.00 for the food delivery goof for 4 people already. Will we ever order with Foodpanda again? Yes!!! Now, let's see what else we can order hehehe
Love,
Daisy