The KRI Restaurant in Silliman Avenue is one of the latest additions to the Restaurant – Options in Dumaguete. I read quite some mixed  review with the general tendency to be positive about KRI Restaurant. So back and relaxed from my working-trip to Angeles, I grasped Rechel and we went there for lunch.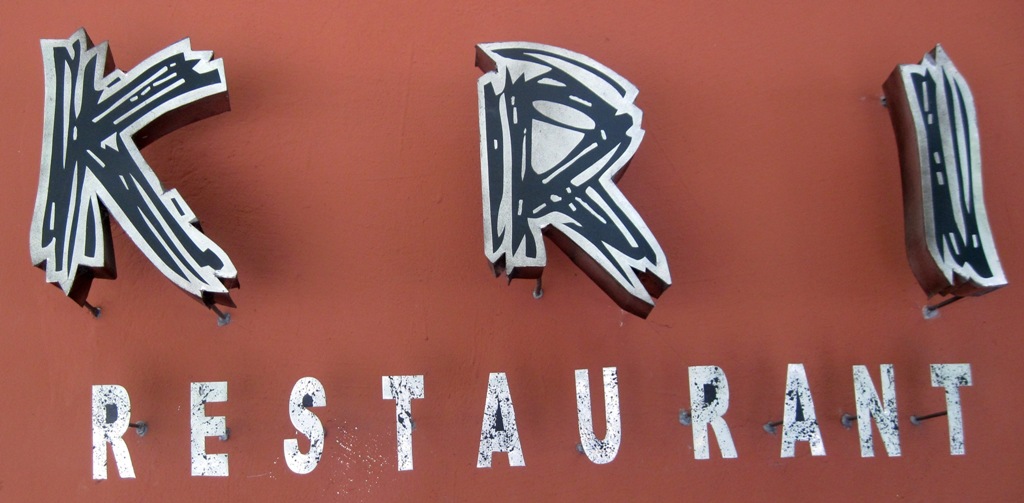 There would be enough parking space for the guests if not this typical local attitude would rule that people who have a big car must almost drive right into the entrance in a way almost nobody can pass or actually park there. Kuya, you can park in Dauin, it would help the shape of your wife a lot if she need to move her … well skip that.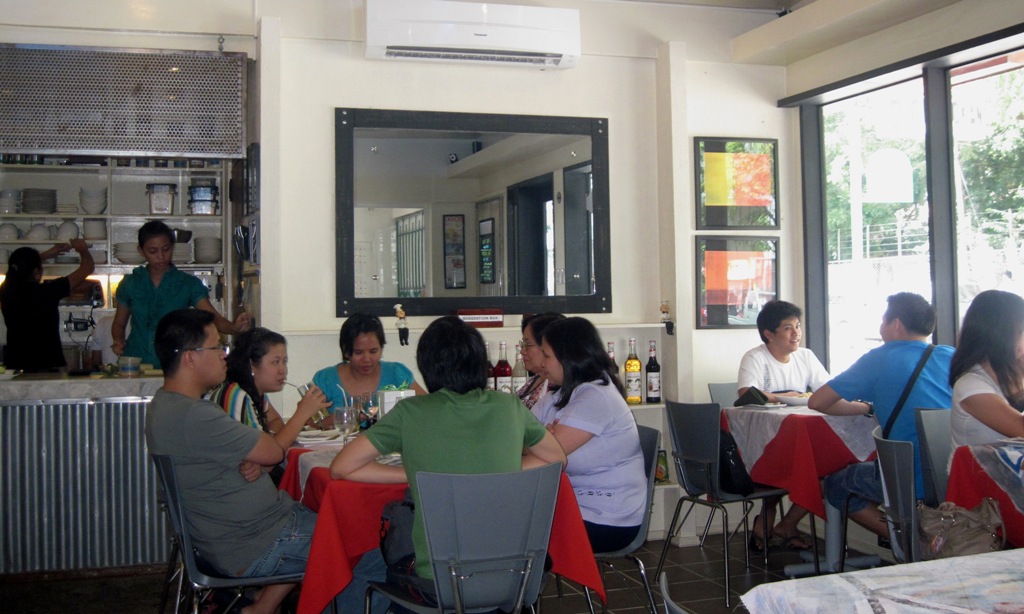 KRI Restaurant has its name from the three involved people Keith, Richie and Irish and is pronounced  -kree- like in "Chris". The interior is modern and a kind of bright but still welcoming, the aircon working nicely (no ref, not too hot) and music is perfect balanced background music for a nice lunch. The chairs are ok for my big ass and the table-setting nice.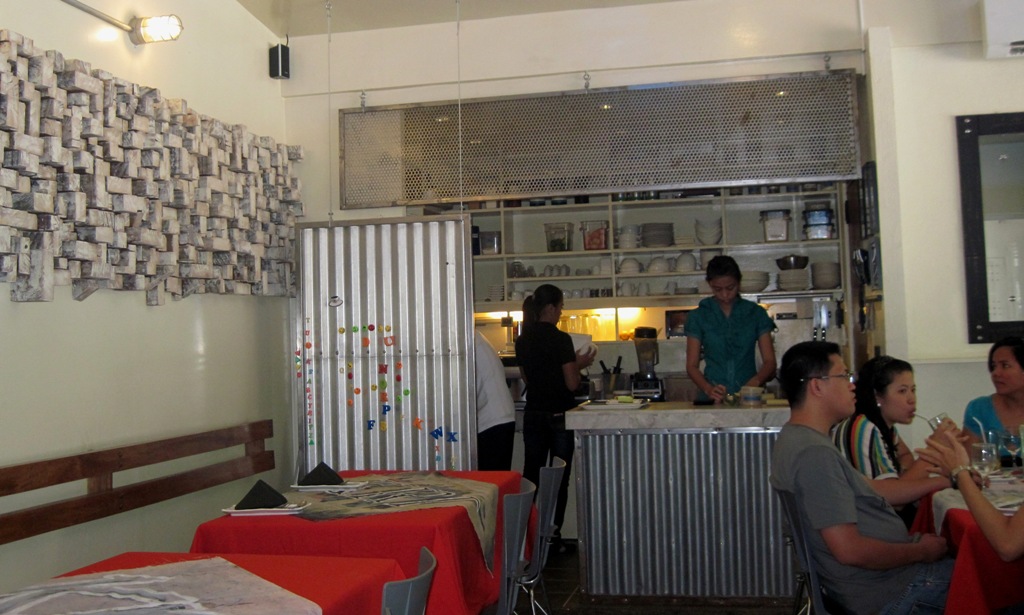 The menu of KRI Restaurant in Dumaguete is pretty small and offers some Salads, Sandwiches, Rice-topping and noodle dishes with some specials announced on a mirror on the wall.
The price range goes from 75 to 98 Peso while the soup of the day is 49 Peso. Drinks start from 40 Peso for a coke to 50 for a SML. Additional several Shakes and coffee are available.
Considering that the menu announces that all is exclusive VAT & Service Charge, the drinks are pretty much expensive for Dumaguete.
Anyway, the staff was very attentive and we had the menu a second after we sat down. Our drinks were out of stock so we decided to stick to the complimentary drinking-water (nice and prompt service, by the way) Rechel mentioned to me that a guy at the table behind us whispered something to the "R-Part" of KRI and pointed at me, who appeared 10 seconds later at our table and apologized for the inconvenience with the drinks and staff is on the way to get some coke light and sprite from a neighboring shop.
Somehow I got the feeling that the "whispering" on the table behind involved something like " This is THAT Rhoody, better don't fuck it up" or similar. Well, anyway I appreciated that a lot as I had a similar situation in another restaurant where I was the only guest with a friend and 4 waitresses were standing lazy around but none moved their ass to get outside, resulting that my friend went outside and bought 2 bottles coke light which we consumed with our lunch.
Each time I visit a new place I order a variety of dishes to get an overview of the total. Our order for 2 was:
Soup of the day (Tom Yum Goong)
Pad Thai
Turkey on Chiabatta
Short Ribs on rice
Sweet of the day (sort of lime-cake)
Pecan Pie
So let's start with the two Thai-dishes from KRI Restaurant. Both are not on the regular menu but I asked our friendly waitress and she told me that they are usually available. I love Thai Food but the last time I had something close to Thai Food was in Angeles City in a kinda weird place with delicious food but strange guys around.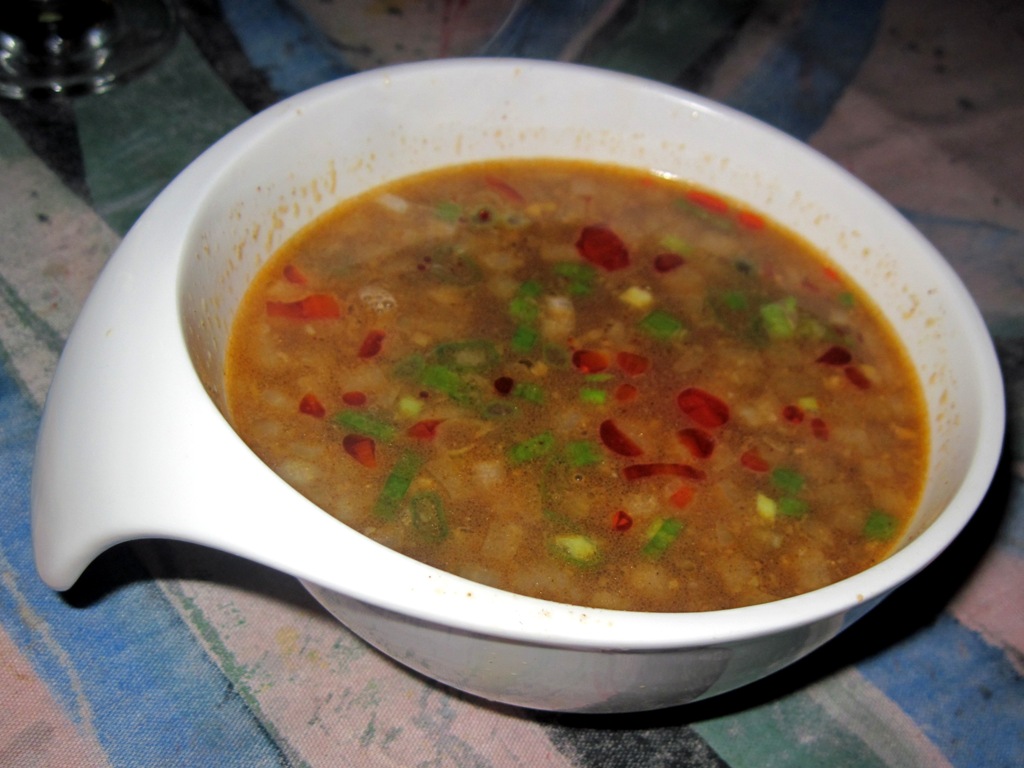 I know it look like Baby-vomit, but was really delicious
Both dishes were absolute delicious and the closest to Pad Thai and Tom Yum Soup I ever had in Dumaguete. My order was very spicy and I am sure for the local pallet it must have been insane spicy while I could have it about 2 steps higher. Anyway, delicious, can I have a bathtub full of that stuff?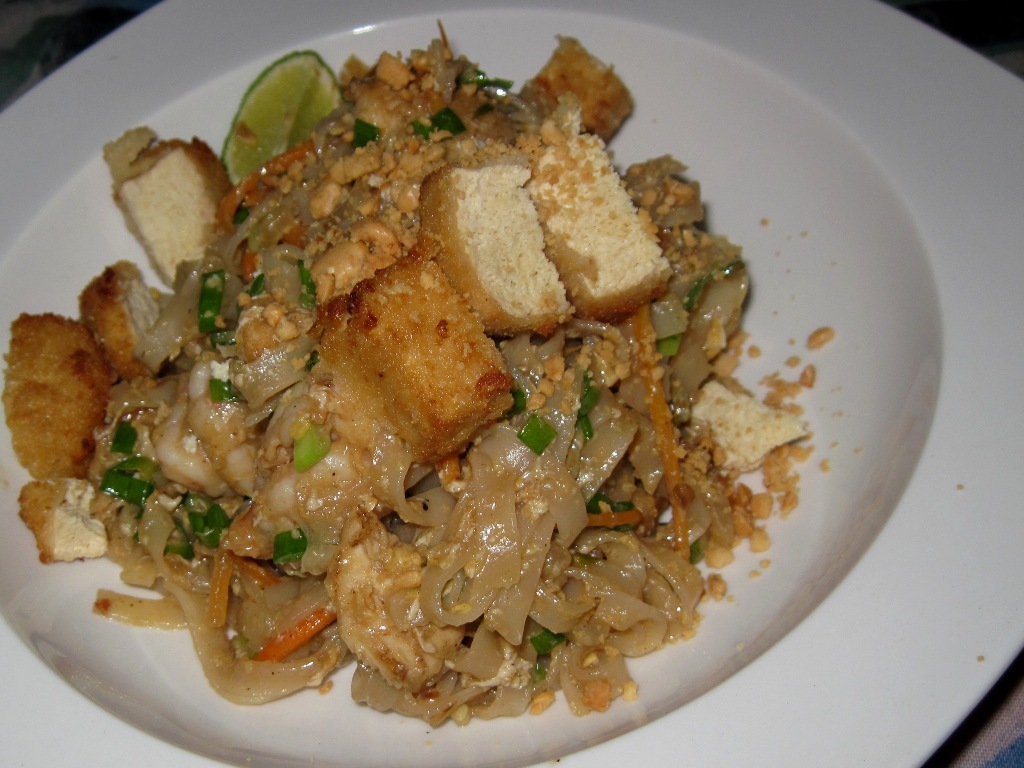 Side note: … now our Coke and Sprite arrived (nice service)
Turkey on Ciabatta – Short Rips on Rice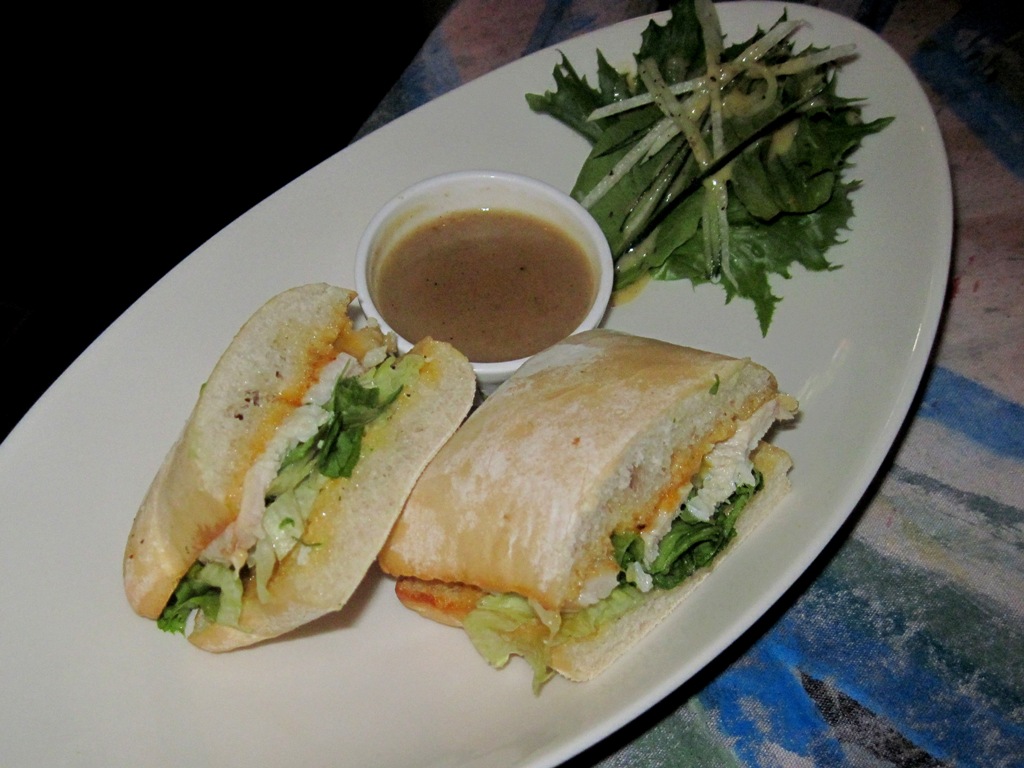 While there was no complain about the taste, the size is a little bit behind my expectations. Same could be said about the Ribs on Rice. Two tiny rips with a little bit of meat covering barely the big hole in my tooth bottom-left-back… Again, taste-wise, nothing to complain but also nothing extraordinary.
Lime-Cake – Pecan Pie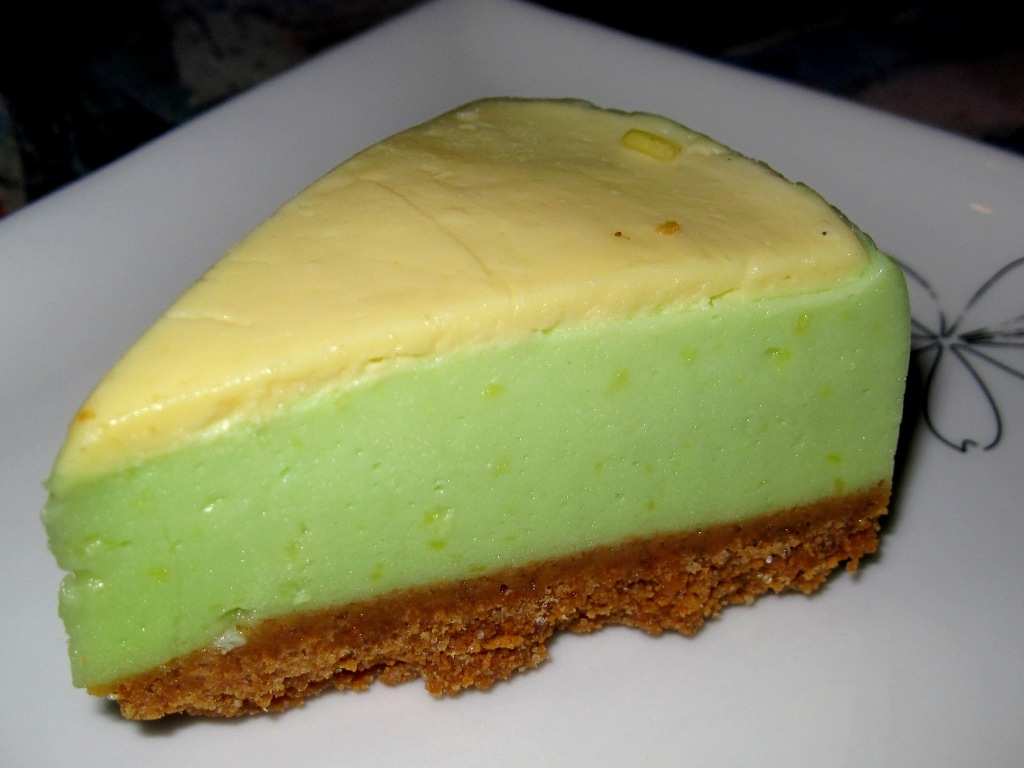 I definitely loved the Lime-Cake which had a great refreshing flavor without being too sweet. Maybe two or three drops of something on the side or a spoon of ice-cream on top would make it extraordinary for me. Rechel liked it also but preferred the Pecan Pie. Both desserts were something I would not wanna miss.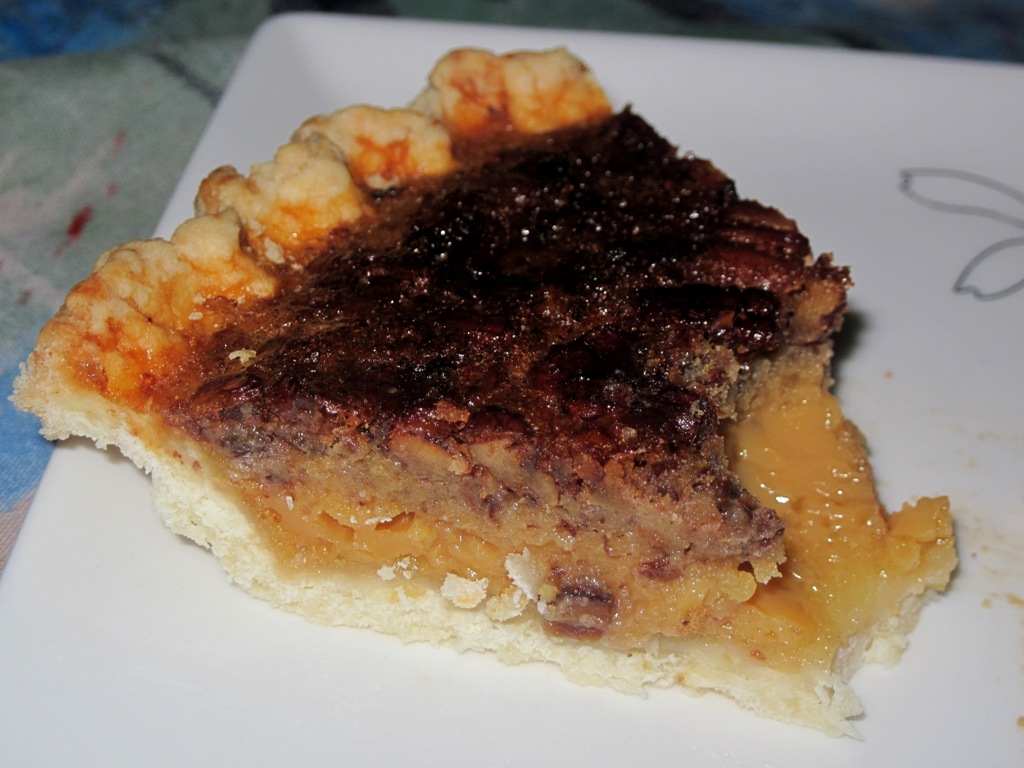 The table settings and food presentations were all fine, nothing I would rave about or would remember in a few years, but hey, we are in Dumaguete, and for here it is at the sunny side of Dumaguetes Restaurants.
When we paid the bill at KRI Restaurant, the coke and sprite where due to late delivery on the house …. Or maybe it was the result of the whispering and pointing earlier on my back… Still very generous and appreciated, so I left a well deserved tip of 70 Peso, which is more I would usually tip on a 500 Peso bill.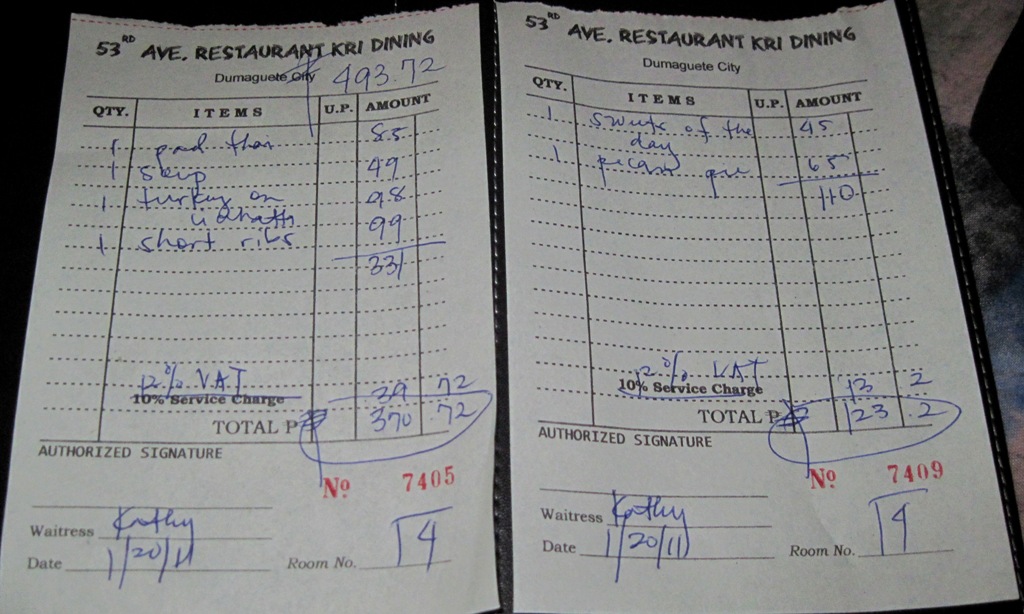 I am not exactly sure how to write a summery about the overall experience at KRI Restaurant…but ok, here I try:
It is definitely not that cheap as I can read on some other reviews online but it is a nice place with value for money. I don't mind paying a bit more for good quality, service, aircon and nice ambience. The 2 Thai dishes are definitely on me do-it-again list, while I certainly will skip the short rips as Mooon has about 4 times as much meat for only double money on their Baby Back Rips…. won't go for the Turkey on Ciabatta bread anymore either, just too much bread and not enough turkey.
Will I go there again?
Maybe not if the same place would be in a real city. We talk about Dumaguete City, where the choice of Restaurants is pretty limited and KRI Restaurant in Silliman Avenue is a very welcome addition to my style of having a bite to eat. Staff and owner very attentive on that visit and Rechel and I definitely enjoyed our visit at KRI Restaurant in Dumaguete. Congrats Keith, Richie and Irish, all together a nice job, see you again at your place. My chances being a returning customer? For Dumaguete it is a 100% YES!!! (I will be there again and try more dishes and some repeats), 50% yes after the second visit, 4.48% after the 3rd visit …
cheers
Rhoody