Nah, I am joking…. There is no real Japanese Restaurant in Dumaguete, at least not if you actually did eat Japanese Food in Japan or in Japanese Restaurant which has access to the ingredients and the chef appropriate training. Some actually had once the original Sauces. They still kept the little bottles and filled it with the locally available stuff which makes all taste like Adobo anyway.
Quick Japanese Bite
However, I was with my D-Monster downtown to record some footage about the Rizal Boulevard in Dumaguete as well as the Cathedral and the Bellfry.
The sun was burning down and after 2.5 hours we were ready for a break. A little birdie whispered me a few days ago that there is a place which makes a kind of Japanese food, which is easily as good as the places call themselves restaurants, just for a realistic price.
So off we went – and I know you want to know what place I am talking about – down Perdices Street, heading for Lee Plaza. BTW, isn't it amazing that this huge Department Store has a wheelchair ramp to get to the entrance and then no elevator. So, if you are in a wheel chair you can drive in a circle in the 50 sqm Lobby. Anyway, we both are not in wheelchairs, yet, and could use the stairs and escalator to get up to the food court.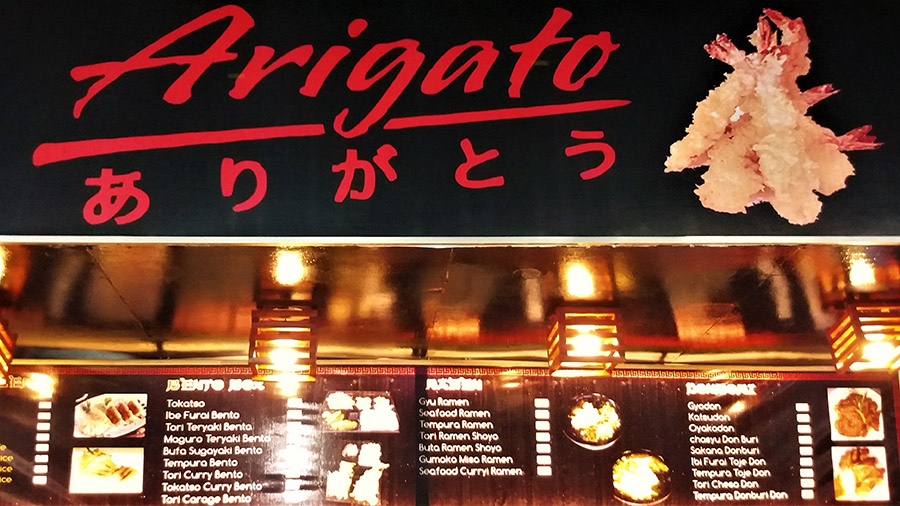 After checking that there is only one place with Japanese-ish sounding name and pictures on the menu: Arigato.
D-Monster and I discussed quick what we want and decided to go for some Tempura, Gyozo, a California Roll, some messy thingy I don't know the name but it is rice with a lot of toppings like mushrooms, meet, seaweed, an egg and probably secret ingredients I don't even want to know. Along with that 2 Miso Soup and a small bowl of rice.
They only serve Pepsi products and as I have an allergy unless they come with a good amount alcohol of any kind, we decided to go for water. While they prepared our stuff, we talked bad about people who are not around.
Up to this day I never understood what anybody may like about Miso Soup. But it is not something Wasabi can't fix in the blink of an eye. When the 5 Prawn Tempura thingies arrived, I was surprised by the size and taste for only 115 Peso. The same counts for all other dishes we had. While it is really not original Japanese food, my little birdie was right, it is at least as good as the other places with higher prices claiming they have Japanese food in Dumaguete. For all that food mentioned above we paid 360 Peso and left stuffed.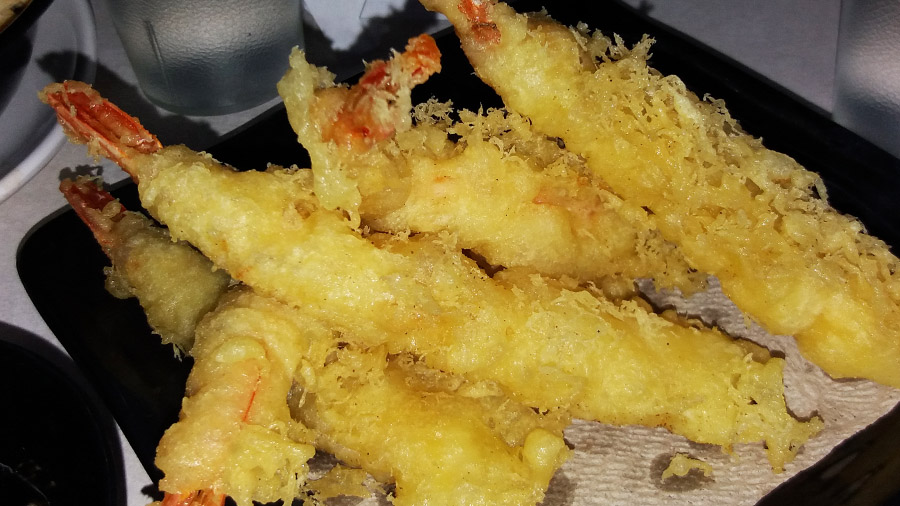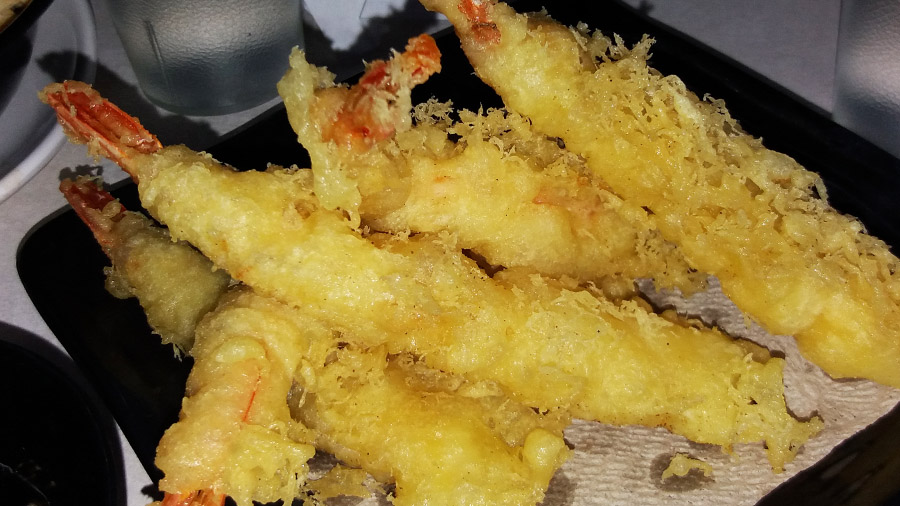 Eat Japanese Food in Dumaguete – Nah, Out of Stock
Sadly, the food-scene in Dumaguete remains as pitiful as ever. There are many reasons for that. Some don't have the money for proper food, and others also don't have the money for proper food. The few willing to pay for good quality are not enough that a good variety of Restaurants serving dishes from different corners of the globe can survive. As long as locals and many expats think that Mifune is Japanese, Pasta King is Italian Food, and some sesame on a fried chicken is "fine dining" there is little hope for proper international restaurants surviving here in Dumaguete.
Anyway, our little food court stall is not authentic Japanese food, but certainly a nice alternative and a good chew if one is downtown shopping, unless you are not in a wheelchair that is.