So after this absolute bad Hooters Experience we walked through the Mall of Asia, bought our survival-kit (underwear, toothpaste etc.) jumped into a Taxi and drove to Malate where our Hotel – the Executive Plaza – was located.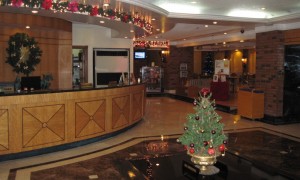 The Hotel was 1.900 Peso what was actually a ok-deal compared to their published rates and or short-term booking. The room was OK, the water-pressure high so I took a loooong shower. One thing I did not like, there was almost no cell-signal in the room, well, there are worse things in the world, one of it are TV's which show you after switching it on 98 channels to select from. I canned through the list and wanted to watch some news, when selecting the channel the only thing I saw was "snow", well ok, let's try another one. . . same snow just a different shade of gray…  at  the end I had about 13 available channels, 6 Filipino selling-whatever channels, one with showing a list 98 available channels and 4 with different cameras showing live the traffic on EDSA. …
Around 7:00pm  the 3.5 big long-noses met again in the lobby to head out for some cold beverages. Kim guided us to a place called "Blue Room". The Blue Room is a great warm-up or hangout place. Nice seating, good snacks and relatively cheap drinks (considering the location).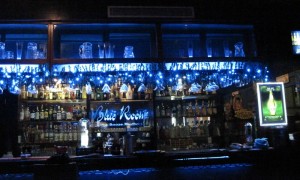 They played very interesting (sometimes as bit disturbing) music. I would call it a kind of smooth Jazz and it was easy to listen and not too loud. The disturbing part was, that all songs were Jazzy versions of famous songs, and welcome to the Jungle by Gun 'n Roses in smooth Jazz just sounds wrong. Still, the Blue Room was is a place I will go again when in Manila if I ever can find that again.
At around 11 we headed to the EDSA Entertainment Complex. First thing the guard took away my little camera as they have a no-photo policy. The EDSA Entertainment Complex houses several bars kept in different themes. We had about one drink in each Bar but didn't get into a party mood. At around 3:00am we made our way back to the Hotel of course not without heading to McDonald's first to have a small Take-out Snack existing of 2 Quarter Pounder Meals. Pretty much stuffed I felt asleep about 4 am.
Five hours later a woke up and it was impossible to go back to the land of dreams and the spy cams on EDSA-channels lost my interests after about 3,5 seconds, so I texted Kim from the Hotel-Lobby who was already out for Breakfast in Robinsons which is just located around the corner in 2 Minutes walking distance.
Breakfast with Kim and BigC at Burger King as Kim needed to charge his cellphone and this service is available in that fastfood chain… it turned out to be a bit bigger meal than planned. The original order was  Western – BBQ-Burger-double and while I was waiting Kim looked at his order to find out it was the wrong Burger so he gave it to me to shorten my waiting time. Well half way through that Burger Mine arrived. It was actually pretty good and it took about 60% of the burger to find out it is just a single and not double like ordered. So back to the counter complaining and waiting for my real order… It finally came correct and after 1,5 and a half burgers I was ready to roll to the Mall of Asia for some shopping before meeting the guys again for watching Avatar. Well, of course not without having "lunch" with another burger at Wendys…
Cheers
Rhoody