Mifune is a new Japanese Restaurant in Sta. Catalina Street in Dumaguete (actually they call it Mifune – Japanese Food and Bar) and finally on the third visit I could test it with Rechel.
That I needed 3 tries was not necessarily the fault of the restaurant.

The first time I went there was simply one day before it opened, the second time 3 days later but the air-con was not running and it was just super hot that I could not even sit down without being soaked in my own sweat. So now on the 3rd try all was good and I could test-eat the delights at Mifune.
I really like Japanese food and don't mind spending a few peso for some good stuff.  Well, we are in Dumaguete and of course I need to limit my expectations as a authentic Japanese restaurant would probably run out of customers after a week as people in Dumaguete are just not willing to pay for good quality.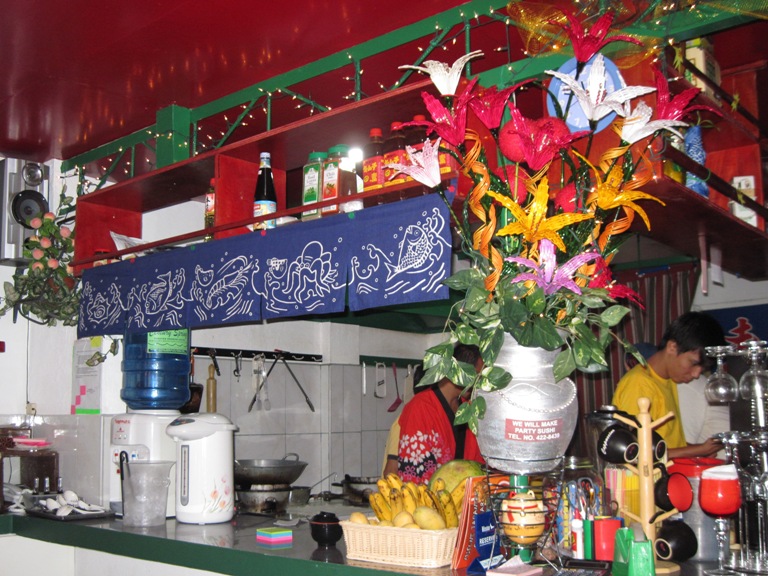 When Rechel and I arrived at Mifume it was about 11:50 am and my first surprise, the air-con was running and it was very cool, perfect for fat sweating people like me. The interior is a bit on the "cheesy" side but I guess it needs to be like that to fit the philippino taste for flashy colors and plastic dust-catcher. My personal idea of a Japanese Restaurant would be a bit classier and for sure I would not put in the cheapest and smallest plastic-chairs which can be found in Dumaguete, where a long-nose adult-ass does not really feel that comfortable after a while.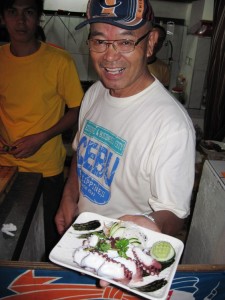 It seems to me that there is a lot of staff for the relatively small place but hey, I don't have to pay it and as long I get served I don't mind. They were attentive and the service was friendly and fast. Let's talk about food of Mifune. The menu offers a nice variety of Japanese food.  So I run through the Menu and ordered a variety of dishes including Mix Tempura, Chicken Teppan Yaki, Mixed Seafood Teppan Yaki, a Dragon Seafood Roll and a Tuna Teriyaki.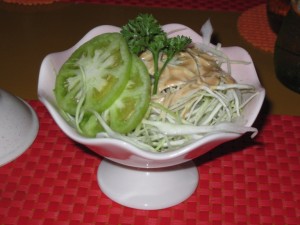 Naga the owner of Mifune and an old friend of mine offered me to try some fresh octopus but I refused as the last octopus in Dumaguete had the consistence of a bleached used trike-tire and I didn't wanna take the risk to ruin my meal before it comes.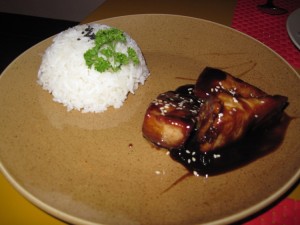 We got a small complimentary Salad so no critics about the green tomato and katsup-mayo-mix dressing.  Next came the Tuna Teriyaki, three slices of Tuna in a kind of BBQ Sauce, not really Japanese Food but good and no complaint for 139.- Peso.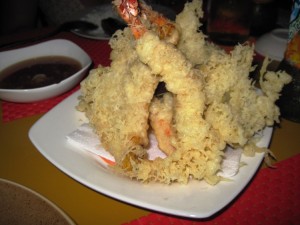 The Tempura Mix for 180.- Peso looked good and tasted also very delicious.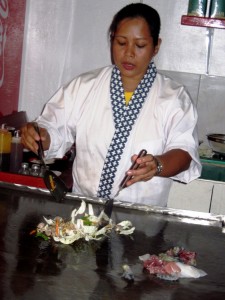 The Chicken Teppan Yaki won't be on my list next time as I get better chicken (and more) in other places for 189,- Peso. Our other Teppan Yaki dish, the mixed seafood, was Rechel's favorite and she didn't leave me a lot left to judge it accordingly. Last the Dragon Seafood Roll will be a "Do Again" next time I just will take care that the cook won't mess it up with that horrible sweet philippino mayonnaise.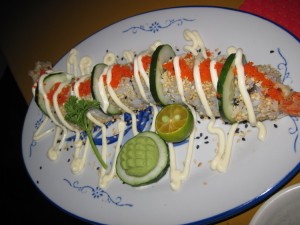 All together with all those Japanese food and two ice tea, we paid 918.- Peso in Mifune Restaurant, which is absolutely fair for that kind dishes. If you expect real Japanese cuisine you might be not 100% excited as I thought all the dishes were pretty much philippinolized missing a bit on originality.
I am also aware of the consumer structure in Dumaguete and therefore Naga and his staff in Mifune Japanese Food and Bar Restaurant did a good job and I can see a better future for him than for other "we are bored and know it all – let's open a restaurant" – expat's we had in Dumaguete before (and sure will have again).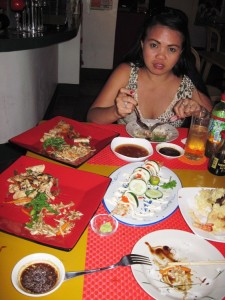 Mifune will not end up on my "Must-do" recommendation list of restaurants in Dumaguete, but for sure it is for me very welcome alternative for expats who are searching for something a bit different.
Cheers
Rhoody