Sometimes you have no choice in life and need to do things where you know it is not good for your health. Exactly that happened to me on 23rd of December. I was forced (against all common sense and against my own will) to book a flight to Manila and a transfer To AC (Angeles City) to visit my friends The Dane and The Outcast. It was too late to replace my liver with a sponge at the Dumaguete Medical Center, so I started the trip to them with the knowledge that some damage might be done. We know each other from Dumaguete and had more than one cold one together the last year in the "city of gentle people".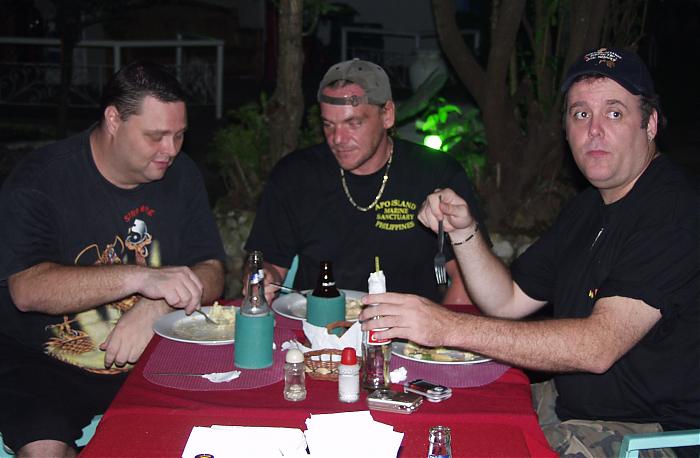 My flight was at on the 27th at 8:45. No need to say that it was delayed and I departed at 10:05. At 11:15 my feet stepped on Manila ground and after I got my suitcase I walked out where the driver was already waiting for me. The two hour drive was relaxing, but having in mind that I need to go on a charity-event with |The Dane, aka The Beermonster", I had a bit cold sweat on my forehead. At least I got welcome by the two guys lovely girlfriends Michelle and Tic Tac and a bowl full of homemade Potato-Salad.
The afternoon was time for some smalltalk and a quick nap, before we headed down to the Roadhouse-club at 6pm. We paid 1000 Peso each and secured our barchairs. The fee includes all drinks and food. I am sure there was not much money for the Kids in AC out of our fees. We also bought plenty of raffle-tickets and all of us had a great time (at least for what I can remember. According to some other people we came back home around 6 in the morning, that the 28th was more or less a sleeping day….
I just went to the SM Mall to buy some stuff in the afternoon before we went out to have some dinner at the Clark Base. Sad enough that they had no table for 7 people so we drove back and had a great dinner at a Japanese restaurant called GYUU… or something like that. don't ask me how this is pronounced… Heading home at 9:30 we planned on a video night. Feeling a kind of tired I said good night to the guys and went to an early sleep.
I guess it was a good decision as I heard the next morning that they wasted 2 hours of their life trying to stay awake and understanding the movie… more about the  following days tomorrow …
cheers and Happy new year
 Rhoody