One of the essential gears for scuba diving is a BCD. After weeks of searching and waiting I have finally purchased my own. Want to know what a BCD is? Wanna watch me receive and unpack? Continue reading…
What is a BCD?
For non-diver readers, a BCD or Buoyancy Control Device is what keeps you buoyant underwater. Buoyancy is the what makes this float, sink or stay in the middle (positively, negatively, and neutrally). In basic terms, it is a device that helps you go underwater and helps you stay underwater.
Basic Scuba Diving Gear
What basic equipment for scuba diving (from my personal experience) are:
Mask
Suit (wetsuit or dry suit)
Diving boots
Fins
Regulator
Weights
Dive Computer
BCD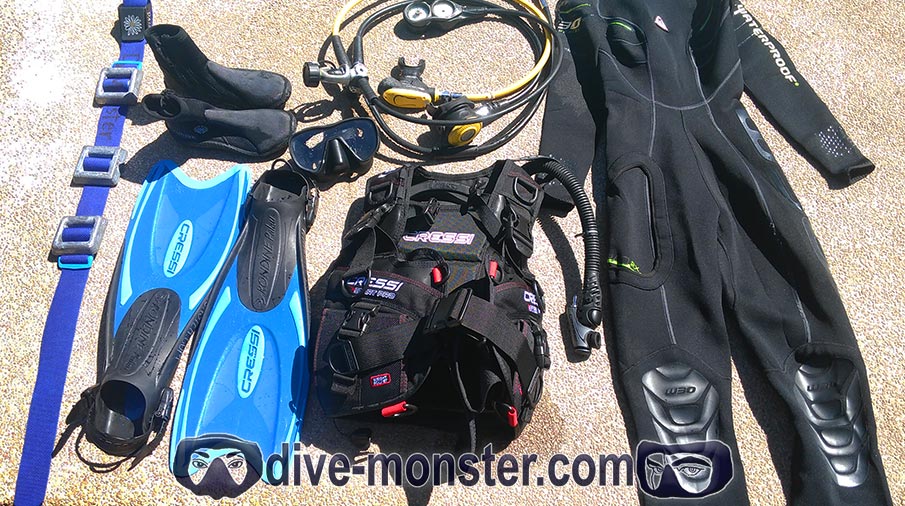 My First BCD – Cressi Strart Pro 2.0
After a few days of waiting, I finally have my very own BCD. No more rental equipment, hooray! Dive Monster Senior helped me find the perfect BCD that fits my tiny size (XXS). We searched together for a suitable one for me. After finding the right one, we ordered it and started the wait. It would have been here five days ago, however, people in the Philippines were busy celebrating the Holy Week. So, we had to wait a little longer.
The Cressi Start Pro 2.0 has wonderful features including weight pockets, titty strap and more! Here is its Technical Features:
Strong Enough to Rent, Bullet-Proof for Recreational Divers
Stability of a Jacket Style BC
Convenience of Weight Integration
1000 and 500 Denier Cordura Construction
Large, Easy-to-See Size Markings on Shoulder
Integrated Gravity Type Weight Pockets
Adjustable Sternum Strap
Owner's Manual
Rigid, Fully Padded Back Support Panel
3 Relief/Overpressure Valves (rear/shoulder valves w/front pull knobs)
Power Inflator w/3/8″ Threaded LP Quick-Disconnect Hose
Plastic D-Rings for Accessory Attachment
Rigid Padded Backpack w/Carry Handle: Stability & Ease of Transport
Torso Adjustable Shoulders
Adjustable Waist Strap with Cummerbund Pad
Side-Release Buckles
Quick-and-Easy Donning and Doffing
Lift Capacities: 29.2 lbs. to 45 lbs. (13.25 kg to 20.4 kg) Size Dependent
Single Cam Cylinder Band
BCD Weight: 4.8 lbs. to 6.2 lbs. (2.1 kg to 2.8 kg), Dry
2 Large Accessory Pockets with hook and loop Closures
Watch me Unpack & Fit my Cressi Start Pro 2.0 BCD:
Masks are essential for seeing things underwater, while a suit (usually made of neoprene) keeps you warm. Diving boots helps you avoid hazardous objects especially after the dive when walking along the shore. Diving finds help you move underwater. Your regulator helps you breath underwater. Weights help you go underwater while BCD helps you "balance" and stay buoyant. Dive computers on the other hand, are hand when it comes to keeping track of how long you have been underwater, your limits, your depth and etc. Your regulator has other parts mainly the SPG (submersible pressure gauge) which tells you the pressure left in your tank, inflator house, your primary air source and alternate air source.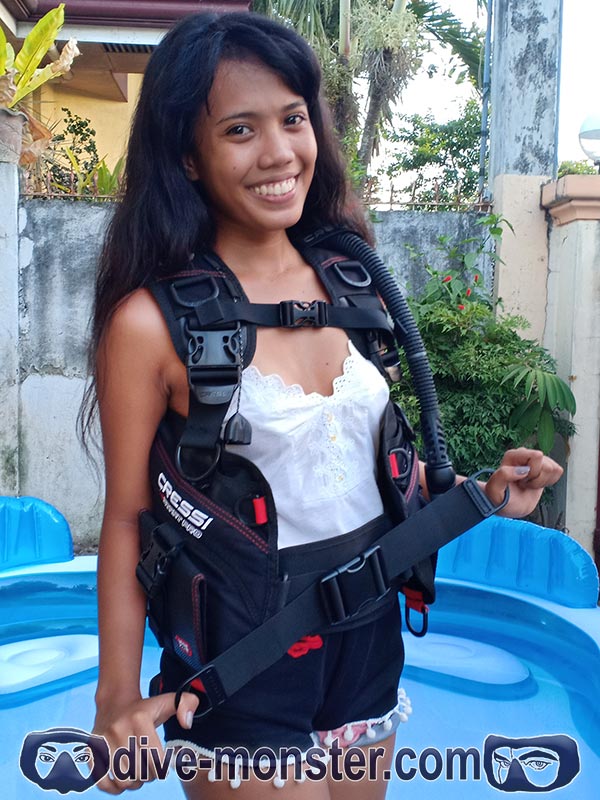 Mask, suit, boots, fins, regulator, weights, dive computer, and BCD…CHECK! I have the basics covered and I can't wait to go diving with my full set!  
It is time for me to venture out to the deep and blue. With my new BCD, I can be able to achieve great things like chasing fish, playing with turtles and tickling starfishes.
Love,
Daisy