Neva's Pizza and Pasta in Dumaguete is a great place I know since a long time, but for whatever reason never made it there. So 2 weeks ago a grasped my little one and Rechel and got into a trike to get there to check the place out for lunch.
It has been a hot morning and I actually was a bit afraid that I gonna sweat my big Lubot off as there is no aircon room there and with the location of Neva's Pizza a kind of in the middle of the city it could get a sweaty affair for me. Surprisingly, I was OK there and the fan's kept me on a level that I did not get soaky wet of sweat in a split-second and looking like the water-fountain in my garden…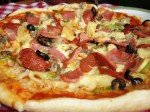 Neva's Pizza call them self also as the "Home of the Kuripot Pizza" in Dumaguete and after a quick look on the menu I could not agree more. The Pizza at Nevas in Dumaguete are available in the "Special" and "Kuripot" version, the "special" at Neva's comes with Mozzarella while the "Kuripot"-version is with Cheddar cheese. Prices for a good sized Pizza at Neva's are starting already at P 78 !!! The average "Special Pizza" is around 150 Peso, the "Kuripot" averaging at 100 Peso. Pasta and rice Meals from 47 Peso to 109 Peso.
Our order was the most expensive Pizza, the Neva's Specialty with 218 Peso and my little one ordered chicken Milanese for 80 Peso, plus a pitcher of ice tea for the three of us.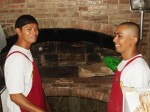 The Pizza are prepared in a Wood Fired Brick Oven and it turned out to be pretty tasty. For that price you can't expect imported stuff but there is another Pizza place (Italia Restaurant) in Dumaguete promoting imported ham, Mozzarella and Salami, but keep it in the fridge… at least I couldn't find it on the Pizza at Italia… and that for a ridiculous high price.
My little ones chicken was also really good and I rarely saw her eating that much in that short time and she was excited that Neva's was also not greedy with gravy.
Neva's Pizza in Dumaguete seems to be a busy place (at least on that Sunday) and the reason is simple. Very good quality for that price, OK environment for being in that location, friendly staff (not like the grumpy Italia Restaurant Chef), definitely a place to go again.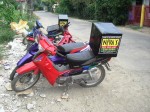 I also saw two delivery – trikes in Front of Neva's Pizza in Dumaguete, so we asked the Staff how much and where they deliver. If I understood correct, Neva's delivers for free in Dumaguete when ordering a minimum of 150 Peso.
Call me Kuripot, but they can count me in as a steady customer. All thumbs up for Neva's Pizza and Pasta in Dumaguete.
cheers
Rhoody