After about 2 years telling everybody who he is, the Pasta King finally opened the doors of a restaurant in Dumaguete City. I went there with my family to try if I can get real Italian kitchen in Dumaguete. Well, it was the first try and all I can say, it has not a lot to do with Italian kitchen. If Italian kitchen would taste like that, it would certainly NOT be very famous in the world. However, we are in a restaurant in Dumaguete and one needs to reduce the expectations quite a lot.
What is the Pasta King
I am not sure what the designer of the restaurant had in mind. Pasta King comes across like a kind of good canteen. An open kitchen with a lot of pre-cooked stuff in stainless steel trays, some cakes and ice-cream in a display-cooler and a lot of pictures of Hollywood Starts in mega-size on the wall. All of them dead…
One just can hope that the food of the Pasta King was not the reason for their passing.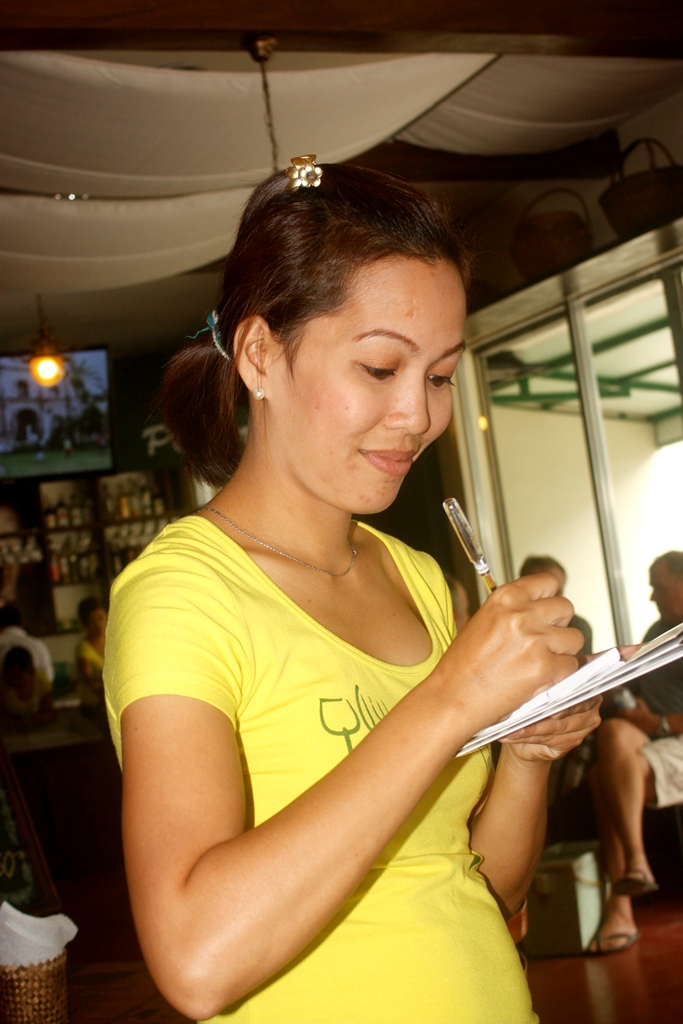 Well, all together not much Italian there, including the waitresses in bright yellow T-shirts… obviously an old tradition I missed in my 2 years I working and traveling all over Italy. However, they were very friendly and we were seated and handed over the menu.
Menu of Pasta King
For an Italian place, the menu is a bit small and the dish-verity quite limited. However, we ordered 5 different dishes for 2 kids and 2 adults.  Risotto, Finger Licking Chicken, BBQ baby ribs, Italian Burger, Spaghetti.
Our experience at Pasta King
While there was no really bad tasting dish (other than the Tiramisu), there was also none we would return for.
The Spaghetti Bolognese which my boy had was OK but under seasoned, which was a trademark of all dishes we ordered.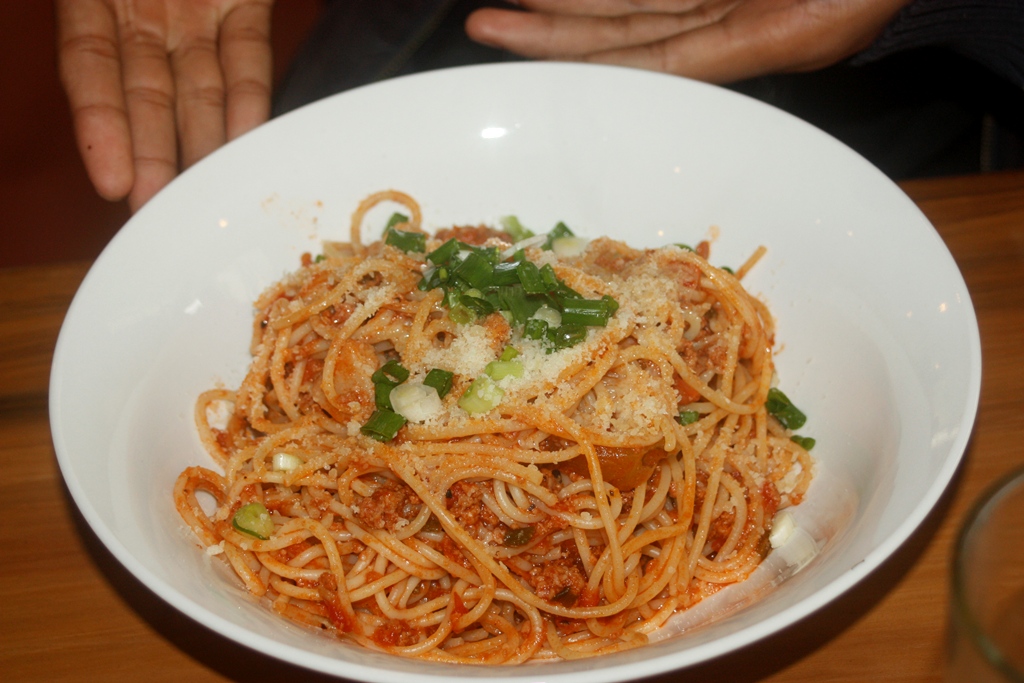 The Risotto was too dry, but OK as side dish with 4 small slices of "Italian" sausage, which were fine, but tasted like that standard stuff one can buy as an "Italian Sausage" made in the Philippines at the local Supermarket. Knowing the price of them, the 4 thin slices and a cup of rice were not overly exciting. As a side dish "Yes" as risotto "NO".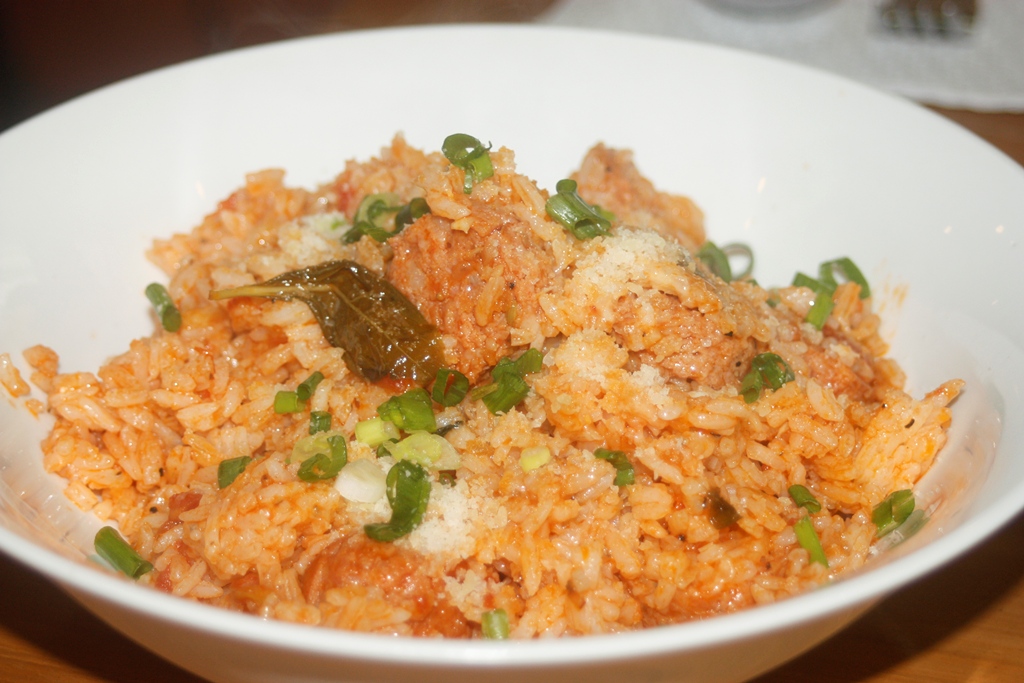 BBQ Ribs were small and quite tasteless. Without the BBQ sauce, it could have been anything, we could not make out any distinctive taste of the ribs.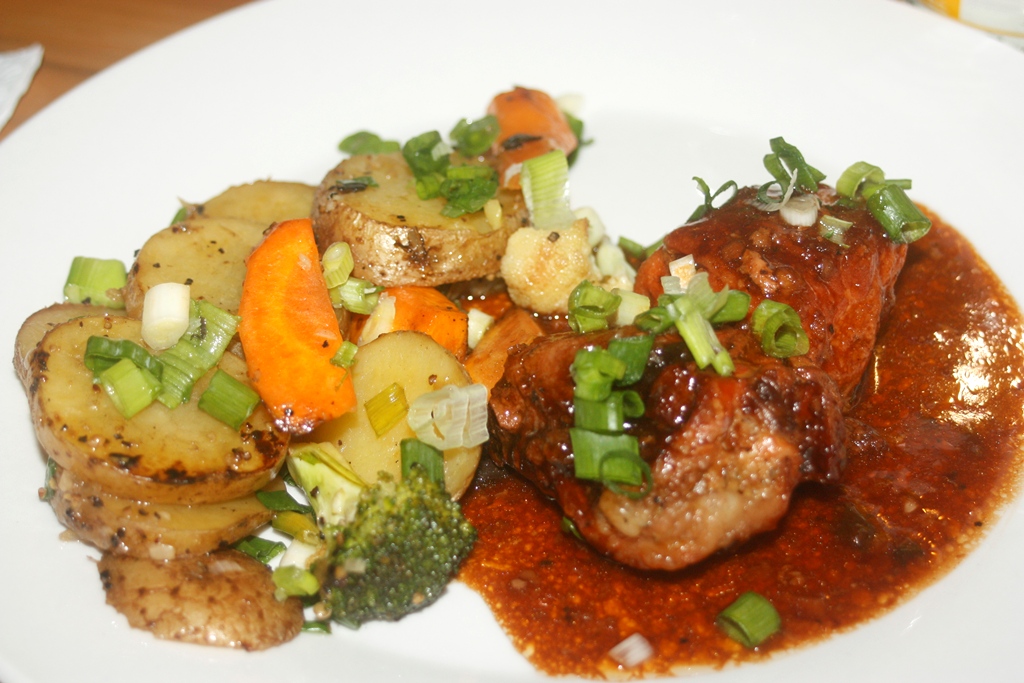 The Finger Licking Chicken were also bland, but I figured out where the name comes from. I had two tiny pieces of chicken with a Quadzillion of bones. So after you have a bite, you need to put your fingers in the mouth and search for all that tiny bones. That might look for the Pasta King like Finger Licking, but it is certainly just trying to get all that little bones that one does not swallow them. (you need to click on the picture to magnify it and find the 2 tiny chicken pieces).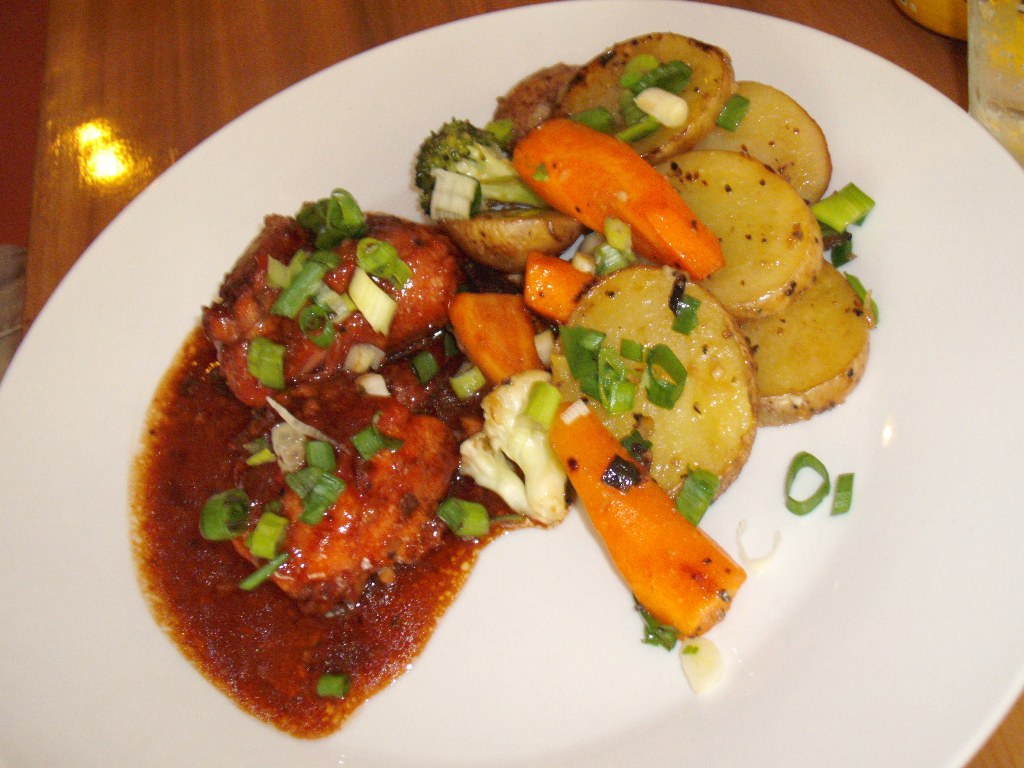 The Italian Burger patty was pretty delicious and nothing to complain about. Here I talk about the patty itself. Wonderful crispy, the outside and super juicy inside, perfect seasoned, good size, a real delight.  Here the influence of the Pasta King's German partner who made a career in the US with his burger restaurants is clearly to tastes.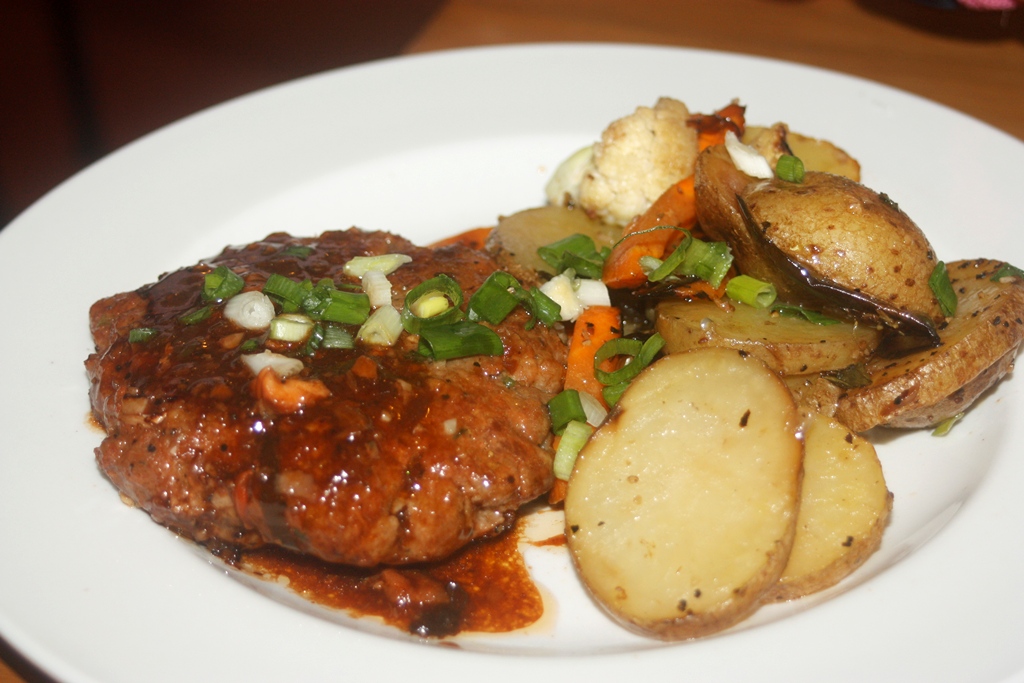 Side dishes were 3 times exactly the same, where the BBQ sauce won't make it to the top 5 BBQ sauces in Dumaguete on my list and as you can see on the picture it was very oily. The potatoes were too raw. Our waitress tried to explain that this is Italian style, well it isn't, they were raw in the center, which has nothing to do with blanched or "al dente".
All 5 main dishes had that cut spring onions sprinkled over it which I consider a bit monotonous considering the wonderful variety typical for Italian kitchen.   All 5 main dishes were on the bland side.
We ordered additional tiramisu and a cake for desert. The tiramisu was an insult to the name itself. There was no fluffiness to it at all, I tiny sweet blotch of sweetness way too solid with biscuits around it.  However, consistency, taste, presentation a total fail.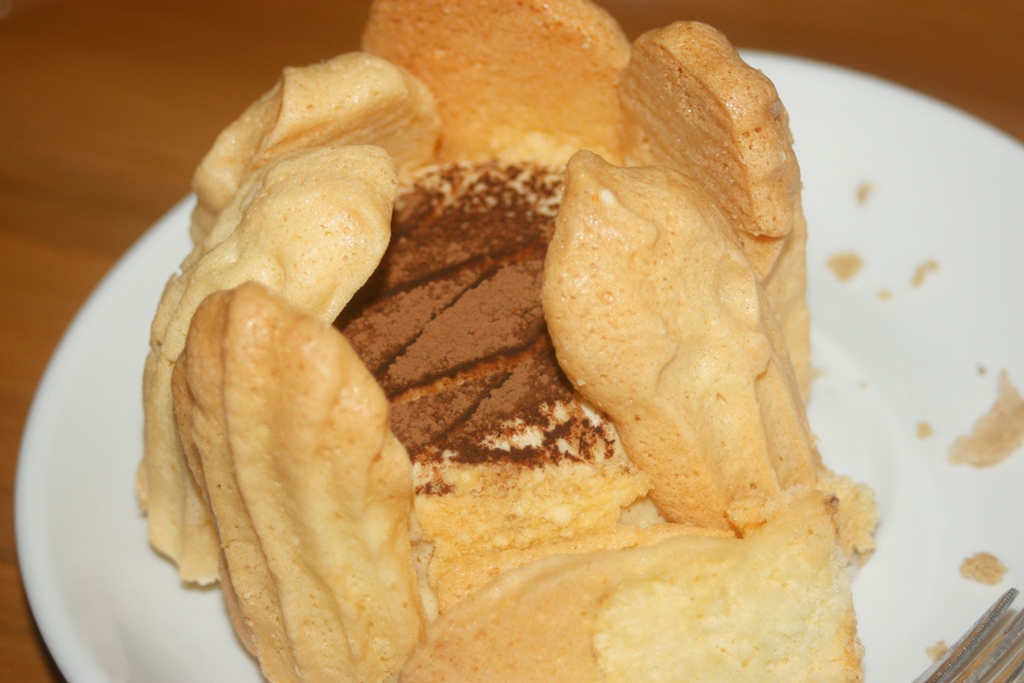 The cake was really good, perfect consistency moist not too sweet icing, probably the highlight of the meal with the burger patty. I wonder if it was actually made by Pasta King or bought from one of the shops in Dumaguete.
Summary of our Pasta King visit
Pasta King in Dumaguete has a more the feeling of a canteen in an airport than an Italian restaurant. Food was OK with a lot of room for improvement, staff friendly and attentive.  Interesting that my family's favorites (cake and burger patty) are obviously not made under the influence of the Italian owner.
Prices are basically OK, if some improvement direction Italian freshness and originality , herbs and presentation happens. After the first visit it is not much more than standard-canteen food. It surely will be popular with some of the locals as they are attracted by people claiming they are celebrities and the lacking experience will drag them into the place. But let's be honest, to take the sugar and sweetness out of a sauce and don't cook everything to death makes a different taste to the local dishes, but does not make it Italian kitchen by any means.
Quite some people I talked to, which are familiar with Italian food from their own experience, are rather disappointed as of now, but most will give it a second try.
Same here… It is definitely worth a second try. I understand that it needs a little bit to get things run smoothly. As of now, I would call it Pasta OJT (On Job Training) with potential towards Pasta Prince… Pasta King might be a title old and outdated like the pictures of dead people on the wall.