The day after the phenomenal KISS-Show at Tokyo Dome, I had another day of sightseeing. No first-timer trip in Tokyo would be complete without a visit to the world-famous Shibuya Crossing. The crossing is also known as the Shibuya Scramble, and has been featured uncountable times in movies and documentaries. I love the big city sceneries! There was no doubt in my mind, that I had to drop by there to be part of the scramble. Of course, I also planned to find the best view to get some nice pictures for yourself, or to brag on Instagram.
Getting to Shibuya Crossing
There are numerous ways getting to Shibuya Crossing. I decided to use the subway. For a western tourist it could be a bit challenging. As you can see on that image, it is a massive network. The interesting part is, that I could figure out all prices to each station, but had no clue, which of the hundreds of stations is the actual Shibuya Station. Once again, Google came into play. One may love or hate this giant, but one thing is for sure: If you know what you do, it helps almost anytime and anywhere.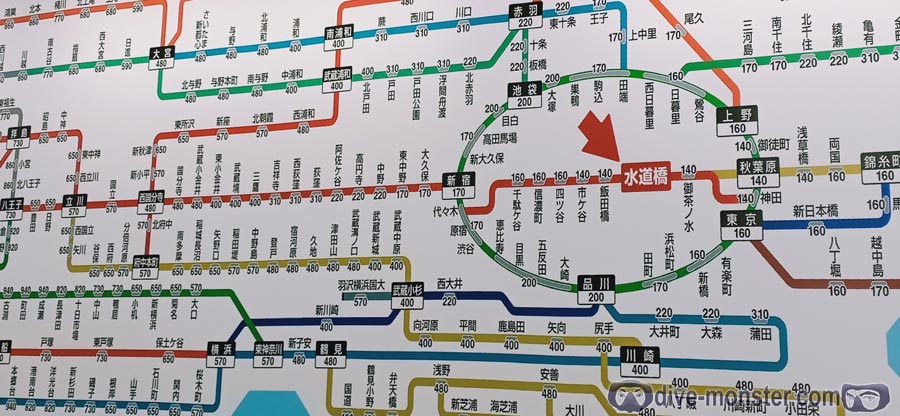 So, thanks to the Big G, I was able to figure out my line. The stations have numbers. The one closest to APA Hotel Kudanshita, where I was staying during my Tokyo visit had a direct line which ended at Shibuya Station. That made it for an "expert" in Japanese, like me very easy to get there. The ride took about 15 minutes. The trains are running each few minutes, so there was almost no waiting time. Living for a long time in the Philippines, it can be indeed surprising how things are actually working in other places, where people are educated and respect laws. Here in Dumaguete one gets already a reward from the Mayor, and becomes a celebrity, when driving on the correct side of the street.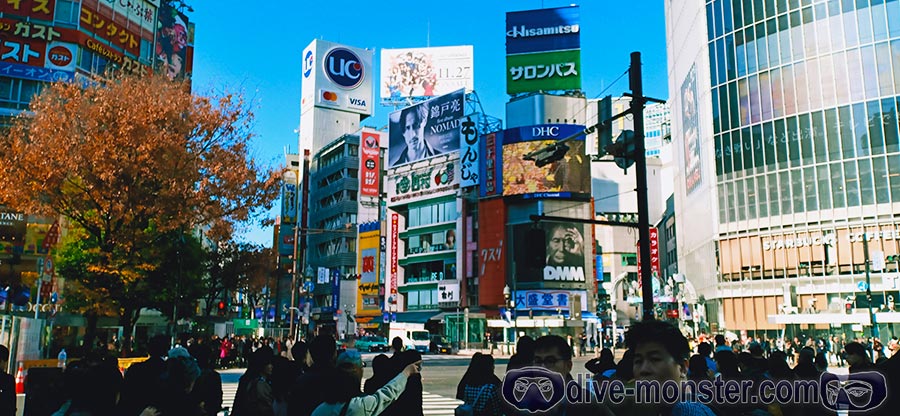 The Scramble at Sibuya Square
I was on my way pretty early and arrived around 10am at the Sibuya Crossing. While it was not so busy at that time, there were still enough people to impress me. Actually, I am convinced, that some people get paid, just to walk around that area, to make it look busy. Others are like me, crossing the Square in each direction multiple times. If you haven't seen the famous crossing, I am sure you get an idea from the images and the video.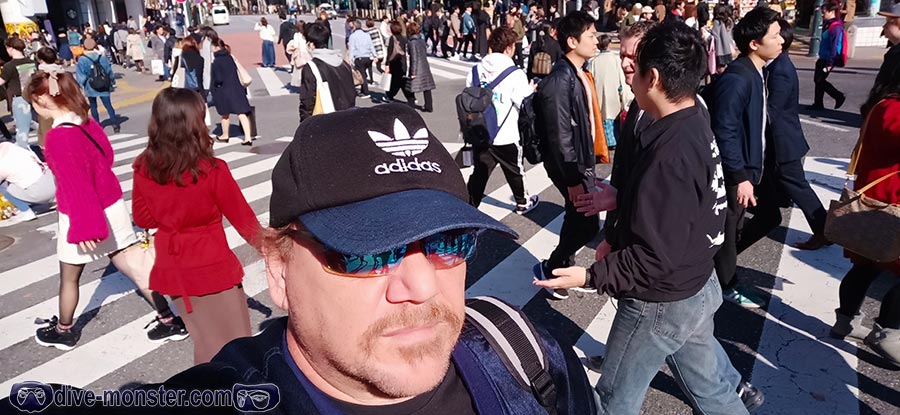 While Tokyo is general a No-Smoking City, there are many smoking areas. One is located at one corner of the Square and has actually a great view of the scramble, while savoring one's addiction. Even the view inside the smoking-area can be quite interesting, considering that it was just a few degrees above the freezing point.
Best View of Shibuya Crossing
There are of course different ways to experience the Shibuya Scramble. In many articles one can read that the outlet of the famous and extremely overpriced American coffee chain is the best spot to watch the square. So, I went there, had a look and didn't like what I could see. While it is an OK location, I thought it is too "flat" to see the action. There was also a small construction and some advertising blocking the way.
A modern skyscraper, was just opened on November 1, 2019. The building is 230 meters high and offers a great view of the crossing. However, you need a ticket, which one can buy online for roughly 18.00 US$, or fall in line forever, to get all the way up there.
I found a neat, little cafe in a shopping center at another corner. It was something like in the ninth floor, therefore much higher than the coffee-chain shop which offered a great view downwards. There was only one other guest in there. I got myself a delicious ice-cream and simply enjoyed the view. As a matter of fact, I enjoyed it so much, that at first, I completely forgot to take pictures. Well, the best pictures are taken with my memory anyway. But finally, I grasped my GoPro and made a time-lapse of Shibuya Crossing.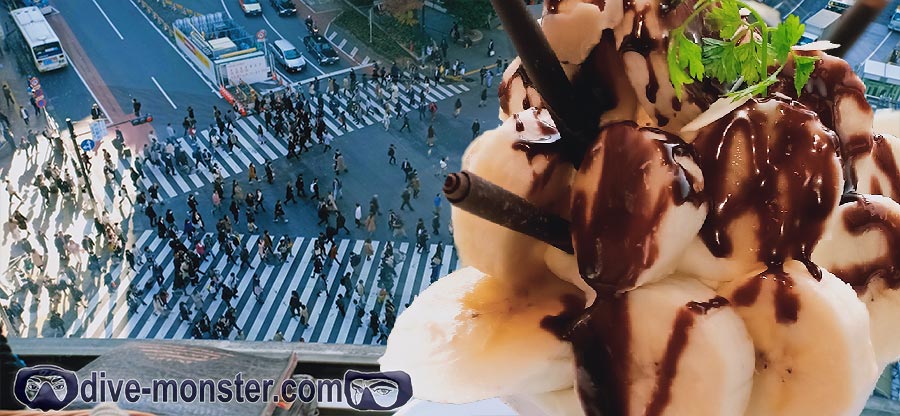 Shibuya Square Scramble Time-Lapse Video
I could not stay until sunset, when the real busy time at the square starts. I still think, the Shibuya Scramble time-laps gives a good impression of what is going on there.
I took my time to finish my delicious ice-cream creation. Sadly, the time passed way too fast and I had to get down again. Before heading back to the hotel with the subway, I used the time to become part of the crowd on the crossing again.
I am aware, that it may sound strange for some of you, but I simply enjoyed the controlled chaos on the square and am almost certain, that I will return one day and experience the Shibuya Scramble on that famous crossing again!
Cheers and かわいい日本の女の子
Rhoody