1st evening at Marina Bay
Before heading out on the first night, we were asked to pay our bill. I did not have enough Singapore dollar on hand, so our front-desk guy explained us the way to the money changer. Of course they were all closed, but no problem, I was sure to pass an ATM to get some more cash on hand.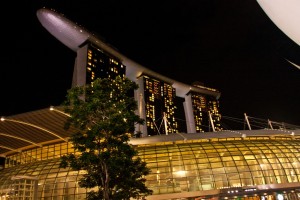 I decided to head down to Marina Bay just to have a nice relaxed evening and a bite to eat. We walked about 10 minutes to the next MRT station. The MRT system is easy to figure out. Just tap the destination station on the touch-screen, pay and you got your ticket. Additional are all kinds of special weekend, tourist, weekly, etc. cards available, but as we (like always) had no real plan and took things like they come, we went for a single ticket.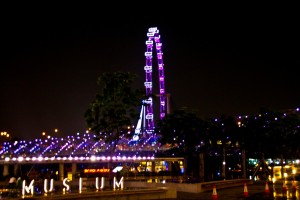 15 minutes later we left the MRT at Marina Bay and ended up in the shopping mall there.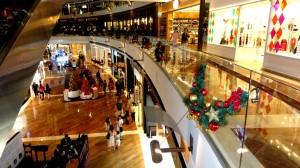 An upscale mall with all kinds of branded expensive shops, an ice rink and a little river with rowing boats ending at a waterfall in the middle of the mall. All was already decorated for Christmas, so it was a kind of romantic (sigh)…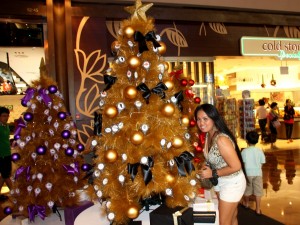 We left the mall and enjoyed the stunning view of the Marina Bay Sands hotel and the Skyline of Singapore.  We took a walk along the bay and ended at a little bar, to have a drink while having the world passing by. Compared to my last visit in Singapore, the laws seemed to be more relaxed now. There were smoking areas each few minutes and the waiter asked right away if I need an ashtray.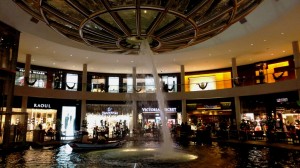 The bar was close to the Marina Bay Light and Laser Show, a 20 minute free show which is shown each evening 2 or 3 times. Our timing was perfect and the Boss was able to secure a great spot at the platform right in the center of the show. I was lazy and watched from the table at the bar.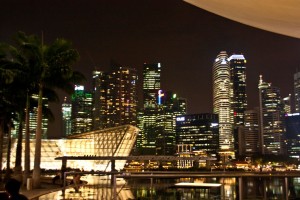 It is a really well done little show with good effects. The video and Laser effects projected on smoke and water-fountains with a nice little, maybe a bit cheesy story attracts many locals and tourists. I definitely enjoyed it from my table with a cigarette and an ice-cold beer.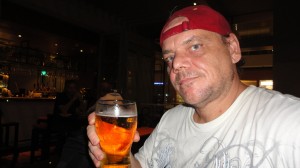 Talking about beer, my drink and Rechel's juice were 20$, so my wallet decided that I won't get drunk at that spot. After paying we just enjoyed our stroll along the bay, taking pictures, talking bad about others and just feeling good.

We got to another MRT Station and decided to go home, as it was a long travel day and we were pretty much tired. Walking from the exit station at night to our Hotel close to the "red-light" district might sound a bit scary if it would be any city in the Philippines, but in Singapore, even that was enjoyable. We had a little bit a breeze, wide clean walkways and working traffic-lights… Fellow readers, that might sound a bit strange for some of you, but being long time in the Philippines, I might have adjusted already that much, that if a car actually stops at a red light it is a kind of miracle to me.
Next to our Hotel were plenty of small shops, so we bought some cold drinks, chocolate and other snacks before going up to our room. It was a long travel day and I felt asleep right after laying down.