..Dive Monster Senior was abandoned by his girls, as they went to a wedding of a friend, which Sr. was sadly not able to attend. When hunger struck him, he decided to head towards Dauin to Bamboo´s Bar & Grill. He discovered just recently that an old friend of his is working there as a chef. That alone would be a legit reason for a visit. Add to it, that his friend is without any doubt one of the best chefs in the city, who actually knows his job and is not one of that fancy "sesame-sprinkler-wannabe-chefs", …There was no second thought needed.
Sad state of Restaurants in Dumaguete
By now it is hard to find a Restaurant in Dumaguete, where one can get a good cut of meat to start with. Finding a cook, who can actually treat a fine piece of meat like it deserves, is even harder. Don´t take me wrong, there are indeed a few places where steaks are really fine. I had probably the best piece of meat in Dumaguete ever, at Le Chalet. This restaurant belongs to the WhyNot?-Group and is in the same building as the famous night-joint.
But one can only go to a place that often, before trying to find another place to alternate. Another favorite spot has gone completely belly-up, since the owner abandoned the place and moved back to Austria. The new chef seems to be enthusiastic, but as the menu changed to something "wanna-be-fancy" with symmetric sprinkled sesame topped with a blue flower, which is aligned to the 7th moon of Saturn for good luck and a night-long stiffy. ALL former favorites (seared tuna, family platters, burgers, seafood-pot) are gone, that place is dead, even they try hard. But if one can´t cook a simple schnitzel and needs a mushroom-crust around a beef tenderloin for almost P1,000 it is more than obvious, that the journey of that place has come to an end.

Anyway, checking out another place is always something exciting and after a quick 20-minute drive, Dive Monster Sr. arrived perfectly at lunchtime at his destination. Thankfully it was not too hot on that day.
Bamboo´s Bar & Grill in Dauin is located at the corner Highway/Washington Street. Coming from Dumaguete, just on the opposite side of going uphill, instead of down to the beach direction El Dorado and Pura Vida.
Dive Monster Senior got in touch with his friend ahead of time to ensure, there is a good steak tenderloin waiting for him. He not only got a good steak, but also some outstanding smoked fish Tartar and some Beef Lasagna.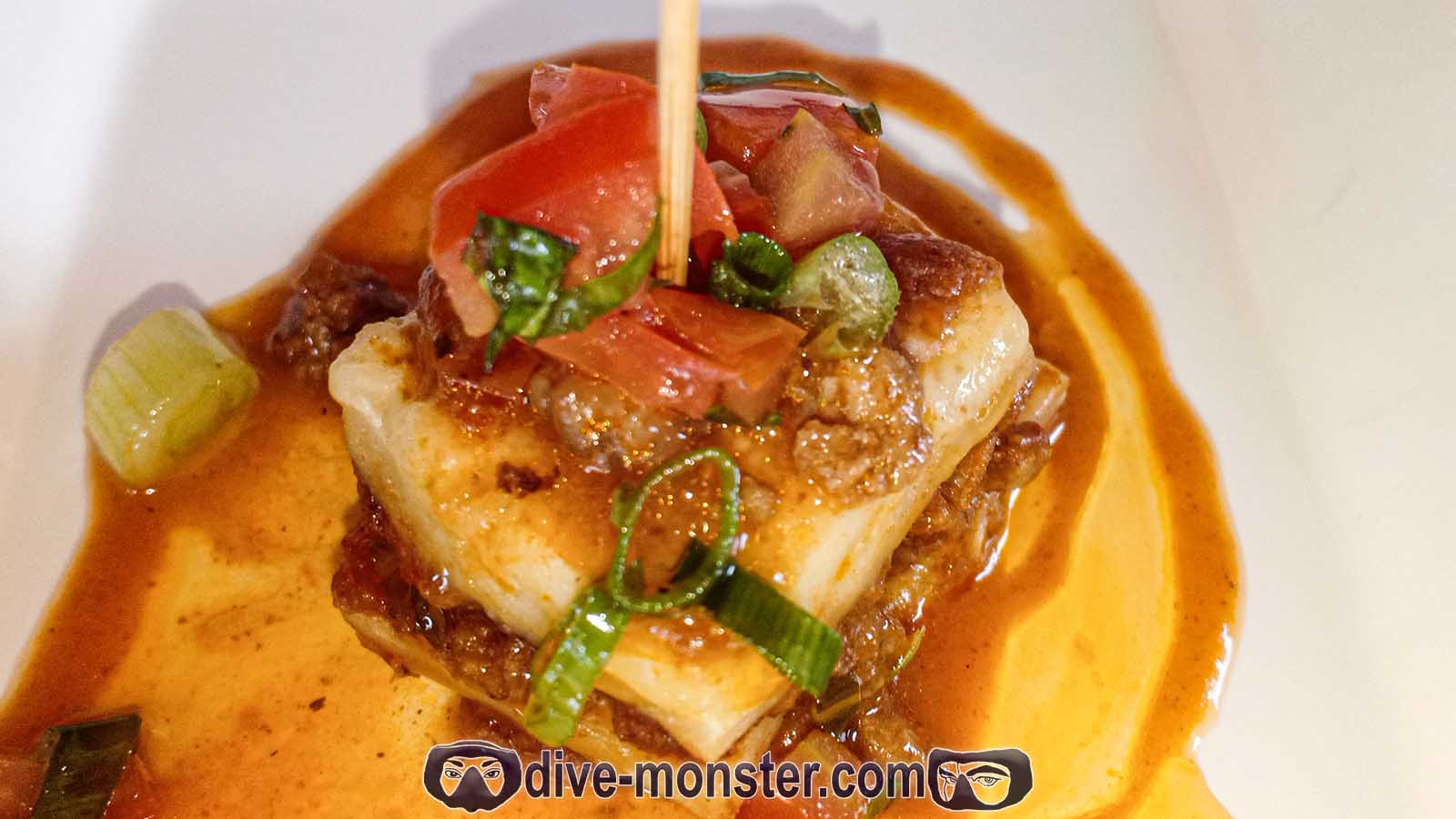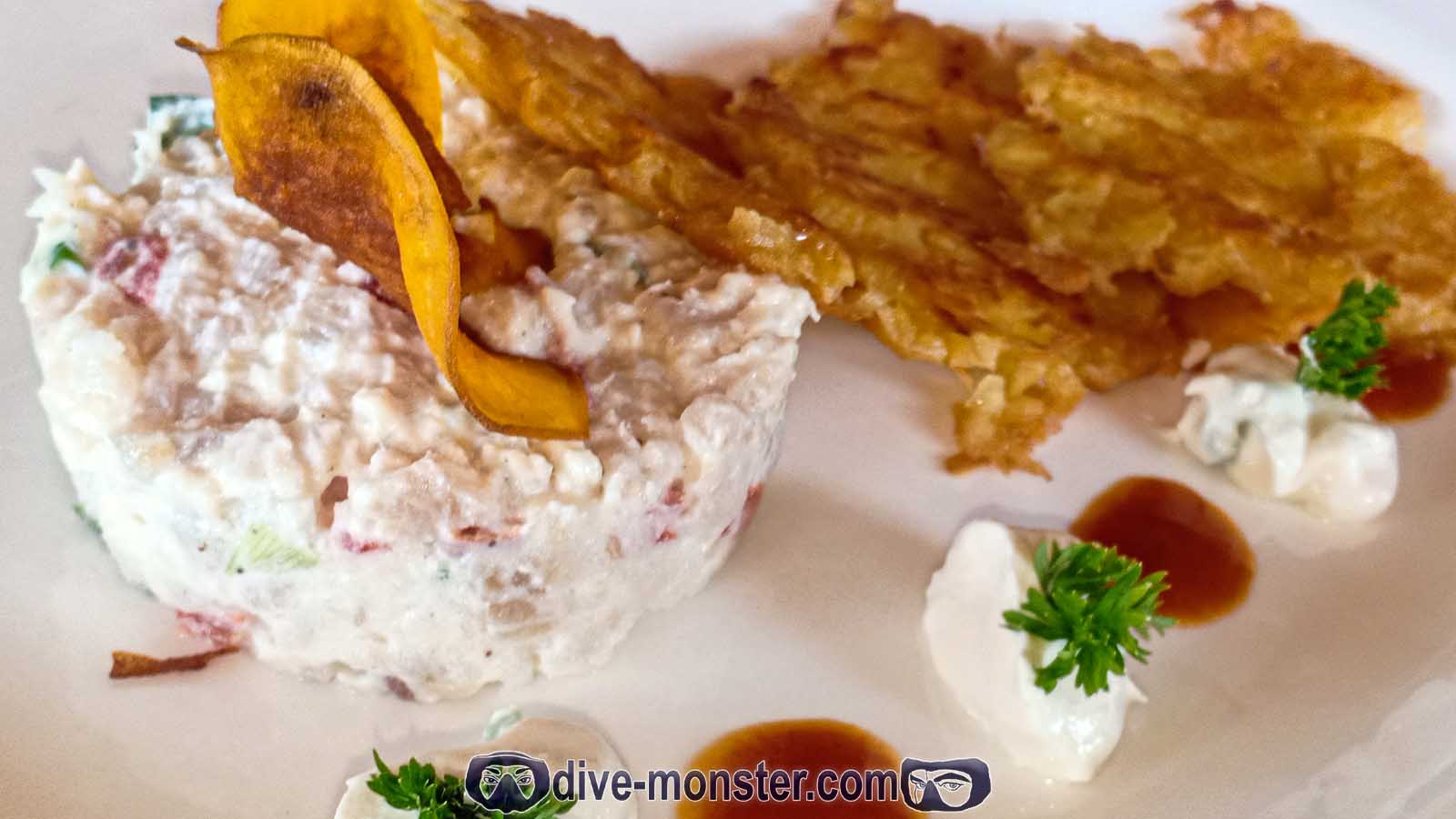 Of course, it does not get close to the pancit, sweet spaghetti and adobo his two ladies were feasting on. However, if one is up for some yummy food and cold drinks Bamboo´s Bar & Grill is certainly worth a try.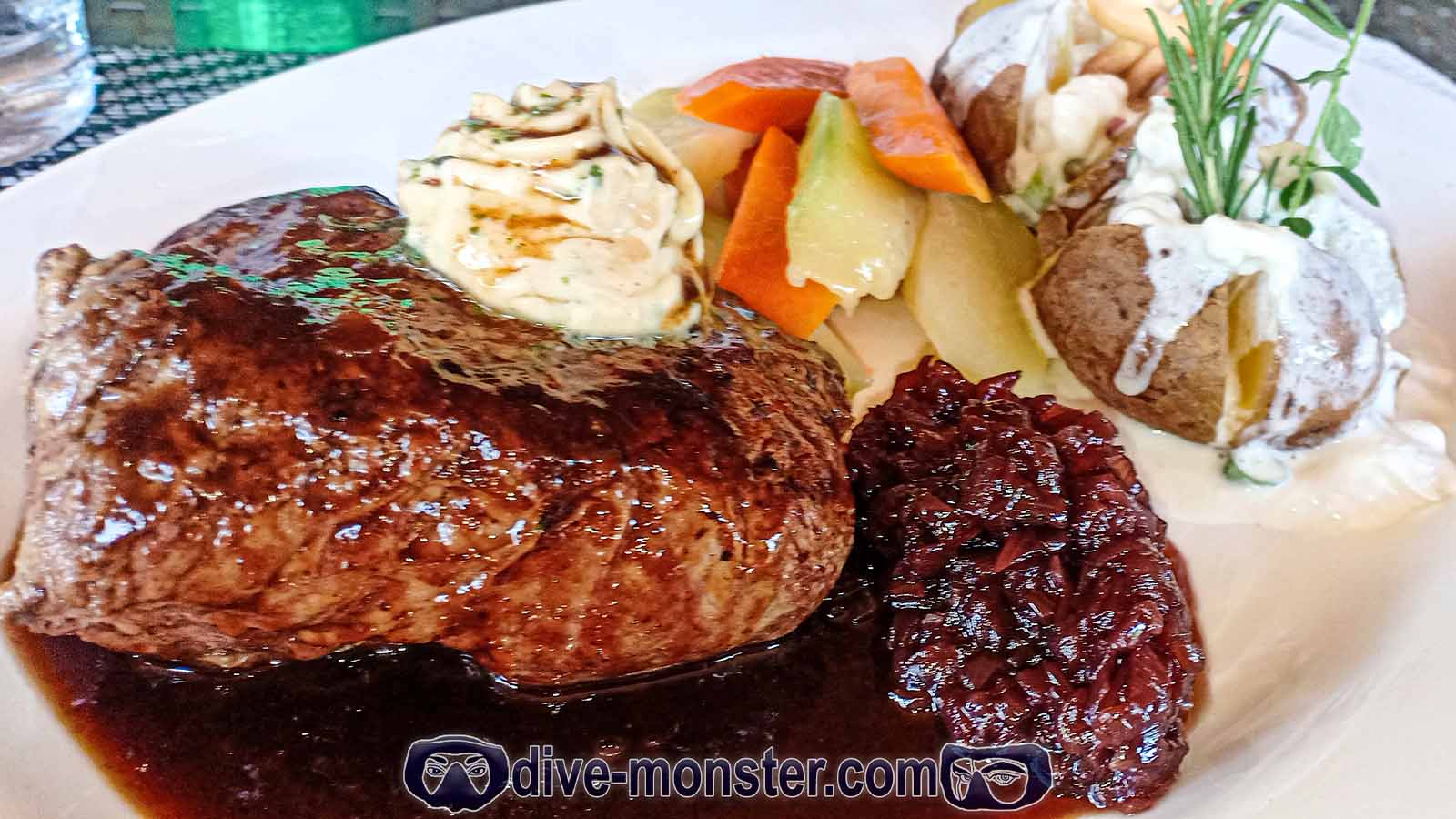 Dive Monster Sr had:
✅ Beef Lasagna (Complimentary bite-sized appetizer)
✅ Home-Smoked Fish Tartar with Sour Cream & Potato Rösti
✅ Beef Tenderloin Steak with Red Wine Jus, Glazed Vegetables, Red Onion Jam & Oven Baked Potato on Sour Cream
Video of the "Solo visit at Bamboo´s Bar and Grill"
After some great meal and interesting talk, it was time to drive home and rest, while enjoying a full belly.
Cheers, and screw blue flowers on food…
Rhoody