Since the five and a half years I am here in Dumaguete, people discuss about a Thai Restaurant and how everybody would love it. Well the waiting has an end, finally Dumaguete's first Thai restaurant Ti Ban Thai just opened recently next to Zanzibar in Dumaguete.  Being a huge fan of Thai food (well, who isn't), I needed to check the place out right away.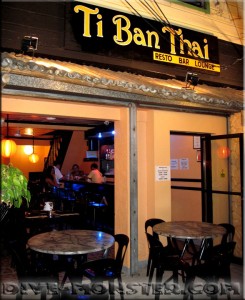 Ti Ban Thai is a cozy little restaurant which gives space for about 30 diners. The lightning and interior are modern warm with touch of Thailand caused some handmade statues in small niches on the walls. The owners, a French couple, lived in Thailand many years before moving to Dumaguete to open a Thai Restaurant and took care that all was ok on both of our visits. Ti Ban Thai has no aircon but enough ceiling-fans which kept the temperature down, that the only sweat I had dripping from my nose was from the chilies I bit on.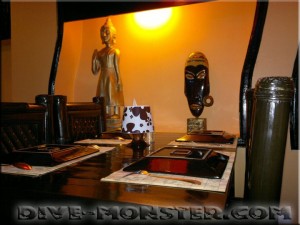 At the moment they only open at dinner time what is a policy I don't understand necessarily as most foreigners here are daytime-creatures and a student snack should also go well at lunchtime if promoted the right way.
Anyway, most people think that Thai-Food is necessarily spicy, what is definitely not true. Of course there are spicy dishes but at least as many which suits the pallets of diners which are slightly more sensible than Rhoody.
Rechel and I were there two times and unlikely other new restaurants opened the last year in Dumaguete, which seem to throw all in the first week and than simply go straight downhill,  Ti Ban Thai got even better from a very enjoyable first visit to our second dinner.
Like always we ordered many different dishes so we get a nice overview about the whole menu, which offers a kind of standard Thai cuisine with some appetizer, Glassnoodle Salads, hot and sour soups, different curries, etc.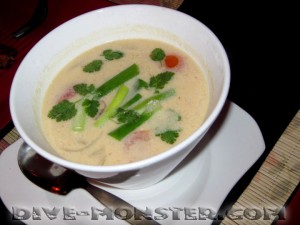 Some of the dishes we ordered were the Thai spring rolls, which are different to local ones and were very obviously deep fried in fresh HOT oil what made a huge difference to most other local places where the Lumpia are just horrible saggy with a smell of 5 years old trike-lubricants.
One of my favorite dishes in any Thai Restaurant are Tom Yam Soup (any style) Tom Kha Kai. We ordered them very spicy and they came exactly like that. I would definitely take a bath in them. Rechels #1 dishes were the green and yellow curry, as she loves food the way her boyfriend is, (hot and spicy) she was really pleased about the dishes.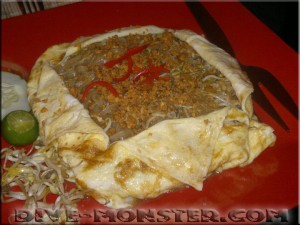 The Phad Thai was also a delight, after we spiced it up with a bit Prik Nam Pla (fish-sauce with chilis). With all that spices, the Yam Mounsen appeared a bit bland, but I guess my taste buds were already a kind of "influenced" and the Laab Moo was a bit different to what I was used to from my 20+ Thailand visits.
What should be definitely at Ti Ban Thai are some more drinks like coke light/max. If the ceiling-fans do the work in the hot summer month has to be seen. The staff is always present and have no place to hide as in other restaurants so it is easy to order something more, what seems to be impossible in other,very famous, Restaurants in Dumaguete.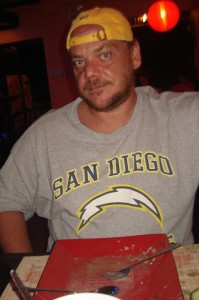 Like you can see, a full fat and almost smiling Rhoody with an empty plate is about the best verification of a nice dining experience you can get. The price range goes from 95 peso to 250 Peso with ok sized portions. Rice goes extra and is quality Jasmin rice, not cooked to death. Overall a great dining experience and nice to have a Thai Restaurant like Ti Ban Thai in Dumaguete.