I thought I could have a quiet night in Cebu and sleep early after I got a text from Kim that his flight arrives around 11:30 at night. I welcomed him and Mike at the front desk at Eddies Hotel. They looked pretty tired but the decision was done to have a quick drink in a bar. Still safe as it is not Angeles City … The bars in Cebu closing at three.. We went to Vikings and ordered some beer . For what ever reason the bar did not close and we were there way past 5 am… Welcome to the beermonsters world.
After a good sleep we had our pickup arranged by Exotic Dive Resort in Malapascua at 12 o'clock. The driver and we were a kind of in time and were on our 4 hour trip to the north of Cebu.
After we arrived there and our luggage was unloaded the driver left and we were surrounded by porters who pointed us to a little boat at the end of a "pier" made out of a pile of rocks. There was nobody there who identified himself as send from Exotic Dive Resort and so we carried or gear to that funny little boat. We put it down on the end of the pier, maybe 2 meters away fro the nose of the small bangka. The boatcrew did not move one centimeter to help us. So we paid 200 Peso that the porter carry our bags the 2 meters. We basically had no other choice at all and a big thunderstorm was about to come in.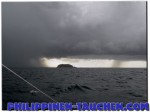 The transfer of Exotic Dive Resort is charged over 11,000 Peso and you have to carry your own crap around. That's a bit strange, but the story continues. We checked into our rooms and the room is large and convenient with balcony, the bed is a little hard but big and ok, and the chicken and dogs under my door are obviously all here to welcome me at Exotic Dive Resort
more to come