Sometimes things are happening where you just don't calculate with. So it was last week… Due to some family issues Rechel needed to fly to Manila and left me alone with the little one. So here Rhoody sits with a 8 year old Makulit girl in his house in Batinguel and wonders what to do with her. Not that she is a big issue, she is a gorgeous kid and 99% of the time happy.
The week started with a school-holiday on Monday what seems to be great … for her only of course… for me it means I can't do any work as she needs attention. Fair enough, it was my choice 3 years ago to bring the little one down to Dumaguete.
It is also my choice NOT to have a maid who takes care of the kid. I am the absolute opinion that a mother who can produce kids also should be able to take care of them. Well, here in the Philippines it is different…
As soon as the mama pops the kid out it goes to a Yaya who has the exciting job to sit with the Kid the whole day in front of stupid TV-Programs to make sure the Kid learns nothing during the early years of living on this planet…
It is the tiny stuff what brought me the problems… My diet exists of food based on a strong mix of garlic, onions and chili, well not exactly what is on the top 10 list of an 8 year old kid. The first dinner was easy, we just went to a restaurant… hehe. The second day it was my duty to prepare breakfast…
Pancit, a local noodle dish … boil water, noodles in it, take noodles out after 5 minutes, "ready to eat mix" on top, done ? no problem for Papa Rhoody… To make it special a sunny side up egg on top. The little one loved it… at least when I presented it.
After the first try he said: Papa, it is very salty!!! Hmmm, she eats that a lot and I did not put any additional salt or spices on it. Looking again at the plastic sachet of the "dish" I saw that I did not prepare Pancit, I used a Noodle soup mix, just without water… no wonder that it is salty. Being a smart-ass I had some back-up cup-cakes in the Ref, as I planned in advanced and knew things will not run smoothly.
Messing up the Breakfast, my pride was tickled and I swore myself to prepare a great dinner for her after school. When I picked her up she asked me excited where we go for dinner. I told her that I will cook and the excitement dropped out of her face in lightening speed…
While Daisy was doing her assignment Rhoody was standing desperately in the kitchen, looking at philippine-typical tiny plastics where is nothing written on it and where I have absolutely no clue what is in there… If you look at the picture, you see almost similar powders one is cinnamon, one is pepper and 2 are something which I definitely could not identify… well, I guess there is no law that pancakes have to be sweet … hehe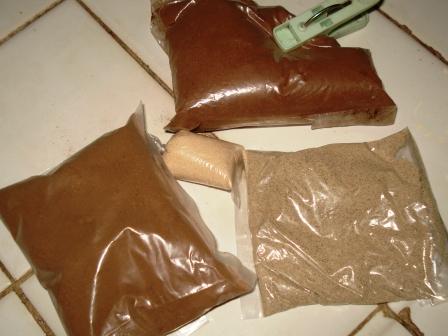 Backup plan was Pizza delivery from Shakey's, but HELL NO (I said to myself), Rhoody, give the little one some homemade food, show some creativity and make it yummy … I won't write what I made but it looked great and she loved it !!!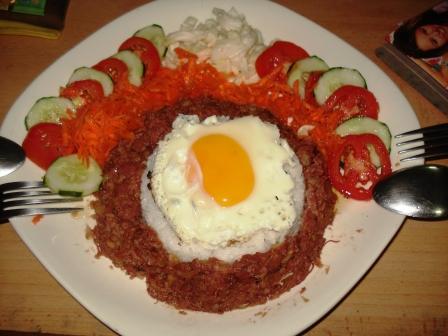 The week continued with minor Hick-up's like Rhoody teaches Filipino, Rhoody in the Kids department at Lee Plaza, Rhoody and the laundry and quite some more funny stuff…
All together Daisy and I had a great week, we both worked out as a great team and didn't burn down the house… But finally we are happy that Mama is back…
cheers
Rhoody