When I was living in Dauin and I needed to go to Dumaguete a Jeepney was the way to go. Sometimes I rented one of this tiny Scooters (Honda Wave) for 200 Peso a day.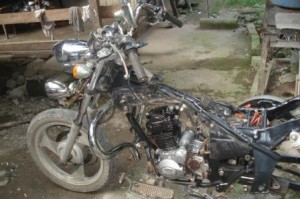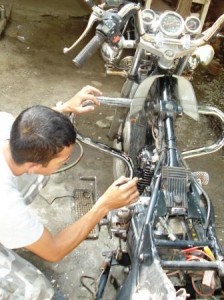 When it came to my mind that my days in Atlantis are coming to an end I did a calculation, that it is time to buy a small Motorbike to make my 15 kilometer trip to Dumaguete City more convenient.
I don't like the scooters as my Lubut is way too big for this small seats and for some reasons I don't trust this tiny tires with my weight in "adult-range". I was not searching that hard and after a few month I saw a Bike in Bacong what fits my needs. So I ended up with a Chinese Chopper Copy.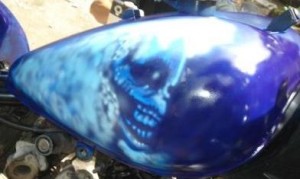 The brand is called  Dayang and I am not surprised if nobody ever heard of that… Same here… The engine is Honda, the gearbox Yamaha and the electric Chinese… no wonder that after a few weeks the direction – lights went into a permanent strike, but who cares as long the headlight and the horns are working. I am quite happy with it and it looks good under me.  After some 20.000 Kilometer on the roads of Negros I decided to give it a total service. A friend of mine recommended Newton, a mechanic and airbrush artist. Newtons workshop is just around the corner where I am living in Taclobo. After the first contact was made he visited me and we talked about the work what needs to be done.


He suggested also a complete new paint-job and told me a price where I think it's good for him and good for me.  His estimated time was 7-10 days. Now after 7 WEEKS it slowly comes to an end. We had almost no rain since Newton started his job there were many other reasons for the delay. Here are some of them:
The Tank was damaged and needed to be repaired
The nozzle (or whatever it is called) of his airgun broke and the replacement-part is only in Bacolod available
His Grandma died and he had to help for some 10 days or so
The doc  told him to rest 8 days because of a cold…
and, and, and…
Today is Friday afternoon and he txt me it'll be finished by Sunday afternoon, I can't believe it but might be positive surprised if that will happen. One thing is for sure… Ladies will look awesome on my bike, no matter if riding with me or posing for my camera…
Cheers
Rhoody