Brigada Eskwela is the name of a maintenance week in the public schools in the Philippines at the end of the summer holiday, where teacher, parents, kids and officials organize themselves to do whatever is needed to start the new school year. With my friends from the Thursday Club in Dumaguete we decided earlier this year to support the Elementary School in Candau Ay.
Candau Ay Elementary School
Candau Ay is one of the 30 or so Barangays in Dumaguete. Our decision, choosing this Elementary school, came for different reasons. It started right after the Typhoon Sendong where hundreds of kids and parents searched shelter at this school, but somehow they seemed to be forgotten at first and the donations Thursday Club was the first bigger help they received way before any official support showed up … of course with a whole bunch of media to verify the good-doing.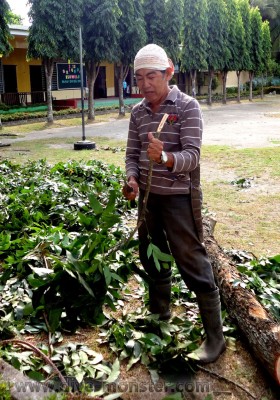 Candau Ay Elementary School also seemed to be much better organized than other schools, while receiving less public attention (and help) compared to the public schools in the squatter area at the on both sides of boulevard. Last but more important, the Barangay is close to the Dumaguete Dump Side, where many parents have not even the budget to buy the needed notebooks to send their kids to school.
Brigada Eskwela is therefore the perfect time to show some support. The Thursday Club visited the school earlier this year to check out how to organize the help. We received some lists from the school with the needed materials and school supply, yet again well organized. Of course we might not be able to support each and every single child, however, if our effort is enough, to get just one single kid away from the dumpsite and back to school or help another to finish at least elementary, all is worth it.
As we always try to do some additional maintenance, we decided to clean and renew a hand-washing facility, repaint the lines of the volleyball court and paint the stage. Some of my valued reader might think: "Paint the stage? WTF"
Well if you haven't been to a local school, you might underestimate the importance of a stage in the Philippines. The stage is the centerpiece and each year about 18.425 million events and programs taking place on a schools stage.
They did it again…
Well after we had all the needed information, Roger, an old friend of ours ("old" in terms "we know him a long time, not his age…) didn't get tired asking others for small donations and paid from his own wallet the missing pesos and bought all the paint, faucets, roller, etc. Rechel (my boss and shopping-monster) went multiple times downtown to get all the school supply. Again we need to say a big thank you to the management of UNITOPS. They gave us the biggest discount we ever got which simply means our small money goes a longer way.
On may 24, we packed all in trikes (including our two little monsters) and went at 8 in the morning to the Candau Ay Elementary School to give our donations and participate in the Brigada Eskwela 2013.
After arrival there, we were informed that they organized a small program. I do admit, I was not overly excited about that, as I wanted to start working as soon as possible. We still have summer here, which means it gets extremely hot from 11 am to 3 pm and I wanted to be finished with the physical work by lunchtime.
Well, making plans in the PI did never really work out for me the last 10 years and I saw myself already sunburned and roasted like a Lechon at the end of the day.
However, I regained my positive thoughts immediately, when I gave a short speech and saw all the shining kids eyes. Once again, the school was very well organized and had lists with the kids who need (even partial) support and the staff, the Candau Ay Barangay Captain and Boss Rechel handed out boxes full of notebooks, pencils scissors, crayons, etc.
I sneaked off the stage and went with Rodger to the stage, to get started.
After the program Rechel joined with the painting and had her "little" fans surrounding and helping her.
A huge difference to another Public School we supported a while back was, that all teachers were actually working also to make their classrooms nicer, and they seemed to have more passion and pride in their work, not just doing a job.  The experience in another school was, that all were looking at the crazy "long-noses" like in a Zoo.
The school principal joined Rechel on stage painting during the hottest time of the day,
and some school kids didn't get tired of helping painting under the supervision of Khell and Daisy, our monsters.
Roger brought his pressure washer and cleaned the sink area, before starting to replace faucets and valves, and all seemed to work out great.
… and then the police came
While I thought Roger gets arrested, they actually came also to participate in the Brigada Eskwela 2013. They changed their weapons to paintbrushes and brooms and started cleaning the area where we wanted to paint the volleyball court. Great idea, that will save us some time…
… at least that was what I thought, until a truck from the Dumaguete City Engineers Office came in and started cutting a huge tree, which was next to the court. Well, at least the tree felt on a clean ground. I mean if something needs to lay down on concrete, at least the concrete should be clean.
So we skipped the volleyball-paint-plan but left all paint, brushes and rollers with the worker, to do that, whenever they can squeeze it in.
I do admit, the sun and heat did exhaust me and I was pretty much done at 3:30 pm. We did almost everything we planned, cleaned up our mess, said good-bye to teacher and workers, and headed home for a shower and re-hydration.
At the end of the day, it was again great to participate in the Brigada Eskwela, to see the kids, meet some parents and teacher and fall asleep with a smile, knowing we gave at least a tiny little bit back to a small community in our host-country.
Cheers
Rhoody