The following story is a copy – paste about the promise of Dave Shaw, an Australian extreme Cave-diver to lift the dead body of Deon Dreyer who was missed since 10 years in Bushman's hole in South Africa, the biggest underwater cave in the world.
Many fellow divers know that story but as I have here on dive-monster.com a lot of non divers too, i want to give the chance to read this compelling human story of friendship, heroism, unswerving ambition and of coming to terms with loss and tragedy.
The story about Bushman's Hole I publish here is written by Tim Zimmermann and was published in the page of outside.away.com
Raising the Dead part 1
Ten minutes into his dive, Dave Shaw started to look for the bottom. Utter blackness pressed in on him from all sides, and he directed his high-intensity light downward, hoping for a flash of rock or mud. Shaw, a 50-year-old Aussie, was in an alien world, more than 800 feet below the surface pool that marks the entrance to Bushman's Hole, a remote sinkhole in the Northern Cape province of South Africa and the third-deepest freshwater cave known to man.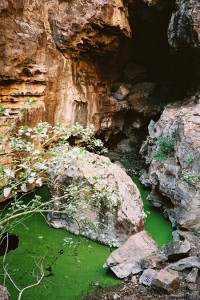 Shaw's stocky five-foot-ten body was encased in a black crushed-neoprene drysuit. On his back he carried a closed-circuit rebreather set, which, unlike traditional open-circuit scuba gear, was recycling the gas Shaw breathed, scrubbing out the carbon dioxide he exhaled and adding back oxygen. He carried six cylinders of gas, splayed alongside him like mutant appendages. On the surface, Shaw would barely have been able to move. But in the water, descending the shot line guiding him from the cave's entrance to the bottom, he was weightless and graceful, a black creature with just a flash of skin showing behind his mask, gliding downward without emitting a single bubble to disrupt the ethereal silence.
Only two divers had ever been to this depth in Bushman's before. One of them, a South African named Nuno Gomes, had claimed a world record in 1996 when he hit bottom, on open-circuit gear, at 927 feet. Gomes had turned immediately for the surface. But Shaw, a Cathay Pacific Airways pilot based in Hong Kong and a man who had become one of the most audacious explorers in cave diving, didn't strive for depth alone. He planned to bottom out Bushman's Hole at a depth that no rebreather had ever been taken, connect a light reel of cave line to the shot line, and then swim off to perform the sublime act of having a look around. At that moment late last October, cocooned in more than a billion gallons of water, Dave Shaw was a very happy man.
The Discovery
Shaw touched down on the cave's sloping bottom well up from where Gomes had landed, clipped off the cave reel, and started swimming. There was no time to waste. Every minute he spent on the bottom—his VR3 dive computer said he was now approaching 886 feet—would add more than an hour of decompression time on the way up. Still, Shaw felt remarkably relaxed, sweeping his light left and right, reveling in the fact that he was the first human ever to lay line at this depth. Suddenly, he stopped. About 50 feet to his left, perfectly illuminated in the gin-clear water, was a human body. It was on its back, the arms reaching toward the surface. Shaw knew immediately who it was: Deon Dreyer, a 20-year-old South African who had blacked out deep in Bushman's ten years earlier and disappeared. Divers had been keeping an eye out for him ever since.
The Decision
Shaw turned immediately, unspooling cave line as he went. Up close, he could see that Deon's tanks and dive harness, snugged around a black-and-tan wetsuit, appeared to be intact. Deon's head and hands, exposed to the water, were skeletonized, but his mask was eerily in place on the skull. Thinking he should try to bring Deon back to the surface, Shaw wrapped his arms around the corpse and tried to lift. It didn't move. Shaw knelt down and heaved again. Nothing. Deon's air tanks and the battery pack for his light appeared to be firmly embedded in the mud underneath him, and Shaw was starting to pant from exertion.
This isn't wise, he chastised himself. I'm at 270 meters and working too hard. He was also already a minute over his planned bottom time. Shaw quickly tied the cave reel to Deon's tanks, so the body could be found again, and returned to the shot line to start his ascent.
Approaching 400 feet, almost an hour into the dive, Shaw met up with his close friend Don Shirley, a 48-year-old British expat who runs a technical-diving school in Badplaas, South Africa. After Shirley checked that Shaw was OK and retrieved some spare gas cylinders hanging on the shot line below, Shaw showed him an underwater slate on which he had written 270m, found body. Shirley's eyebrows shot up inside his mask, and he reached out to shake his friend's hand.
Shirley left Shaw, who had another eight hours and 40 minutes of decompression to complete. As Shirley ascended, it occurred to him that Shaw would not be able to resist coming back to try to recover Deon. Shirley would have been content to leave the body where it was, but Shaw was a man who dived to expand the limits of the possible. He had just hit a record depth on a rebreather, and now he had the opportunity to return a dead boy to his parents and, in the process, do something equally stunning: make the deepest body recovery in the history of diving.
"Dave felt very connected with Deon," Shirley says. "He had found him, so it was like a personal thing that he should bring him back."
When Shaw finally surfaced in the late-afternoon African sun, he removed his mask and said, "I want to try to take him out…."
cheers
Rhoody