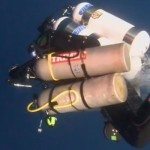 Dr. Guy Garman – also known as "Doc Deep" did not return from his world record attempt to dive to a depth of 1,200 feet (365 meters) in the waters of St. Croix, US Virgin Islands. 38 minutes after he descended he was supposed to be on his way back and meet his deep support divers in about 360 feet (110 meters) where he should have made his first stop. He never made it there. read more
I guess once in a while everybody goes through some days or weeks where things are just messed up and one is pretty much pissed off with everything, work sucks, it is cloudy and rains each time I wanna go out, Internet connection is lousy that adult-movies don't run proper, and and and, it usually comes together…I seem to be in the middle of one. However,  I just decided to go for a beauty-nap, I checked my mails before laying down and found one which was not spam or complaint. read more
there Rudi (at that time I was far away from being Rhoody, but that story later) and Lissy walked on a sunny morning in Senggigi/ Lombok – Indonesia along the mainstreet
Actually this was the first time that I heard that it is not Oxygen but just simple air in this bottles … ok 2nd lesson … of course scuba tank…. Oh my god those diver are really picky…
DON SHIRLEY SURVIVED that day, but he didn't walk away unscathed. He emerged from the recompression chamber at Bushman's, which was pressurized to a depth of 98 feet to shrink the helium bubble in his head, after seven hours, disoriented and barely able to stand. He was so weak that Herbst dragged a mattress over from the police camp so Shirley could sleep right there. Over the next two weeks, he endured ten more chamber sessions, for a total of 27 hours of treatment. It was more than a month before he could think clearly or walk down a crowded street without his perception and balance running haywire. "When I first saw him, I got a hell of a shock," Andre Shirley says. "He could not walk without support, and his thinking patterns had been affected. He would sound sane, but two minutes later he would forget what he'd said." read more
He saw a flash of white go by, and then again. It was the shot line, and without thinking he thrust out his hand to grab it. That grab kept him alive.
Shaw is dead and Shirley in big trouble. A extreme Situation for all involved. Read here in Par 6 of Raising the Death what was going on in Bushmans Hole and on the surface.
This part of the story is about the BIG DIVE, how Dave Shaw and Don Shirley called the try to recover the dead body of the young Deon Dryer.
In Part 4 of Raising the Dead it is all about the last days before the "Big Dive".. The last words of Dave Shaw to his wife; the arrival in South Africa, the preparation at Bushmans hole and the last briefing with his crew... with words which became dramatically true.
In this part you can read where Dave Shaw comes from and how he got into extreme-diving. When he met Don Shirley and how they became partners on numerous adventures.