Hi friends of the sun, I (Dive Monster Sr.) did not talk much about Scuba diving the last few weeks months. Some of you may follow our YouTube channel and know, that I had a diving accident in September 2019. Well, it was a bit of a struggle for me. That is not only physically, but also mentally, as a lot of things simply went tits -up for me. I had a lot of things planned out for the rest of 2019, and none of that really happened. It also was a bit of a financial stretch to get back on my feet. The Road to Recovery is still going on and there are a lot of things I need to do and take care of.
Nevertheless, one of my big goals was to get back into the water… and there was only one person in the world, who actually could be on my side: Dive Monster Junior!
Waiting to get wet again
The weeks after the accident were pretty tough for the whole family around me. I had lost my balance and had to learn how to walk again without holding on to stuff. It is amazing, how the brain is adjusting to situations and adjusts. By November, I was up and running at a tremendous speed from my bedroom to my office and vice versa. In January it was time to try to ride my little motorbike again and in February it was time for a long drive from Dumaguete to Mabinay and back.
Watch my drive from Mabinay – Dumaguete video here:
Somehow, I felt I was ready to give it a try and Jr and I decided, that we go diving together before March 14. That was the day, where we were supposed to go to Manila for a day. We didn't want to use our regular shop, Mikes Beach Resort in Dauin. I was just too nervous and basically don't want to fuck up other people dives. I simply wanted to check if I can go down and keep my orientation. It is a huge difference if one can move in 2 dimensions on the ground or need to move in 3 dimensions underwater. Struggling with walking on the ground a few months back, I really was a little bit nervous about the task to master.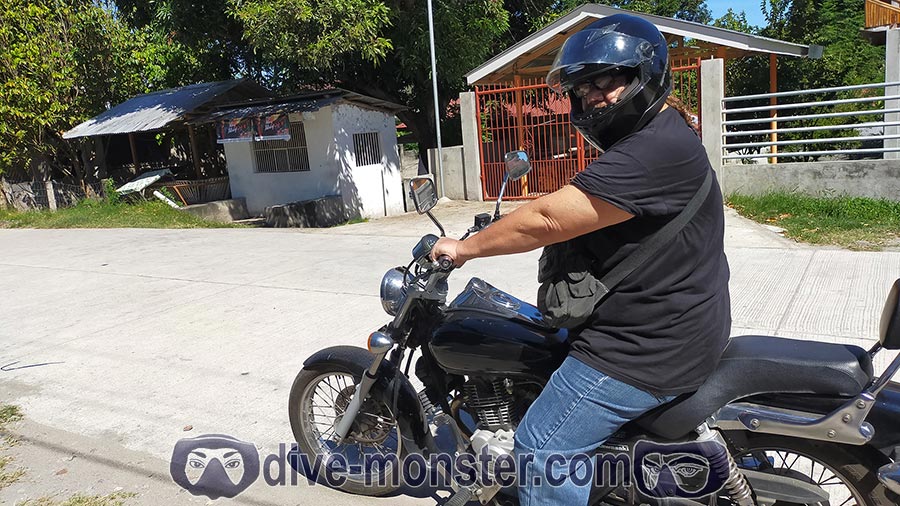 Prep-Work to get wet
If one does not use a local Dive Shop and does not have a car there are some challenges to master, before it comes to diving. Lucky us, we have all our equipment and found enough weights during our dives, that we just need tanks. I actually wanted a regulator, as I recalled, that one of my second stages constantly bubbled on the last dives. Nothing I would normally worry about, but in this case, I simply did not want to have anything slightly obstructive, so I can focus on getting back into the water. 
The money for those tickets goes mainly back to the water. It helps to maintain the marine sanctuaries of Dauin, is used for mooring buoys and a lot of other things, which are needed, to keep the area protected. For regular diving it is Php140 (less than 3 US$) per dive. If you have a camera or go for a night dive, it is a bit more. There is no need to pay more, if one just jumps into the water with a GoPro, as we do.
Now the first thing was to find a shop which rents out tanks to private people. An old instructor colleague pointed me in the correct direction… Apo Scuba. One sunny afternoon I grabbed Junior and we drove to Dauin to visit the shop.
Well, the secretary was not there, but the shop-boys were very accommodating. Showed us everything and explained the procedures. Nevertheless, we had to come back to sign the paperwork and make our reservation. You see all you need to know in the following video about renting the tanks in Dauin.
Being already there, we also visited the Municipality Hall.
Watch our Renting Tanks in Dauin video here:

Each diver who goes into the water needs a diving ticket! They need to be purchased before you go diving and are collected by the "Bantay Dagat" or local coast guards before the dive because
NO TICKET – NO DIVING!!!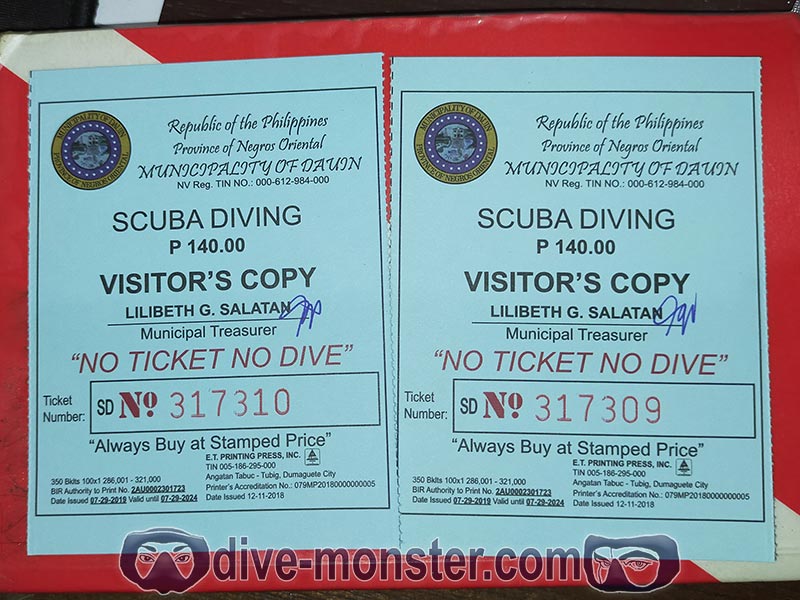 Dive Monsters getting ready
To get all our gear from Dumaguete to the marine Sanctuary in Dauin Poblacion, we needed a car. I found a small Pick-Up Truck with a driver just in our neighborhood. Dauin is about 15 kilometers from our home in Dumaguete. The driver asked 600 Peso one way and another 600 Peso for pick up in Dauin. That is good for 4 people and all our equipment. That is a hassle-free deal and we booked him.
The day before our dives we checked our equipment, re-confirmed the tanks and the transportation and went to bed early. Of course, that didn't work properly, because I had a lot of thoughts running through my brain. Having MamaMonster on my side was a kind of comforting and I also highly appreciated, that she agreed to come with us to Dauin the next day. I was setting my alarm to 5 am, as I still had to do some work, checking my server and websites, and do some mental preparation.
Around 6:00 am, the two ladies woke up and it got busy in the home of the Dive Monsters. All was set to get to Dauin and back into the water. But all about that in the next part.
Cheers Rhoody