The Catlin SeaView Survey is a new launched scientific survey about the status of our coral reefs. The Survey is the first comprehensive study about the composition and health of our reef system to a depth of 100 meter.
The Catlin Seaview Survey is first and foremost an important scientific expedition. It aims to carry out the first comprehensive study to document the composition and health of coral reefs on the Great Barrier Reef and Coral Sea across an unprecedented depth range (0-100m) – addressing a series of important questions regarding the changes associated with the rapidly warming and acidifying oceans.

However this is not just another scientific survey.

Usually scientific surveys don't have the ability to really capture the public's imagination and engage people in the science. Expeditions and their findings tend only to be fascinating to other scientists. This  project is very different. The images from the expedition, when stitched together, will allow scientists and the public at large to explore the reef remotely through any device connected to the Internet. It will allow them to choose a location, dip underwater, look around and go off on a virtual dive. It has the potential of engaging people with the life and science of our oceans in a way that's not been possible until now. It is a very exciting time.
Pictures from the Catlin SeaView Survey
The Catlin Seaview Survey plans to cover big parts of the great barrier reef. For taking the picture, the Catlin Seaview Survey Team designed a special underwater vehicle. 4 cameras mounted on a DPV, also known as an underwater propulsion vehicle or underwater scooter, takes 360 degree shots. The cameras for the shallow reef survey have been specially designed to be able to reveal the reefs and oceans like never before. They take 360 degree, geo-located panoramic images every 4-6 seconds while traveling at a speed of approximately 4km/h.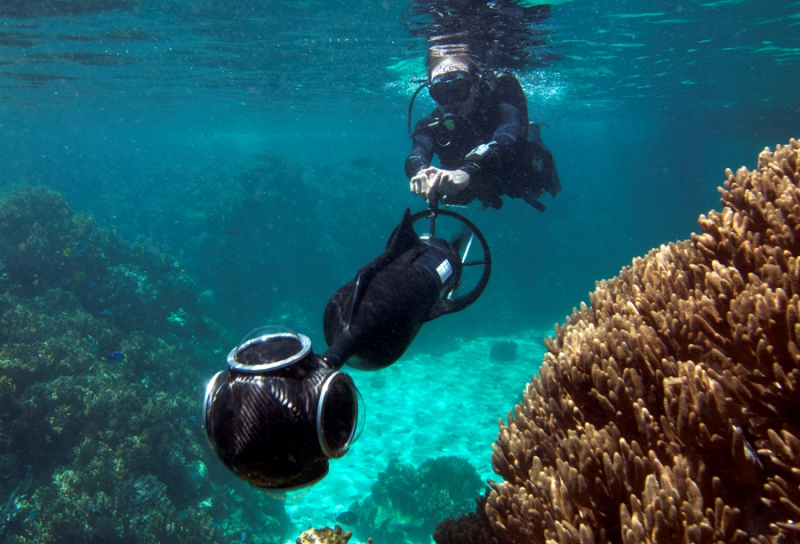 The Catlin Seaview Survey begins in September 2012. The above vehicle is in the water since a few days and already provides breathtaking 360 degree round- views.
On Board the Catlin SeaView Survey
A project like that needs of course some good sponsors. Like the name already says, Catlin is the name-sponsor. Also on board are famous names like Richard Fitzpatrick and Christophe Bailhache. Both were playing with the worlds first underwater live-view which fits perfectly to the profile of the company which brought us already the surface-views of our wonderful planet. Nobody else than Google is the second big sponsor of this project.
I definitely look forward not only what the Catlin SeaView Survey finds out about our wonderful underwater-world, but what more breathtaking pictures we are able to see after that small appetizer we got already.