After our 5-Star experience with Delta Ferries Kim, M&M and I finally arrived in Larena on Siquijor where the driver of Charisma Beach Resort was waiting and took us the last 30 minutes to the resort. It was dark already, so we did not see anything of the praised sunset.

One suggestion would be to install a light at the resorts parking area as it is almost pitch-black and not that easy to find the right steps to the restaurant. Anyway, one of the staff showed us our room and we threw our bags in before heading to the restaurant where I finally met Jeziel, our helping hand and the lady boss of the Charisma Beach Resort in Siquijor. (Being hungry and thirsty I forgot to take any pictures).
Charisma is a small Beach Resort on Siquijor with only 7 rooms, so a perfect place to relax from "busy" Dumaguete
The paperwork was painless and we got the menu in our hand to order some food as we were almost starving. As it was already dark, the first out of many SMB was on the table and we could continue with our plan for the night…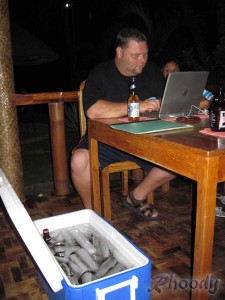 An absolute outstanding performance was the prepared cooler with plenty of beer which kept us happy way after the staff went home. Way after midnight Jeziel came from a party and joined us for some small-talk, before the resort was left to Kim, me and a few bottles of liquid gold…
A word about the food:
All in all the dishes we had at Charisma Beach Resort was what could be expected for that price-range on Siquijor Island. Nothing outstanding, nothing horrible and a bit up and down, meaning what was great the first dinner turned out to be a bit less enjoyable the next day. Nevertheless, it can feed me a few days without bigger complaints.
As our habit is to order a full table of different dishes, we run into the problem that like many smaller resort kitchens are simply not prepared to cook dishes at the same time. They finish one dish and go to the next what let the first dish cool down. Due to our bigger order, we waited about 1:20 minutes until it arrived on our table, while some was hot, the potatoes were stone-cold.  Well, they reheated them and that's fine with me. We avoided that issue the second night with telling them to bring on whatever is ready and that turned out to be a great solution as warm food kept on coming for the whole dinner…
here just a picture I want to share, I simply love the colors of that plants: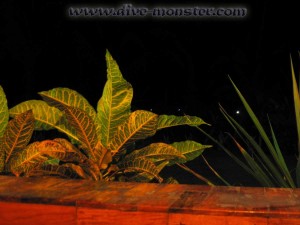 I had a funny situation when ordering my 4th cup of coffee the next day as they run out of hot water… ??? I need on my stove at home 1-2 minutes to heat the water, here it took 25 minutes. I assume they had some hot water in the freezer and needed to defrost it first …
Anyway, the next day was mainly wasted with hanging around, doing nothing and being lazy. We scored 99 out of 100 – the one point missing comes from the 2 minutes I spend taking this pictures. Charisma is perfect for being lazy and doing nothing. The natural beach is white and has fine sand what can be a bit light if you succeeded in drinking a case of beer and the sun is out with full power the next day, but well… that was out choice.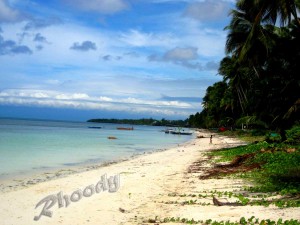 The water in front was crystal clear but after it got knee-deep the bottom was more like white mud and a bit yucky. The pool of the resort is a saltwater pool which might be not the favorite of some but as a scuba diver I really could not care less.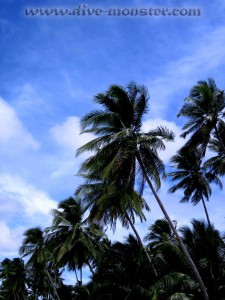 So after an afternoon beauty nap we proceeded with our original plan and continued with what we can do best, saving others from becoming alcoholics… Oops, almost forgot to mention that I woke up just in time to catch the final of the famous Siquijor sunset… of course I want to share some of the almost dramatic pictures with my valuable readers…
We needed to check out the next morning at 11:00am so we called it a day around 4:00am, well we did not have much choice as the cooler was empty anyway…
Mission accomplished… !!!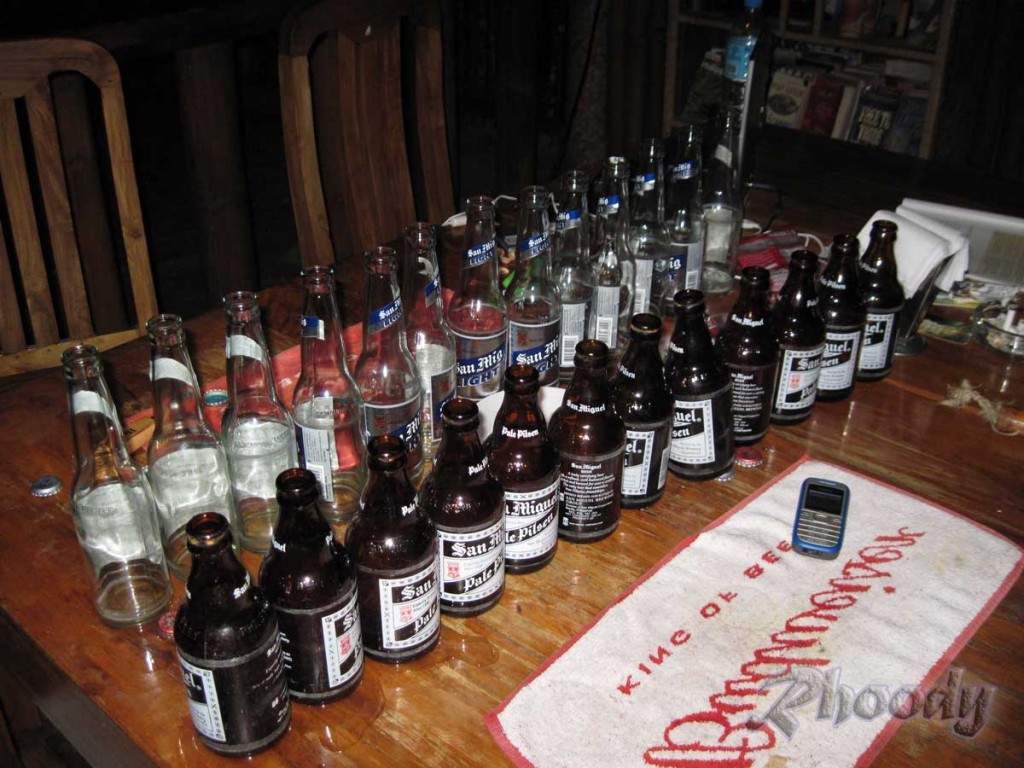 The ride back to Dumaguete was in time and smooth, so all was fine to proceed to Mikes Beach resort in Dauin to start working on Kim's Nitrox course…
More about Nitrox in the next report…
Cheers
Rhoody