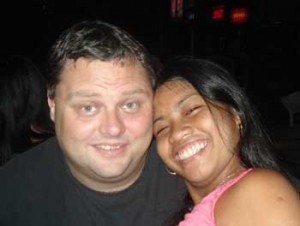 It's been a year or so since Kim and Tom left Dumaguete City due to some ISP problems an some other reasons. After more than 12 month Kim packed Tom in his hand-luggage and carried him down to Hotel Palwa. They were in company with Mike (my Typhoon-diver) Lyka and Big C (who's real name should not be mentioned).  
The first evening we met at "the fat austrians" place named Casablanca where we discussed the plans for the next 4 days. The problem was to squeeze in some diving between dining and drinking. As it was thursday night we decided to have a few cold ones at Why Not, where we got kicked out around 3 in the morning.
Hungry again we went to Mama Marias Pizza and ordered 2 pizzas. It was probably the worst thing the boys and me ever tasted in Dumaguete. The cheeze they are using is one of the worst things you can imagine and kills the rest, whatever things you want on the Pizza. That in combination with soaky warm beer and noisy Philippino Drama from the Television….
Mama Maria… a absolute double NoNo !!!
Some good hours of sleep and late lunch at Coco Amigos. Kims typical order a Jalapeno soup and a Cordon Bleu.
Waitress : the soup first?
Kim: Yes,please.
Result: the soup came first and the Cordon Bleu not even 10 seconds later… next time he better orders with a time to deliver…
a bit talking and home for a nap before dinner at Hayahay. The band started at 9:30 and was so lousy and loud that we paid and headed towards Mikes Adventure Diveshop.
On the way there we met Will and Maureen, also two of my Open Water Students who joined us for a great night out. The 4 girls went to Why Not to have some fun without us old, fat, drinking guys. We remained at Mikes Waterfront Cafe and managed to drink all his SML.
 Around 2 am we joined the Girls in Why Not and had a few last ones before we all went home to get some good hours of sleep as diving is on the program for tomorrow…