Facebook jumped in the way of my Missus and Miss Daisy and I were somehow sidelined at home as it appeared that no dinner was to be in sight. Surely, we understand that an "important" "Let's eat"-Chat makes for some more sense than actually doing it. However, being a kind of conservative, I still go for the real thing and prefer to stuff some food in my mouth instead of just texting it.
So Miss Daisy an I changed quickly. Considering Miss D is a 17-year-old Teenage Girl, she must have been really hungry. Her "Getting Ready" took not longer than mine. Usually, as some of you may know, a "Getting Ready" for the female species includes 4 times changing of cloths, 5-7 times changing shoes, 2-5 times running to the bathroom, and 10 minutes of deciding if the hand bag fits to the color of the teeth. Well, I am no expert, so I really don't know what exactly makes the "Getting Ready" as complicated as a brain surgery.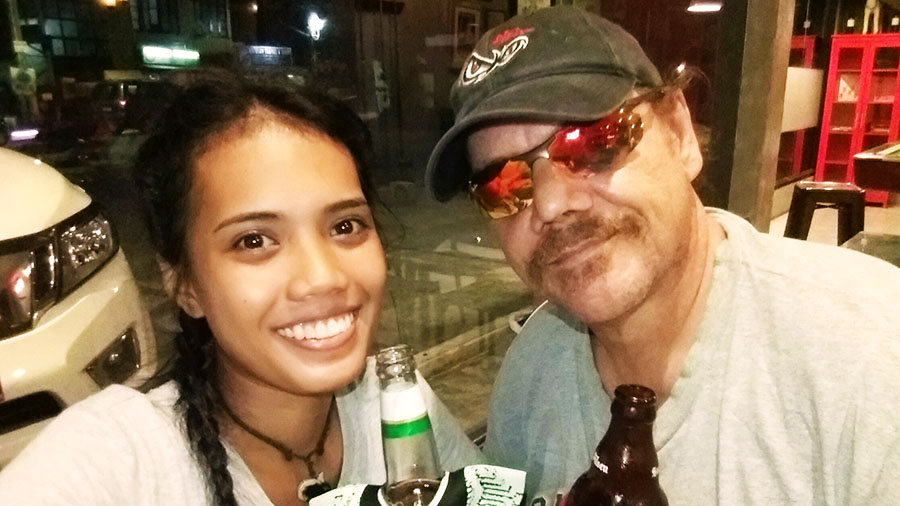 Like said, Miss D appeared to be hungry and 5 minutes later we were in a trike heading downtown. The original plan was some half kilo of good old pork belly. There is a place just close to Quezon Park which serves really yummy stuff. However, as we got close to the location we changed our mind and headed to a place called Allegre Dos.
Where and what is Allegre Dos
Allegre Dos is a kind of Resto-Bar at the Rizal Boulevard just across Bethel Guest House. It is a kind of Spanish inspired place with a nice outside sitting area as well as a pool table, a sofa corner for cuddly minds and cold drinks. Altogether a place where one can hang out with friends, having a good time. At the same location was a pizza place called La Bella before which claimed to serve authentic Italian Pizza, but the claim was really just that because what they served was just not good and a far cry from anything authentic, not even starting calling it Italian.
Miss Daisy and I were at Allegre Dos around 6.30pm which is quite early for that place. It was pretty empty. A big advantage of being early is, the beer is cold, as it is in the ref or on ice since a few hours. I had the experience if you get later there, the temperature of the beverage rises significantly if the place is a bit busy.
Food at Allegre Dos
Being a Spanish inspired Tapas Resto Bar, one gets a decent choice of small servings of whatever they think it is Spanish. Don't take me wrong, it is not bad, but well, Spanish is something different. They simply use quite some different ingredients; therefore, the dishes taste a bit different. Miss Daisy and I had a lot of fun and not only took some pictures but made a view cellphone video takes which turned out to be good enough to make a kind of food-trip thingy of our visit. Feel free to check out the video of Allegre Dos where you probably can see best what we had and how it looks.
Watch our Food Trip in Allegre Dos here:
Will I return to Allegre Dos in Dumaguete?
First of all, we had a good time. That alone is a reason to return one day. The servings are for their prices pretty small but a kind of tasty. Having said that, I liked their Pizza dough – thin and crispy – and their French fries were really crunchy. The Croquetas yummy, as were the garlic gambas. However, 8 rather small shrimps for that price clearly didn't meet the "value for money" criteria.
Bottom-line, I probably drop by there, as it is in walking distance to everything downtown, and I am many times at Quezon Plaza to take pictures of events. As I am (being German) always in time, and the events usually more than an hour delayed, it is a convenient place to have a quick snack and a cold drink while waiting for a signal that the event will finally start.
What you didn't see in the Food Trip Video to Allegre Dos
Miss Daisy and I had a fun time and while we were recording our video snippets. A lot of it was not really politically correct, so Miss Daisy made an Outtake Cut, which shows some of the snippets which didn't make it to the Food Trip Video.
Watch more of our Food Trip at Allegre Dos here:
Hope you enjoyed reading and watching. Don't hesitate to check our
WoW German YouTube Channel
where Miss Daisy and I exploring the cultural wonders and differences between a big fat ugly German and a sweet lovely Philippine girl.