Dive Monsters are crazy indeed. That is certainly one of the reasons why nothing can hold Dive Monster Senior back to drag MamaMonster to the 5GX Bali. That is a Reverse Bungy tower. This means one does not jump down from a platform but gets fired in a cage high into the air. I did that before, some 20 years back, so it was time to refresh my memory.

5GX Reverse Bungy Bali – In the heart of Kuta
During our Bali vacation we passed the 5GX Bali a few times. It is really in the heart of Kuta. Across some clubs and 1 minute away from Ground Zero monument, which was build after the Bali bombing in 2004. MamaMonster was always looking excited at the towers. I promised her, that we will do that, while we are here. Looking at her, I saw fear crawling into her eyes. The days of our holiday passed, we did a lot of things, went on day-trips, to many temples, to the Waterbom and much much more, but always passed the 5GX, too.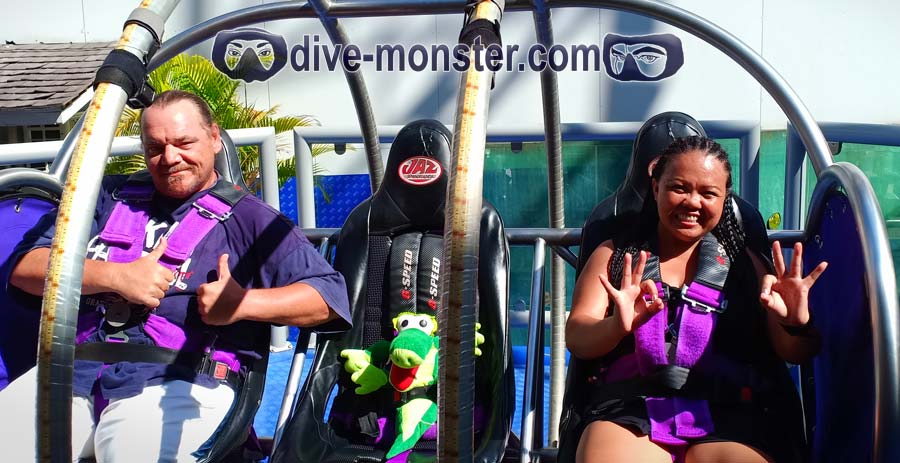 Get High in Bali with 5GX reverse Bungy
With each passing day, I could see in her eyes, that she was happy, that we didn't do it. Well, I got her on the last day. We had to check out of our Hotel, the Grand Inna Kuta, at 1pm and had 8 hours to waste. So we had some food, as I thought that the bungy/thingy might even be more fun with full stomach. I didn't tell her about my plan. When we got closer to it, I recognized, her face got a little bit paler with each step. However, there was no return anymore!
I booked the 2 rides and asked if "Fuko the Adventurer" can join us for free. After he got strapped in his seat in the middle, it was time for us to get ready and on our way into the burning Bali summer sun. There is really not much more to say, just watch our video and come along on our ride into the sky.
5GX Bali – Reverse Bungy Video
Price for the Reverse Bungy at 5GX in Bali
I remember 25 years back it seemed really expensive, when I did the reverse bungy. I seem to remember that I paid something like 60 US$ per person. The price for the 5GX Bali is 350.000 Indonesian Rupiah per person, which translate into 25 US$. After the ride you can get the video, as we did. There are different options. You can get it transferred to your phone or an USB drive, get an SD card or get a USB-Wrist/band. I went for the last option. That cost most, but I simply liked the USB idea. I think it was another 20US$. The file alone on your device is a bit more than 10 US$ if I recall correct.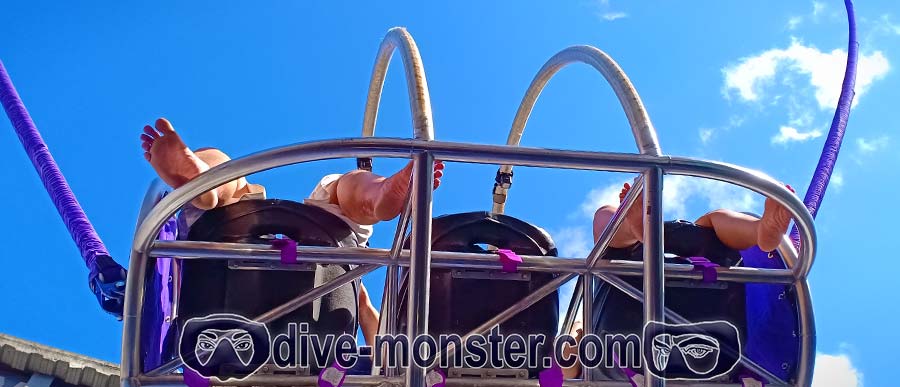 At the end of the day, I am mighty proud of MamaMonster. She really overcame her fears and did it. Actually the ride was easier than finding a replacement for her full panties, after the 5GX Reverse Bungy in Bali.
Cheers and fresh panties
Rhoody