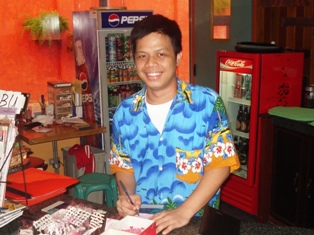 As most here know, I am part of the www.dumagueteinfo.com – Team. Next to hanging on the forum of DI to keep it free from spammers who wanna sell NOKIA and PLAYSTATION or deleting any kind of political religious or racial crap, I am in charge of our relationship with our local advertisers. Irwin Ramas-Uypitching called me some weeks ago to meet him at his family-owned Hotel Palwa. They want to be part of Dumagueteinfo.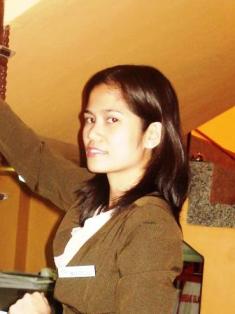 While we met at the Hotel's restaurant  we agreed on a hosted advertisement page. As no pictures were available I asked to come again to take some shots for the page. Adam, his brother welcomed me a few days later and kindly let me take pictures from each and everything I wanted to. The friendliness of the staff at Hotel Palwa is just overwhelming. The rooms were  spacious, clean and I felt a very warm enjoyable atmosphere.
After finishing the picture-taking, I could not help myself and hang around there at the frontdesk with the lovely ladies for another hour or so just chatting and laughing. Sad enough for me, that they are all married or engaged so I have to behave, that I don't get in trouble with jealous husbands and boyfriends.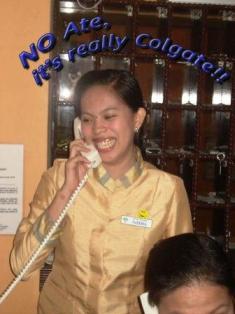 As the pictures on a DI page are limited, those here are some which did not make it to the advertising page but it shows the attitude of the staff there. ALL employees I met were a lot of fun.
As I was working the last five years in a dive-resort in the Philippines, I think I know the difference between artificial smile at work and when staff enjoys their working place.
So if you visit Dumaguete and need to stay in the city, have a look at Hotel Palwa.
The Hotel is in a central location and only minutes by foot away from shopping-centers, offices, hospitals, restaurants and the famous Boulevard with the mainpart of the Dumaguete nightlife.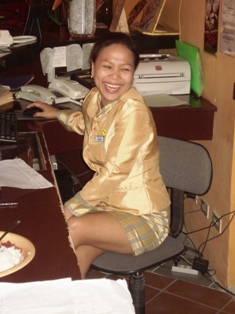 Enough promotion, I just wanted to share my expierience on a routine working day as a part of the Dumagueteinfo.com team. I mean I also could have a job in a german factory and press the same button 8 hours a day and 6 days a week.
I will not get rich here, but nothing can take all the expierience I made here away from me.  
Moving to the Philippines was definitely one of the best decisions I ever made in my life.
For me it's always enjoyable to make this part of the job after the daily online-routine to go out to meet great people and personalities in Dumaguete.
 All this pictures here are "stolen shots". The smile and laughing everywhere in the Philippines is something what makes life here so enjoyable, as is is not posing, it is just part of everydays life here. I wish we "Long-noses" could adobt it only partially
Cheers
Rhoody