After Mia's Restobar in Sibulan just north of the Dumaguete Airport got praised on Dumagueteinfo.com like Christs second coming   multiple times, I used the last Sunday to pay another visit with my little family. I have been there before but it was a Christmas Party with buffet and beer from the cooler, so I can't really judge the place as we just had a lot of fun anyway.
To find Mias Restobar you make a right turn just after the Dumaguete Airport go along the wall, after 1.5km the road makes a right turn and 500 meter later you can see a blue-ish building on the left side, thas Mias. To get there (it belongs already to Sibulan) from Dumaguete will cost around 50 – 60 Peso with a trike. Another option is a easy-ride direction Sibulan/Amlan, and walk from the main the 2km to Mia's but that also cost you 15 Peso and we were 4 people, so the trike was the way to go.
We went there around 1.30 pm and according to the signboard, the Restobar has open from 1pm on and the swimming Pool at Mias from 10 am – 10 pm. Sitting in a sunny day at a bar in a Karaoke Joint with a pool-table is not my thing but for people who like it, the pool-table looks very good and the whole place is very clean and friendly. We went straight to the swimming pool.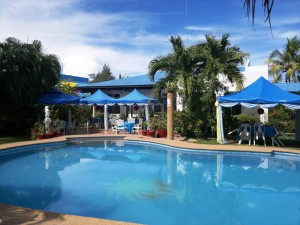 The pool area of Mias is in a wonderful garden and all seating areas are under small tents. Thos tents have a good quality and wherever you look, it is obvious that there is some love and work behind. I had problems to hold my 2 monsters back from entering the pool to order first. Our waitress was super-friendly what just fitted perfectly into the whole place.
We ordered Meat-Balls, Lumpia (Springrolls), Sinigang, Beef Roulads w/ redwine-sauce and mashed potatoes, Baby Back-Rips and French fries; that should be enough to get a rough overview of the food-quality, some shakes, coke and water against the thirst were ordered ahead.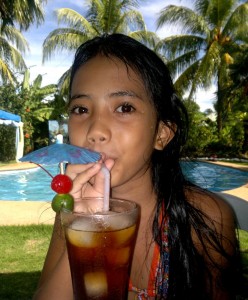 After waiting over half an hour, Rechel asked the waitress to bring at least my coke-light and a bottle of water as Rhoody really started to look dehydrated and finally those 2 drinks arrived, where emptied, and re-ordered immediately. This order came also before the shakes; those arrived just with the Meat-Balls after 1 hour and 15 minutes, which is in my opinion just a little too long for an ice-tea, a chocolate and a mango shake.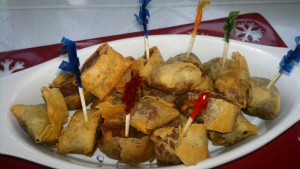 Anyway the Meat Balls for 120 Peso were fantastic and soon the Lumpia arrived. Those were a bit bland, but tasted fresh and fried in really hot fresh oil, not like many springrolls downtown Dumaguete where you can use them to grease a complete fleet of trike-chains with one order. A bit more salt would have brought out the taste of the filling.
The french fries were some of the best I had here in this area, obviously home-made, crispy and served with quality Heinz-Ketchup, not that del Monte crab or banana catsup…  really good, I would have eaten more, but my 2 monster chewed them away like there is no tomorrow. The Sinigang was also delicious and not too sour, absolute perfect for my taste.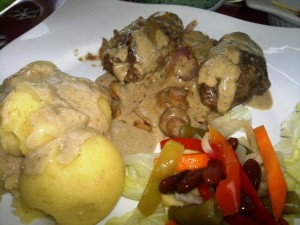 The Beef Roulads were ok and the meat soft and tender. The problem with that dish was simply, that it is supposed to come with redwine-sauce. That was one of the main-reasons why we ordered it, mashed potatoes and redwine-sauce, it almost does not matter what comes with that. Hmmm, but arrived with brown goo which had some canned mushrooms added. Well…. It is still Dumaguete, so you certainly should not expect to get what you order. I am sure you guys understand the disappointment when you look forward to something exciting and it turns out different.   Rechel still liked it a lot, so all is good and for just under 300 Peso it was a good value for money.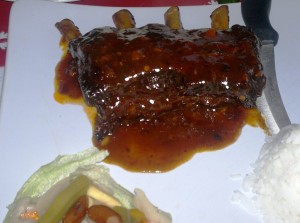 The Baby Back Ribs were also a good sized portion for less than 300 Peso. The meat felt of the bone and was delicious. The BBQ sauce was way to sweet and totally ruined the ribs as there was nothing more to taste than sweetness. I would love that sauce as a sweat breakfast spread on a oven-fresh bread-role. But tastes are different and the ribs had raving reviews from the US-crowd here in Dumaguete, so I assume that's the way they like it. For me was just no BBQ taste anywhere to find.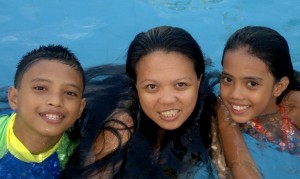 After our meal, we 4 jumped in the pool and had a great time at Mias. The depth of the pool is not for small kids without supervision. My two are 10 and 12 and can swim like fish, so no issue. For smaller kids I recommend close supervision as even the shallow part might be too deep to stand up for them.
We spend the whole afternoon playing around at Mias and had a wonderful time. When the sun started setting, we changed and started walking the 2 km towards the north highway. If you don't have an own vehicle you might have trouble finding a trike at Mias location as it is a bit off the track. I am sure the owner is able to call or organize one if you ask for. As it was a wonderful sunset, we enjoyed the walk and just before we hit the highway my friend Guenther (owner of Casablanca) picked us up on his way to work and took us downtown.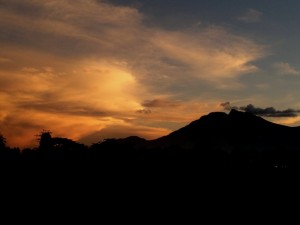 I really have some problems to judge the place in general, so I try it from different directions.
1st-summary: Many know that I moderate the forum part on Dumagueteinfo.com, so judging Mia's Restobar, I basically found almost everything what DI-members complain about Restaurants in Dumaguete City. Very slow service (remember shakes 1hr 15 minutes), dishes are different as described in the menu, prices are in a range that it is in the upper third of this region.  Would I go to Mias Restobar for having lunch or dinner? No, I don't think so, I get the same or better stuff in Dumaguete, so no need to "travel".
2nd-summary: It is a great place for small celebrations or going there with a bunch of friends to have some cold ones, playing pool, have a swim and a good time. Looks like a wonderful, friendly, clean place to get filled up and have fun with a couple of mates and some snacks in between. I am convinced that I will end up there once in a while with some friends for some booze.
3-rd summary:  Taking the family for a nice relaxed afternoon at a great place in a lovely, tropical garden, having a decent meal some cold shakes and a great time. Mia's is definitely a place to consider for doing exactly that. We had a great time at Mias Restobar and swimming pool that we four look forward to our next visit in Dumaguetes neighbor municipality Sibulan.
Cheers
Rhoody