The Dive Monster Senior and I actually did this Dauin dive last year (back in October 04, 2018) but I completely forgot about it since I didn't transfer the pictures from my other small camera. Just after my recent beach date last Sunday, I found the pictures and transferred them right away. So, knock yourself out for a Throwback Tuesday 😉!
Diving in Dauin – Negros Oriental
There are plenty of dive sites in the municipality of Dauin. The sites we dived were Masaplod and Luca. Right now, I don't remember much from the dive. Aside from it was a little gloomy and I met my new diving friends Lorraine (a sweet Chinese girl), Alan and Frank. Good thing I kept my dive log as detailed as possible.
As always, we headed off from Dumaguete City to Dauin as early as possible. We arrived there just a few minutes after eight o'clock. Our dive guides for the day were Ace and Marlon. It was a rather calm and easy dive as much as I can recall. All boat crew of Mike's Dauin Beach Resort were as always…friendly.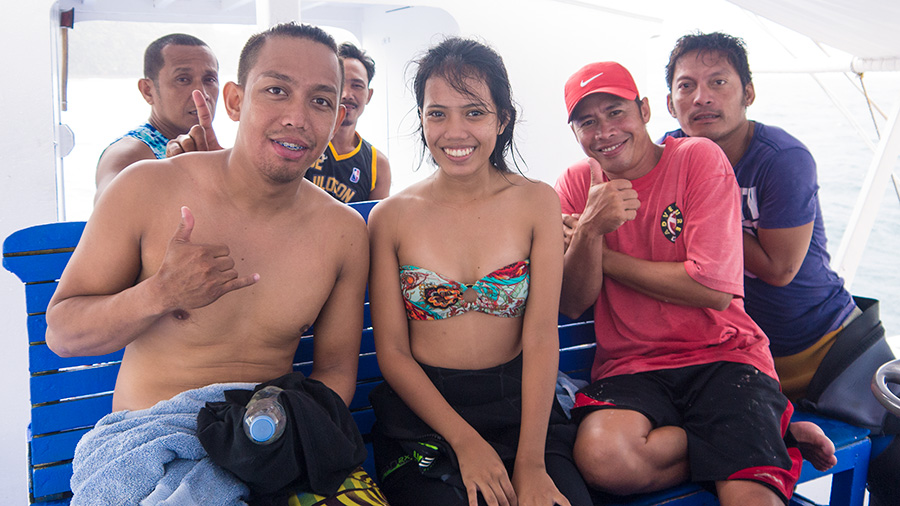 Diving in Masaplod
Around 9:30 am we did our first dive at Dauin Sur. Here we saw a couple of the ordinary some "fish-fish", soft corals, and a flamboyant cuttlefish. We stayed underwater for a good 61 minutes at the maximum depth of 22.3 meters (or at least I did). After the dive, we had about an hour break and I talked to the other drivers about their experience. It was very eye-opening and we just chatted until two cups of coffee were done. Then back down there we were.
Luca Dive Site in Dauin
For the second dive of our Dauin Dive Trip, we went to Luca just in front of the El Dorado Beach Resort. The dive in Luca was actually pretty fun. I got a new nickname from Alan, one of my dive buddies. For those who haven't' had the privilege to go diving with me, I am called the Dive Monster for a reason. Not only because I love to dive but because I do very weird things that most people shouldn't or just wouldn't do.
Now it was pretty normal for me to go on top of another diver and just go with the flow. My victim for the so called "remora attack" was the Dive Monster Senior. To my surprised, Alan "remora attacked" me too! Now it might be hard to imagine that three divers on top of each other just holding each other's tank. I don't draw much but here is how it somehow looked like hehehe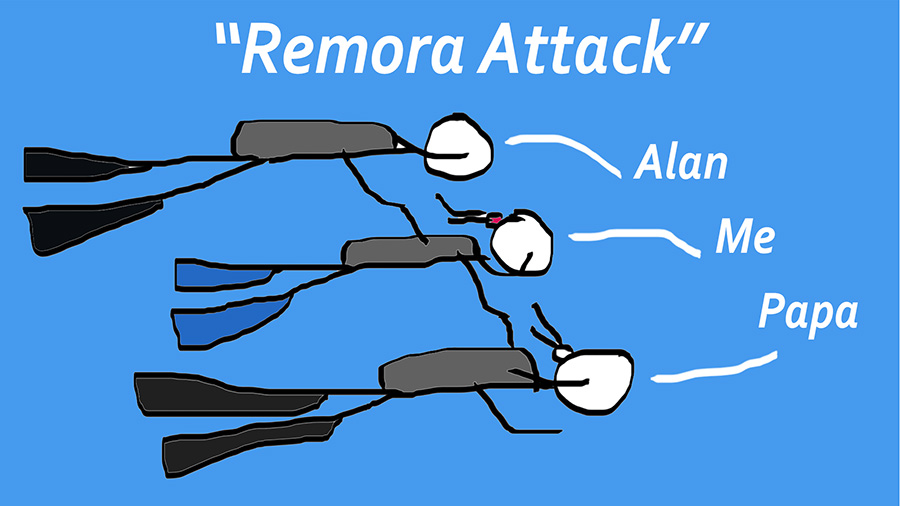 Aside from the fun diver to diver jokes and pranks, we also enjoyed the whole site with different wrecks such as boats and cages. The Luca dive site in Dauin is a great place and it is actually dear to me since it was the first site I went during my PADI Advanced Open Water Course.
Even though it was just two dives, I remembered being so tired. We rinsed our gears, headed home, had a shower and then off to get some beauty sleep. I guess that's all I could say about the trip. Until next dive then!
Love,
Daisy