Apo Island is known as the Turtle Island in the Philippines. It is located just about 7 kilometers from the nearest shores of Negros Oriental. After my three confined water lessons and four open water trainings with Sea Explorers and my instructors Chris Heim & Vanela Grace Torres, I was ready to be venture Apo Island's underwater paradise.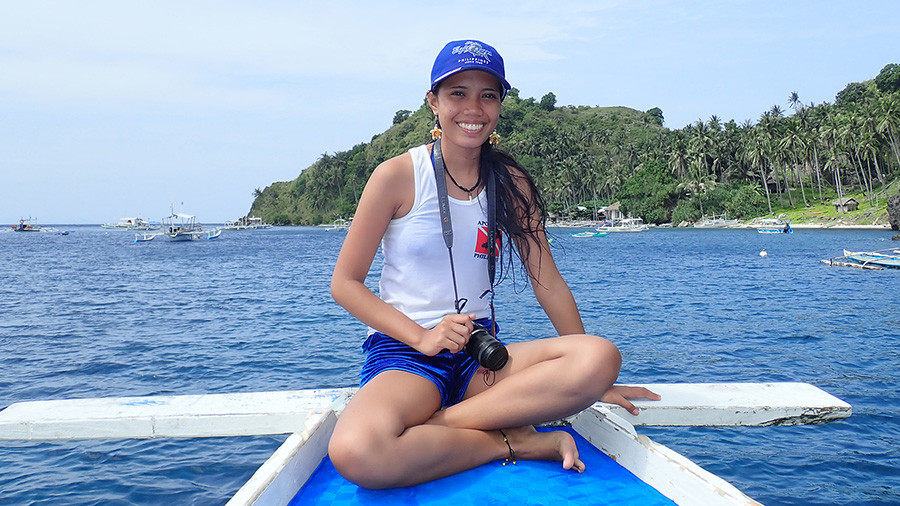 Living in Dumageute City, I had to wake up as early as five in the morning to make my final preparations for the trip. After that, my father drove me to the bus terminal where I could catch a bus going south of Negros Oriental. I rode an air-conditioned bus to Dauin for less than 30 minutes for Php 40.00 only! Upon arriving at the highway, I walked down to Pura Vida Beach and Dive Resort where the Sea Explorers Dive Shop was located. I got a little bit early but just enough time to cool down after my walk.
Traveling to Apo Island
The boat was set by the boatman along the shores of Dauin around eight o'clock in the morning. My equipment and gears were in my box and I was super excited for my first dive in Apo Island. I was really blessed to be aboard a very diverse group with different culture. There were Germans, Swiss, Koreans, Pinoys and even a Saudi Arabian!
We came from the Eastern side of Apo Island and traveled for about half an hour. Apo Island has twelve dive sites, namely Coconut, Olo, Cogon, Mamsa Point, Kan-uran, Marine Sanctuary, Rock Point East, Rock Point West, Katipanan, Chapel, Boluarte, and Largahan. The boat made a stop in Cogon Point where a quick briefing was made after most of the divers were partially ready for the dive.
Diving in Cogon, Apo Island
My first dive was in the dive site of Cogon and my buddy for the dive was Daddy Chris. We were with Robert Borja and his son Felipe and my instructor Ate Vanela. We descended the first six or seven meters to take a few pictures and we continued the dive with a BIG SMILE. We stayed underwater for about 62 minutes down to 18 meters. I saw so many underwater creatures such as sea snakes, moray eels, grouper, tomato clownfish, starfishes, parrot fish, puffer fish and a whole lot more. (actually… way too many to mention and remember)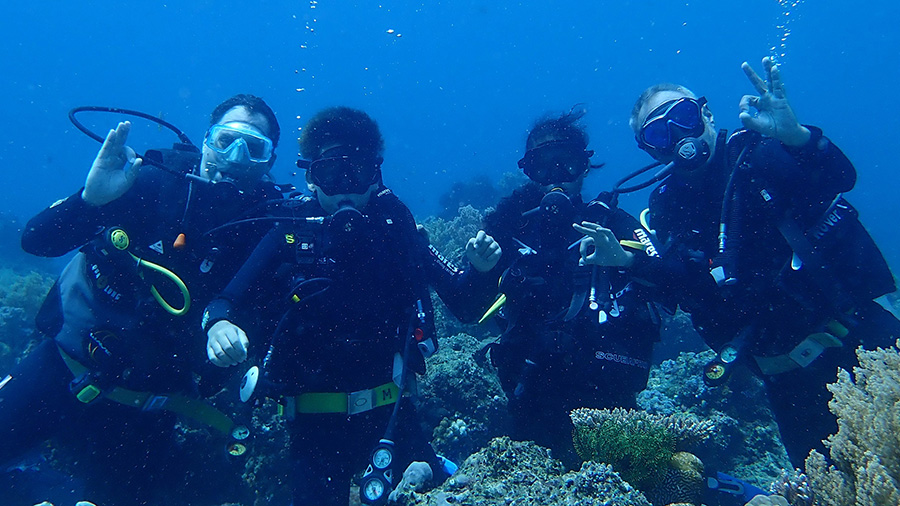 Diving in Mamsa Point
I made my second and third dive of the day at Mamsa Point. There was a small current so we made the most of it with a small drift dive. The dive site is named as Mamsa Point due to schools of mamsa or jackfish in the area. With all the excitement I was moving way too much and had to use the alternate air source of my buddy. Nevertheless, we all enjoyed the dive in Mamsa Point of Apo Island. During the two dives, we also saw a starry moray eel, turtles, a nudibranch and a lionfish.
The experience of scuba diving itself is truly wonderful! I enjoyed every bit of the trip to Apo Island. The boat crew and the dive guides were super friendly, and everyone one on the boat just got along so well. That would most definitely be a diving experience that I will cherish and remember forever in my bookshelf of memories. We slowly headed back to Dauin where we all contemplated on the beauty of the aquatic realm. Some celebrated over a beer, while others celebrated by taking a good shower and some rest.
That's all for now. I'm definitely looking forward to my next dives!
Love,
Daisy