If you still believe that a few slices of pineapple make a pizza Hawaiian, you probably also believe, that a slice of spam on a block of rice is considered food. This, or something close to it is, what Shaka, the first Hawaiian restaurant in Dumaguete wants their guests to believe. So, Dive Monster Sr. and Mama Monster went out to find out if there is actually something yummy other than rice and spam at Shaka.
What is Hawaiian food?
Well, that is the question Dive Monster Sr. asked himself, when he read first about Shaka. Being quite an experienced traveler all over this wonderful planet, he never got pulled magnetically into a Hawaiian restaurant. He can´t even remember that this is a "thing" anywhere he went to. Well, one never stops learning, and he learned, that there are a lot of good reasons why Hawaii is famous, its cuisine is none of it. It is a mix of different cultures without anything jumping out to say: "Eat me!". Therefore, the expectations were kept on a minimum, while hoping for a positive surprise.
Getting to Shaka in Dumaguete
We went there around 5pm. Since that dreadful virus is still around, we tend to go early, if we ever go out, to avoid any crowd and be home in time. Shaka in Dumaguete is located at a stretch which seems to be called "North Boulevard", with a great view towards Cebu, Sumilon Island and Siquijor. There is ample parking space. However, it fills up later pretty fast, Shaka is in the same complex as Mooon, a Mexican inspired restaurant. Both are franchise restaurants which origin from Cebu, or so I believe.
We filled out the logbook at the entrance, had our temperature taken and were allowed to enter the restaurant. While I didn´t know what to expect, the whole place could be also a pitstop or car repair shop. Plain grey cement floor, raw ceiling, and a few "funny" paintings on the wall, as well as some painted tables in the shape of surfboards and some sand around a tree is probably all which is needed for people here to believe that it is "Hawaiian".
It is certainly a place decorated for "instagramability", but overall, it didn´t kick me out of my flip-flops.
We decided to sit upstairs, to enjoy the view. Being early gave us the option to choose our table, so, we sat down one of the surfboards facing the ocean and Cebu. Up to this point, that is (other than the parking space) the only thing which gets good scores in my books.
Another good score is for the staff! They were fast, friendly and always somewhere present. Maybe because they were not too busy, but also when we left and the place filled up, they all had a smile and a good-bye for us. Therefore, full points on the sheet!
Shaka food experience
Coming from a country, which has actually a kind of food culture, Spam is certainly not considered proper food, and won't make it anywhere close to my plate when visiting a restaurant. It is more something like the very last solution one may find in a single´s home, when he could not make it to a butcher, all food deliveries are closed for the day and even the pringles and chocolate are gone.
Anyway, the menu of Shaka is colorful with a lot of nice pictures. Some dishes had some fancy names, but reading the description, it is really just local food. Nothing wrong with that, there are some great local dishes I like. That was one of the reasons we ordered Sisig. Our other orders were the Seafood Teppanyaki Platter, the crispy baby squid calamari, Pad Thai and some Rice.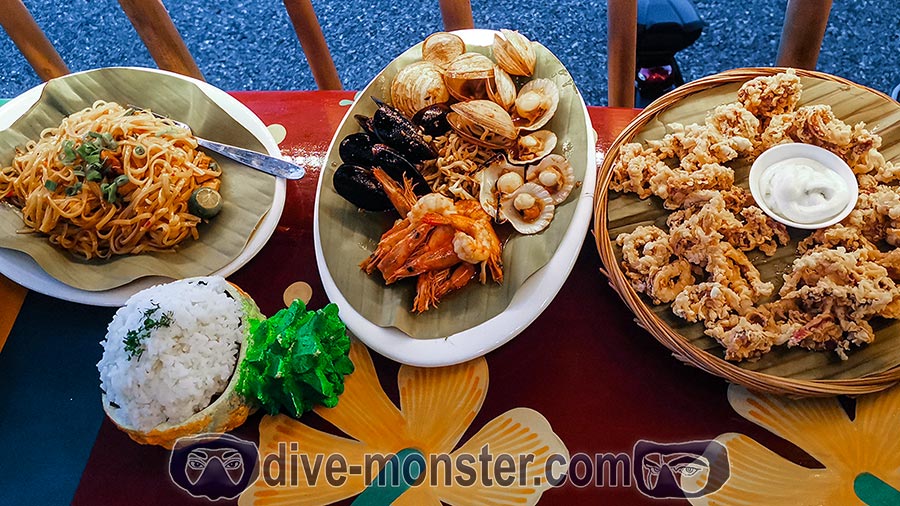 The food came fast, hot and was served with a smile. Once again, it is "instagramable", but I really care more for the taste of a dish in a restaurant.
Let´s start with the Pad Thai. Wow!!!! What an INSULT to the name. It had so much nothing to do with anything Pad Thai stands for. It was a flat, bland rice noodle dish I would expect from a 3rd grader boiling noodles for the first time.
The Sisig was a bit on the livery side, which is absolutely fine with me. I like liver. The issue was that it was dry like it had been microwaved. Even we had it with egg, the Sisig itself was dried out and would not make it anywhere close to the top-25 Sisig in Dumaguete.
Crispy Baby Squid Calamari were definitely fried in old oil which gave it a pretty rancid taste which overwhelmed everything; therefore, I actually can´t say anything about the dish itself.
The Seafood Teppanyaki Platter was OK. Not more, not less. None of the ingredients stood out, none was a disappointment.
… erm yeah, the rice was also fine.
As there are many more dishes on the menu, we may have had just the wrong choices. However, I highly doubt that. This tiny BBQ-thingies I saw on another table looked also pitiful.
With all respect, but I guess I understand now, why Hawaiian Food has absolutely no space on the culinary world map.
Judgment Time for Shaka, the Hawaiian Restaurant in Dumaguete
In terms of restaurant and food, it is a treble-NO for me. It might be a good choice, if you are a group of friends and the socializing is more important than what you actually eat, while chikka-chikka away into the night. The view is nice, the staff appeared to be well trained and the prices for drinks are reasonable. As I don´t have friends and never get an invitation anyway, I probably won´t make it there that soon again.
From the business point of view, the owners did everything right. The location is great, some plywood and paint are enough to have Millennials and call center agents believe that this is what a Hawaiian restaurant must be like. This is probably the same people who believe that the Maldives are something like a few cabanas on a stretch of sand, surrounded by stinky noisy bankas.
Some cheap(ish) booze, some food with names nobody knows what it is supposed to taste like, caters the mainly ignorant instagram-generation perfect. As much as I can say, one kitchen caters two adjourning restaurants, therefore, a brilliant business move, which deserves my full respect. Job well done!
Aloha,
Rhoody
PS: Getting back to the Hawaiian Pizza. It was actually created buy a Greek guy in Canada, who threw some pineapple on a pizza. See, after 1.000 words of gibberish, you may have learned something right at the end!