Last sunday was a kind of family day. After my two girls had lunch at Casablanca with my friend Kim we packed our things and went to Thalatta Beach Resort about 20 Kilometer south of Dumaguete. The decision to go there was made the day before as we went out on a evening and met Patrick, the owner of Thalatta and his lovely wife at Why Not, a disco in Dumaguete.
Thalatta is Greek and stands for "The Sea". The resort is located close to Malatapay at a small Beach with volcanic dark Sand. It is a smaller Resort with at the moment 10 rooms or so. After passing the entrance you can feel the nice, peaceful spirit right away. Patrick designed a little paradise with a great atmosphere. The landscape of this little heaven is well designed.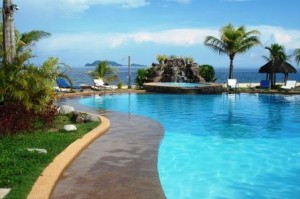 The large Pool-Area is the center of Thalatta. Well designed with a shallow entry part and a deep end, ideal for Scuba-Diving courses. The Beachresort has some separate small pools for Kids and a Open Air-Jacuzzi. The whole area is surrounded with tropical plants in all colors and shapes. The chef of the Restaurant is a french guy who really knows how to serve you local and international delights.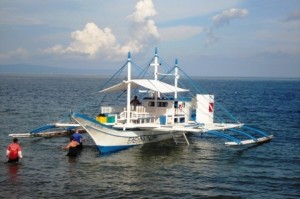 The diveshop in Thalatta is managed by "Raffi" and Easy-Diving from Sipalay. All equipment is brand new and the staff very professional. Easy Diving offers Scuba courses from Beginner up to professional level. Daytrips to the nearby Apo Island are scheduled a few times weekly. At present a big Bangka is under construction to give the guests the chance for some dive-safaris through-out the Visayas and northern Mindanao. 
There is a consumable entrance fee of some hundred peso if you don't stay in the Resort and big groups might be rejected, so better call or mail the management before you go there.
cheers
Rhoody